From being a pioneer in advertising sales and geo-targeting, Amagi pivoted its business model to cloud-based technology in 2016. From 20 channels on its cloud-based platform in 2017, the company now has over 400 channels on board including media giants like Turner, Fox, NBC and MGM among its clientele.

Baskar Subramanian, Co-founder and CEO, Amagi tells us how its flagship ad monetisation product, THUNDERSTORM now caters to one billion ad opportunities every month. He also talks about the organisation's healthy sales pipeline for the next 12 months, and expects to see several large broadcasters transition to cloud their entire operations


Q] From advertising sales and geo-targeting, you flipped your business model in 2016 to cloud-based technologies. What were the challenges in starting from scratch again?
While we flipped our business model in 2016 from geo-targeted advertising, we had already begun investments on our cloud-based technology solutions back in 2014-15. We had started evaluating and talking to global customers. So, it was not like starting from scratch, but relatively transitioning the business model from an advertising-driven into a completely technology-driven model.
Q] What was the response from the industry and what did it take to get them on board?
The media industry has been going through a transformation of adopting virtualisation and cloud across all of their media operations, worldwide. That was a phenomenon Amagi had noticed very early in the marketplace and has been a pioneer in being able to demonstrate technologies for making this transition smooth and effective.
Amagi has grown more than 500% over the last three-four years just because the industry's response has been tremendous and we have been able to grow rapidly worldwide primarily in our core markets – US and Europe.
Q] OTT platforms and consumption on mobile have changed the economics and business model of the broadcast business. How are you helping broadcasters and other content creators and platforms, particularly in monetisation?
Amagi has built a server-side architecture-based solution for dynamic ad insertion called THUNDERSTORM. It is our flagship ad monetisation product leveraged by various large OTT platforms to power their backend needs for monetisation.
The same solution would be leveraged across the globe and the business model used is the cost per impressions. Amagi earns a revenue share of the cost per impression that the OTT platforms generate.
Given that OTT platforms have been growing non-linearly, Amagi has also mirrored a similar growth trajectory in this particular business segment. The company now caters to one billion ad opportunities every month through its THUNDERSTORM platform.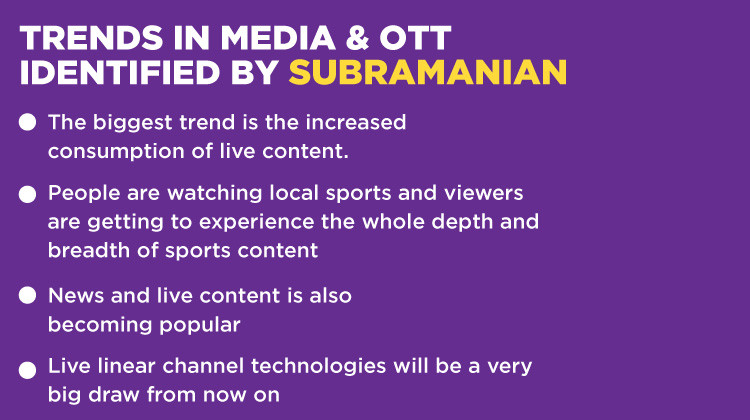 Q] Since the change in business focus, what has the growth been in the last two years, in terms of the number of channels/clients on board? What kind of growth have you seen over the last year, QoQ/YoY?
We have been growing more than 100% continuously over the last few years and we continue to see the same trend this year as well.
For the quarter ending September, Amagi stood at 120% YoY quarterly growth. Amagi has seen more than 25% growth during this COVID era and we are continuing to grow across the globe. Amagi, in 2017, had about 20 channels on its cloud-based platform. Today, we have 400+ channels on board.

We have added more than 40 clients and over 150 channels this year, and are seeing an acceleration of client growth across broadcast and streaming TV. We continue to see larger TV networks transition to completely cloud-based broadcast operations and Amagi is leading that revolution across the globe.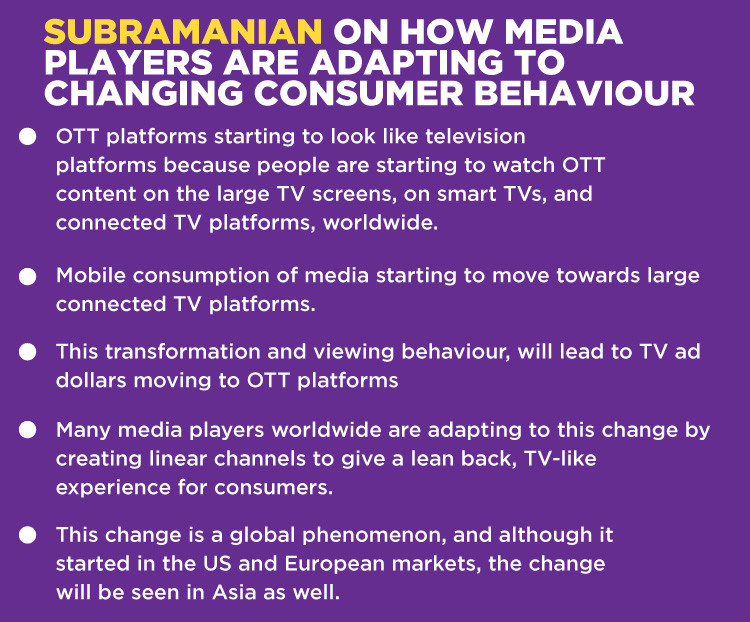 Q] How much of your revenue comes from outside India? Are you looking at increasing India's share in the pie?
We are a privately-held company and as a policy we don't disclose revenue details. We have been growing dramatically and doubling in revenues every year for the last three years and we continue to see that trend going forward. Amagi roughly has 90% of its revenue coming in from outside India and less than 10% from India today.

While our growth is accelerating in global markets, we are also very optimistic about the Indian ecosystem and its ability to adopt cloud and monetisation technologies in the coming year.
Given the growth of OTT platforms and sales of connected TV in India, we see a huge opportunity for the OTT platforms to evolve and Amagi to be able to provide both monetisation and content delivery capabilities.
Q] Are you looking at growth to be organic or inorganic?
We are seeing a lot of organic growth ahead of us from a company's perspective. We are adding new customers and channels every week to our platform.
We have a very healthy sales pipeline for the next 12 months, and expect to see several large broadcasters' transition to cloud their entire operations, which will be multi-year contracts and engagement.
Having said that, we do explore inorganic growth fundamentally through acquisitions, for revenues and suitable technology platforms that we would like to expand into. We are trying to scale both in terms of revenue as well as solutions that can help fill the gap in our technology platform initiatives.