BY SAMARPITA BANERJEE

Since its launch in 2014, Mindshare's fully integrated content group Content+ has made its presence felt in the overall scheme of things for the agency. Not only has the division come up with campaigns that have made a significant impact, the Mindshare Fulcrum Content+ team – dedicated to Hindustan Unilever - has won the highest honours in India and globally with the Brooke Bond Red Label 6-Pack Band, that brought home the Glass Lion Grand Prix at Cannes in 2017. Both teams regularly help solve brand problems in unique and entertaining ways.
Currently a 30-strong team in India, Content+ works on realtime micro-content in a rapid production environment. It has created a few memorable IPs like the Yaari series for McDowell's No. 1 and the Horlicks' Kids Choice Awards and is already working on two more IPs. It has also worked along with brands to curate successful properties like 'I Can, You Can' for Cipla and the feature film series for Bagpiper.
What the division is trying to achieve is to move the needle from exposure to engagement, a move from plain vanilla ads to hardcore, effective content. And in its four-year journey, Content+ has succeeded in achieving quite a few milestones. Giving a few examples of some high-impact campaigns that the team has worked on, Amin Lakhani, President, Client Leadership, Mindshare India says, "We have achieved quite a few milestones in our journey so far. For example, Tamanna, a really progressive show we did for Star TV about a woman cricketer, the Kissan Tiffin Timetable where the brand created 200 tiffin recipes for 200 school days which were eventually printed on the packs of the products, the 'Backspace' content we did in association with Terribly Tiny Tales or the campaign we did for Close Up where we took their jingle and created a solo song, in association with T-Series."
Talking about the kind of impact some of these campaigns had, Lakhani adds, "While the campaign was still on, the Close Up song received around 50 million views, which is almost unheard of. Moreover, the brand had been witnessing a decline in terms of spot for a few quarters prior to the campaign. However, this one campaign actually turned around the brand's journey. I would like to give credit to our clients for showing confidence and having faith in this journey."
Lakhani also gives credit for the success of Content+ to the partner ecosystem that it has developed over the years. "We follow an open source model and believe that an idea can come from anywhere. And that has been the success mantra of our journey," Lakhani says.
HOW THE TEAM WORKS
What gives the Content+ team an edge, says MK Machaiah, Chief Innovation Officer, South Asia, Mindshare is the fact that they are 'media-first'. He says, "It's part of our DNA. Being media-first helps us because we have great insights which help us come up with great pieces of content."
The basic premise that the Content+ team works on, shares Devendra Deshpande, Head, Content+, Mindshare is that the advertiser has a business problem which can be solved with the effective use of content.
Talking about how the Content+ team is structured currently, Lakhani says, "The Content+ team brings together a diverse set of people. We have people from mainline creative agencies, digital creative agencies and the traditional media. We have people who have joined us from Broadcast, Print and the Activation mediums. And this diversity has helped us become what we are today."
THE ROLE OF CONTENT IN SOLVING BUSINESS PROBLEMS
While the content world is currently cluttered and customers are over-exposed to a lot of content on various platforms, a content piece that is able to build a connect with audiences is ultimately deemed successful.
Explaining why brands are investing more and more in the content space, Deshpande says, "Content today helps achieve business results for brands. We are creating content because it gives a solution to a business problem. A business problem could be anything ranging from the decrease in relevance of the brand to one's target audience to diminishing loyalties to a fall in the customer's intent to associate with a particular brand. This is exactly what a good piece of content can help solve. The films we made for Bagpiper made the brand inspirational and aspiration for its TG and there are quantified scores to prove that. It also had a huge impact on sales. We knew that for the audience that McDowells targets, films would work well. That's how we came up with the concept and that's where it was delivered and today it has turned into a sustainable model. Some brands lose their communication relevance to the TG after a point. So whether it was Little Big Filmmakers for Surf Excel, or breaking barriers through audio stories or the Brooke Bond Red Label 6 Pack Band that helped us connect the brand to the audience, what makes the emotional connect is the story behind it."
Deshpande adds that everything has a business result and the fact that most of these campaigns have been a success and have led to an increase in figures in terms of both sales and reach is what has led them to be extended to more seasons. Content+ is now working on extending the Yaari series to multiple languages and markets. For Bagpiper, it is working on feature films in Kannada, Marathi and Punjabi. "While it is an oxymoron but there is a certain process to the creativity," adds Deshpande.
Moreover, the team is also working on the concept of building a Creative Council that will bring together some of the best creative minds from the industry to come up with more edgy content. Elaborating on this, Machaiah says, "We are currently looking at creating a Creative Council at our end so that we have a few good thinkers who we can work with us to create edgy content. This council will have 3-4 of the most wellknown names from the entertainment industry. Our goal is to have them on board and keep interacting with them to create interesting, edgy content. At the end of the day, we are creating brand solutions that are entertaining to our clients. While we are narrating and creating brand stories, our endeavour is to say them in an entertaining form because such stories are remembered in the long run."
6-PACK BAND 2.0 PROMISES TO TUG AT HEARTSTRINGS AGAIN...
In 2016, Brooke Bond Red Label's unique initiative the 6-Pack Band featuring six vivacious young transgenders not only won a lot of love and adoration from people across the country, but also brought home the coveted Grand Prix in the Glass Lion category at Cannes. A collaboration between Hindustan Unilever, Mindshare and Y-Films, the Brooke Bond Red Label 6-Pack Band is back with its second edition, this time featuring six talented specially-abled teenagers in six videos. The second in the series is slated for release on May 16
The Brooke Bond Red Label 6-Pack Band 2.0 - named the Isspecial band - is all set to tug at heartstrings again. Conceived and produced by Ashish Patil, Head of Y-Films, the youth wing of Yash Raj Films in collaboration with Mindshare Fulcrum Content+ and curated by Shameer Tandon, the first song titled 'Jhakkad Pakkad Dance' was launched last month on the occasion of World Autism Day and has already received close to 1.2 million views on YouTube with an overall social reach of approximately 36.5 million. This time it comprises six teens between the ages of 13 to 18 (three girls and three boys) with special needs, but incredible music skills, drive and passion. Their spirit, infectious energy and resolve and their life stories are extremely inspiring. Director-producer Karan Johar, who feels deeply for the cause, has joined the bandwagon.
Zeroing in on the theme of autism and talking about mental health wasn't an easy task, say Ajay Mehta, Head Content+, Mindshare Fulcrum and Brajesh Dwivedi, VP Client Leadership, Mindshare Fulcrum who are a part of the core eight-member Mindshare Fulcrum Content+ team that worked on the campaign.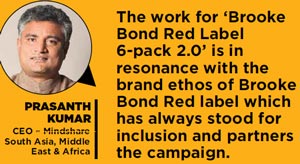 "When we started the second phase of the Brooke Bond Red Label 6-Pack Band journey, the challenge we faced was whether to extend last year's theme around transgenders or come up with something completely new. We had a divided house. However, somewhere between a lot of discussions and debates, we realized that we could make the concept agnostic of one particular issue. This year, the band is about autism and differently-abled kids. Next year it will be something different. As long as we stay true to Brooke Bond Red Label's philosophy of making the world a more welcoming place for people and breaking barriers, it is fine," shares Dwivedi.
Mehta says that during the first few conversations about the brand, there were talks of not limiting the band to just mental disability but also physical disability. "There were a lot of discussions around not just making this about the mentally challenged but also keeping it open for the physically challenged. However, April was the World Autism month and we felt that physical disability was not as much a taboo in society as mental. That's how we finally arrived at a conclusion," adds Mehta.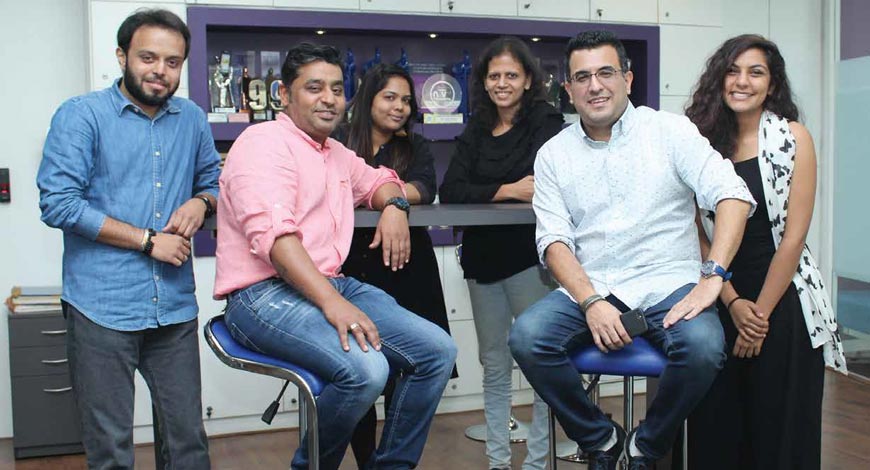 The format for the campaign remains the same as the last time - six music videos featuring the six children with one celebrity in each of the videos. While the first video had a voiceover by Karan Johar, the second, slated for release on May 16, will see music director Vishal Dadlani launch the Isspecial version of the popular song Dil toh Pagal Hai.
However, while the team is pretty confident that the second edition will create waves just like the first edition, the campaign couldn't be entered in the Cannes Lions International Festival of Creativity this year, owing to the fact that the campaign was released only in end-April to mark World Autism Month. "We know the Isspecial band is going to be really loved too. There are so many wonderful stories associated with each of the children. They are so full of energy and positivity. We realized one thing - the backbone of each of these children is their mother," says Mehta. Talking about of one of the children from the band, Mehta adds, "There is one child in the band whose father has yet not been able to accept him. While they live in the same house, they don't see eye to eye. At the end of the campaign, if we are able to get people talking about the problem, and sensitise them, we would have won."
Other than Mehta and Dwivedi, the Brooke Bond Red Label 6-Pack Band team from Mindshare Fulcrum Content+ comprises Parama Bhattacharya, Partner, Content+, Sunny Rangwani, Senior Director, Content+, Ankita Israney, Manager Content+, Rupali Sawant, Director Client Leadership, Mohini Poddar, Senior Director Client Leadership and Tarun Das, Manager Core Planning.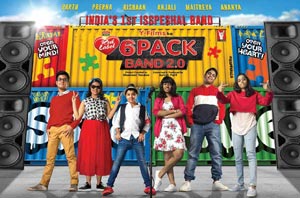 Commenting on the campaign, Prasanth Kumar, CEO, Mindshare South Asia, Middle East & Africa says, "Brooke Bond Red Label 6 Pack Band - the journey needs to go on. We as Mindshare have believed in this journey and we are at it working together to make this another delightful experience. BBRL 6 Pack band 2.0 addresses social ostracism of people with mental disability, thereby making the world a more welcoming place for all."
Meanwhile, speaking about what the campaign means for the brand, Shiva Krishnamurthy, General Manager, Beverages, Hindustan Unilever adds, "Brooke Bond Red Label stands for inclusiveness. We encourage people to overcome their prejudices and find common ground with fellow human beings over a steaming cup of chai. A delightful way of doing this has been our partnership with YRF. Encouraged by the overwhelmingly positive response that India's first transgender band received, we are back with India's most special band."
Commenting on his expectations from the campaign, Premjeet Sodhi, Senior Vice President, Mindshare Fulcrum, South Asia says, "I am delighted to see the overall work and enthusiasm of the Content+ team on Unilever. The Brooke Bond Red Label 6 Pack Band is a world-class initiative that is an outcome of true collaboration between teams, both at Y films and Mindshare Fulcrum. The key to successful initiatives like this is to get the right balance between brand purpose and consumer interest which the 6 Pack Band does very well. While, the good idea is always a game changer; bringing that idea to life in a controlled and scientific manner is what is important. The project from the start has set such high benchmarks, but I am sure 6 Pack Band 2.0 will exceed all expectations."
@ FEEDBACK
samarpita.banerjee@exchange4media.com