Q] How does Philips split its annual marketing spends for the year?
The good thing about the home appliance business is that it's largely season-agnostic. Our business is mostly stable and well spread-out throughout the year because the demand for these products is pretty constant, and not really season dependent. Here I'm negating categories like coolers, or heaters, which are obviously extremely season dependent. Of course, we do see a spike during the festive season. So, our marketing spends are usually split into two buckets.

One bunch of activities typically happens on Digital media. As most of the categories that Philips operates in, whether it is garment care, or kitchen appliances, are all season-agnostic categories, we always do Digital marketing for them, irrespective of the season. The second spell of spends is during the festival season, and we intend to follow pretty much the same pattern this year as well. Q2 or summers is where we spend on Digital media, as well as in-store. We expect to do big seasonal bursts on mass media as we start getting closer to the festive season.
Q] Which medium do you aggressively go after in order to increase your brand visibility, and why?
We are an omni media brand in some sense, and therefore, more than 20% of our total spends sits in the Digital bucket. A second large bucket is in-store spends, where we activate and promote ourselves within the stores. This is also going to grow significantly this year. As we see channels expanding, we intend to grow our spends as well. That leaves out the mass media or traditional media, which is TV, Print, and Outdoor. We have been seeing a return of the OOH medium since last year. This year, we'll probably re-experiment with it because we expect a lot of people to step out during the summer season. We see trends in the market where Print is stabilizing, but TV is going down in the wake of a growing Digital media. However, the changes are not significant.

Having said that, I think only TV or only Print or traditional media isn't going to work for any brand as we go forward. In order to build frequency and engagement, you need Digital. So, all brands will have to take a multimedia approach. TV will continue to be about 40% to 45% of everyone's spends, however, Digital is going to see a big rise this year once again. So if we were to make a split between, traditional, digital and in-store, it's going to be around 50% for traditional, and 25% each for Digital and in-store.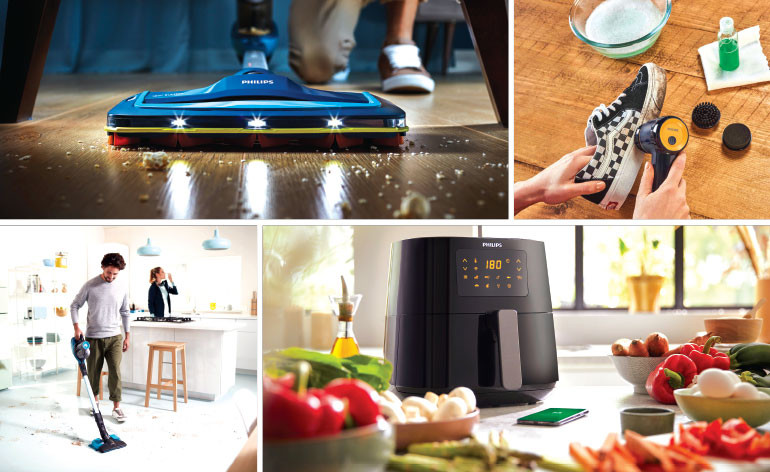 Q] What kind of novel marketing and advertising approaches are you looking at to increase your reach and penetration in the country?
One of the biggest cornerstones of our marketing strategy is to cultivate lifetime value for a consumer. Philips is already a D2C – direct to consumer player, so we have significant first party data, which we continuously engage with to build that lifetime value for our appliances in households, and that is going to be an important pillar of our marketing strategy as we move forward.

If I talk about advertising, there are three broad themes that you will see coming out of our stable in the times ahead. One, we realize that small consumer durables as an industry needs to move beyond feature-based advertising. We've always done SKU-focused, feature-based advertising as an industry across brands. Second, we will continue to focus on Digital media. You will see our spend increasing significantly when it comes to Digital content creation and Digital amplification.

The third component is that you will see us playing to win in many 'Indias,' which means we are going to start focusing more on vernacular content and communication to really take our brand deeper into the different regions of the country.
Q] Do you think deeper penetration of mobile phones in tier-II, III, and IV cities have created mass awareness for a brand like yours?
Absolutely so, in fact, not just for a brand like ours, penetration of mobile phones and availability of cheap and reliable internet are the two biggest transformers for every business in India. This has led to more opportunities for brands to reach audiences that were earlier difficult to reach, and engage with. Now there is a higher opportunity for us to understand the differences between a tier II, tier III audience, and a metro city audience, if any, for a given category. We understand how differently they think, the different kinds of content that they like to consume. This is something that all brands, all industries are experiencing today, and this is why it is such an exciting time to be in marketing in India.

Q] Tell us about the brand's journey and its evolution through the years and the roadmap for the coming years?
Philips is more than 80-years-old in the country, and I think during this period of time the brand has gone from strength to strength. The pillars to note here are that in terms of brand perception in the home appliances category, where we are clearly the market leaders. We have also been the forerunners as far as the evolution of our channel is concerned. Over the years we've been agile enough to adopt newer formats in sync with consumers' preferences, whether it is with establishing a strong presence in traditional trade, modern retail, e-commerce, or having our own D2C platform.

Also, our portfolio expansion over the years has been notable. Historically, domestic appliances used to be a very small part of Philips. Today it has become one of the biggest chunks of the business.

So we've truly evolved as a brand. You will see us getting into newer categories over the next few years in a very significant manner. We still believe that India has massive potential for our category, and our brand to grow. We intend to capitalize on this potential across the entire gamut of business through the introduction of newer categories, expansion of brands, as well as the expansion of channels within the hinterlands or the rural parts of the country. You will see us aggressively operating on all fronts. That is the roadmap ahead for the brand.