Today we have many kinds of agencies in the country, but one where the starting point of the discussion with clients is not creating an ad, is rather rare. In the past six years Abhijit Avasthi has built a unique company in Sideways Consulting which is a mix of a consulting firm, design house, ad agency, tech solutions company, product design firm, the list is endless. Here is a man who welcomes problems, because simply put 'solving problems' is his agency's expertise. An indepth interview with Abhijit Avasthi, Founder, Sideways Consulting
Q] You claimed that an agency like Sideways doesn't exist anywhere in the world, can you explain why you are so confident about that?
We started Sideways with the ambition of applying creativity and right brain thinking to different aspects of a business, not just advertising and branding. And today, if I was to evaluate all that we do, right from building payment apps, social networking platforms to coming up with new credit card offerings for clients, designing products, building loyalty programs, and even launching our own products – reimagined toys and games-- in addition to advertising and branding, I doubt there is any company in the world that does all this.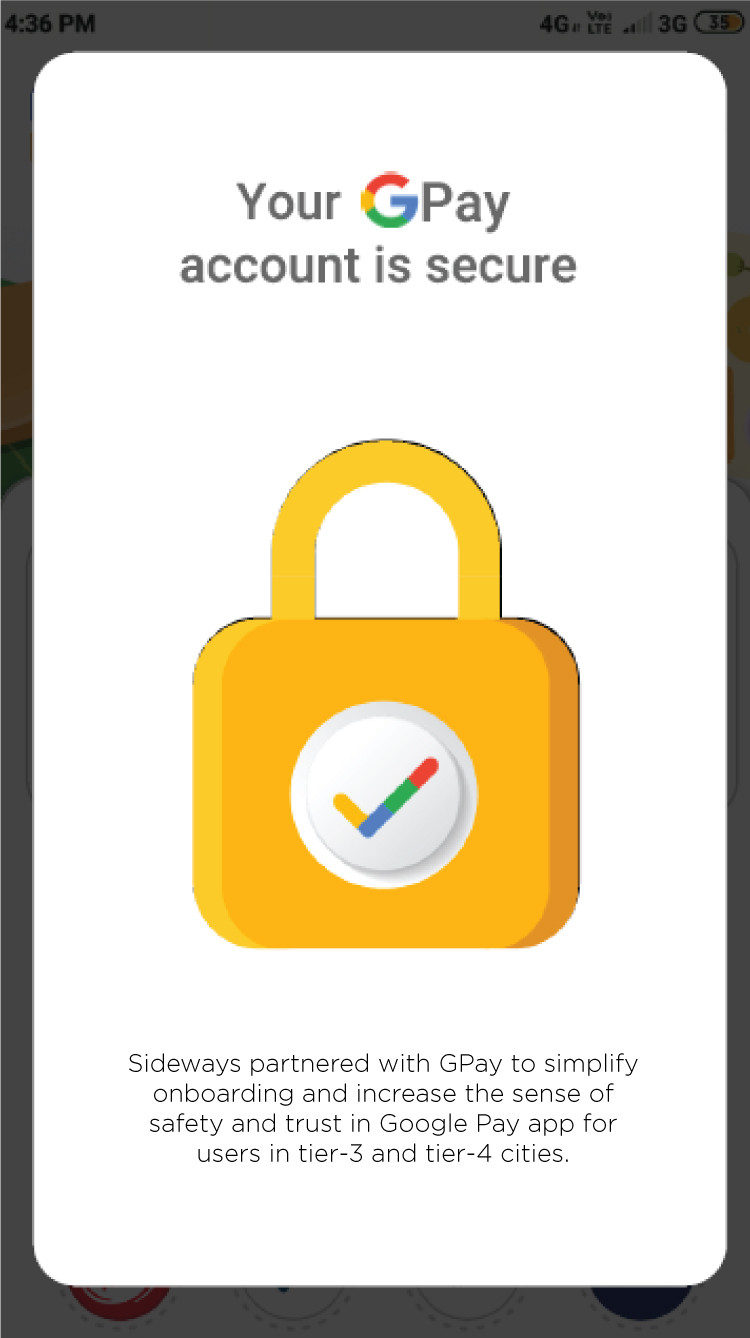 Q] Roughly 50% of the work you do comprises advertising. Was that always the plan to not give ad making top priority, or was it something that the agency evolved into doing over the years?
I'd say it's a bit of both. We knew that we wanted to do many things and that we would need people with different skill sets. But we weren't clear about exactly what all we would be doing. Also, what's happening is that we are also discovering the strength of our team and the possibilities with each passing month and have begun to enjoy it. But now we have 50-60 case studies and a variety of projects that we have done. I can say with confidence "Any problem, any opportunity, bring it on, and I'm certain we will be able to solve it."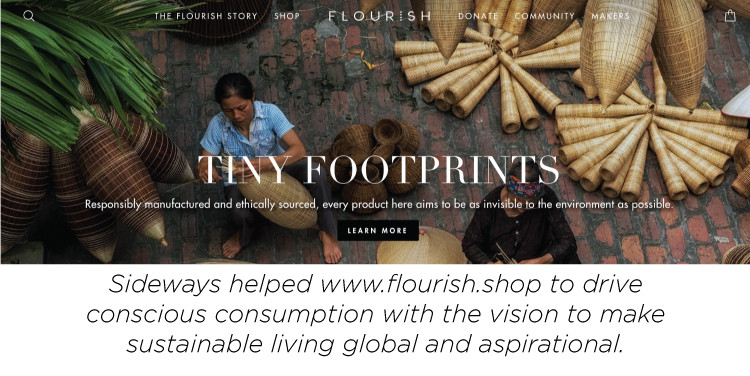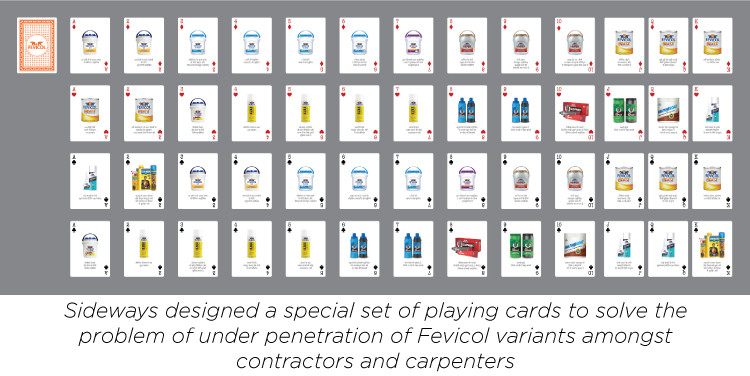 Q] Please share instances of how exactly you have helped brands in their journey?
We've had the fortune of working with at least 80-90 clients from big established companies like Google, Flipkart, Unilever, P&G, Citibank, Marico, etc. We're also plugged into the startup ecosystem, whether it's Curefit, Nykaa or FinTech clients like Niyo. Because of the way in which we engage with these clients, we end up doing a variety of things. For example, we are working with Multipie which is India's first social network for investing. Sideways is building the entire app for them, including product features, UI, UX, and a variety of other things. For credit card companies like Citi and a few others we have reimagined loyalty programs, as well as developed new customer value propositions. We've done an interesting project for Marico in high end haircare space which included identifying what ingredients should go into the product to doing a story around the ingredients, what would be the brand proposition, how do you substructure packaging in the category, etc. We are working with Pidilite in one of the categories where they want to reimagine some very basic arts and crafts materials like never seen before. For our joint venture with Reliance we are reimagining board games and toys. In advertising we do work for Nyka, launched the Kia Motors brand in India etc. So the spread is huge.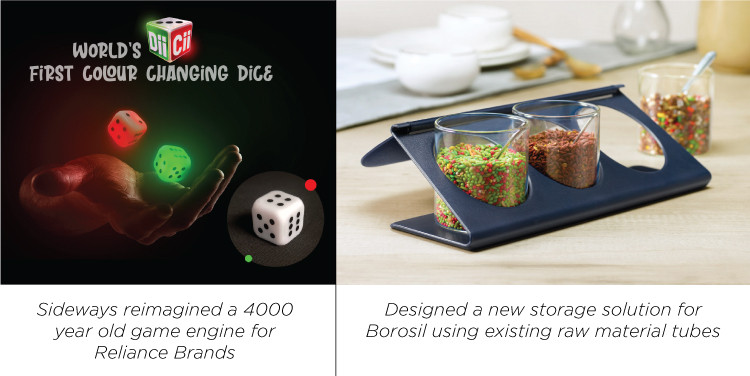 Q] When clients come to a creative agency, it is because they have proven themselves in a particular line of work, like video ads. In your case every project is different in nature and new to your team as well. For example why would a tech company like Google come to Sideways for building an app, what would Sideways bring to the table here, which Google doesn't possess?
Yes, we have a very disparate range of skill sets, like technologists, engineers, product designers, management consultants. For example, our Technology head has built IoT platforms for Hitachi, a secure email server for ICICI bank and has run his own technology firm. So these are specialists in their domain. The way we inspire confidence in our prospective client partners is by taking them through relevant ones from the 50-60 solid case studies we have whether it is on solving market share issues or building new tech platforms. To answer your question specifically – Nobody gets tech like Google does, why will they then rope in Sideways to onboard the next round of cash users. But Sideways sits at the sweet spot of deep customer understanding, domain expertise and creativity. We do all research, emersions & diagnostics in-house. Nothing is outsourced. So that way the team on the table knows exactly what's happening on the ground. For example, for the Google project, my head of tech would sit behind kirana stores for hours on end, observing transactions, payment methodologies, why are people using cash, when are they using it, etc. This, I think gives a lot of richness to the work that we do. With Sideways you get everything end to end, everything happens under one roof and therefore there is no generation loss.
Q] The time taken for creating a video may be small, but finding the root cause of a problem and solving it properly may take many months. Do clients have that much patience today?
This has been one realization. Most mature marketers and clients get that they may take a month or two to turn around a video but a complex business problem may take anything from six months to a year. The fact that we tell them this will take about a year, gives them the reassurance that these people get it and they are not part of the 'I'll turn it around quickly in 45 days' bandwagon.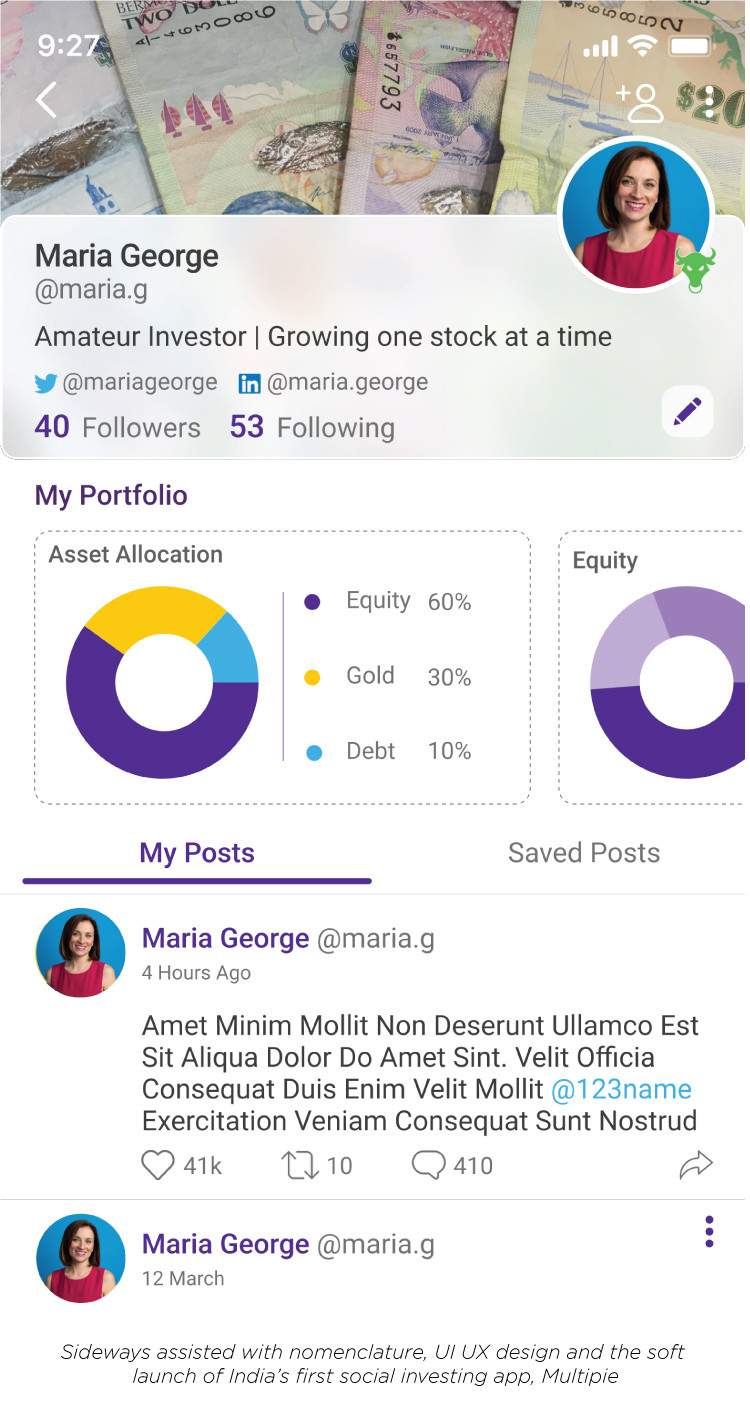 Q] From a complicated nature of work to having a no pitch policy, how difficult is it to rope in clients who don't know much about Sideways?
It is tough, I'll be honest about that. And we made it tougher for ourselves by not pitching. It is not out of any arrogance. It's just that, over the years, the processes that we follow, the depth and the frameworks which we use to solve problems are not amenable to a pitch process. Secondly, when we sit with them, and take them through the case studies they do end up getting more powerful reactions from clients. So when they see that flavor come alive, they say, "This is different." And what's been reassuring, to be honest is to hear this statement quite often--- "Oh, I wish I'd met you guys earlier."
Q] Today, once again we're seeing many independent agencies joining a network, be it Amit Akali's WYP, Abhik Santara's Atom or Ashish Khazanchi's Enormous, is Sideways open to that?
Absolutely not, for a couple of reasons. One is that I think what we're doing is so different that most networks won't be able to understand it. There is a lot of experimentation in what we do, and rightfully so, should any network invest in us, they would expect certain kinds of returns and want us to follow a certain path and processes. The reason we've been able to do such different kind of work is because we've chosen not to go about the conventional way. I don't want to lose my independence, because it lets me learn and do a lot of projects. Lastly I always think why should there not be a really amazing, creative intellectual company out of India? Why does everything have to be from the west, why should the top companies only be network agencies? We're Indians, we get Indians, so let's build a unique company out of India. So I don't see myself partnering anyone as of now.