At the age of 19, when most people are figuring out career trajectories, Sidharth Rao had founded India's leading Digital agency, Webchutney. This, at a time when Digital was not as prevalent in our lives as it is today. One of the leading admen the industry has ever produced, a visionary, Rao, unfortunately, breathed his last on 21st April, 2023. He is survived by his parents, and wife.

The news of his sudden demise sent shockwaves through the advertising industry, and is a permanent setback to many. An illustrious career saw the agency he built bring home 3 Grand Prix, the elusive Titanium Lion, The Agency of the Year title and several other Cannes Lions last year. But Rao is also fondly remembered as a gem of a person, a humble, and earthy human being.

Rao's LinkedIn profile proudly states, 'College Drop Out,' and quite akin to the many greats before him, he too went on to do extraordinary things after dropping out of college. He started his digital agency in an era when the word Digital itself was unheard of, and the internet boom was at a nascent stage. After dropping out of college in 1997, Rao went on to intern with Grey Worldwide (India) Pvt. Ltd. in 1998, before starting Webchutney in 1999. In 1999, when we were still using landline phones, and writing inland letters, Rao started one of India's first Digital agencies. His vision took the agency to great heights, working with brands such as, Flipkart, Google, Uber, Swiggy, WeWork, Ikea, Under Armour, Airtel, Tata Sons, Whirlpool, among others.

He also incubated NetworkPlay in late 2008, which became one of the largest brand ad networks in less than three years of its launch. NetworkPlay under the aegis of Webchutney, became a reliable partner of premium websites like LinkedIn, Bookmyshow.com, Makemytrip, and Gruner + Jahr. It was acquired by Bertelsmann AG in March 2012.

May 2013 marked a landmark month for Rao, as Dentsu Aegis Network acquired Webchutney that went on to become the most-awarded Indian agency at the Cannes Lions International Festival of Creativity in 2019 and 2021. Notably, it was also the first Indian agency to become the Global Agency of the Year at Cannes Lions 2022 (Amit Akali's Medulla Communications had become the Cannes Lions Agency of the Year on the Healthcare side in 2016). India had never seen such an incredible run at the coveted Cannes Lions, but thanks to the formation of Webchutney, Rao made it a possibility.

He was also a member of the global digital advisory board at Unilever, and served in the jury of some of the most celebrated advertising festivals in India and around the globe.

Rao donned a new hat as an angel investor in 2013, investing in businesses such as ScoopWhoop, LoanZen, Invideo, CoHo, Register Book, Everpret, Mojocare, Pepper Content, VS Mani, Adaptive, CrudeArea (acqui-hired), FITH (acqui-hired), Voxapp (shut down), and LocalOye (shut down). Recently, he had been investing majorly into the Direct to Consumer space.

He wrote his first book How I Almost Blew It in 2019, narrating the tales of seventeen Indian startup titans. The book covered industry leaders like Sanjeev Bikhchandani of Info Edge and Naukri.com, Deep Kalra of MakeMyTrip, Deepinder Goyal of Zomato, Ashish Hemrajani of BookMyShow, Sahil Barua of Delhivery, and Girish Mathrubootham of Freshworks, among others.

In 2021, he was appointed the head of the India unit of dentsuMB, the restructured global creative network of the company. Just after a year, he stepped down from the position and launched Punt Partners, a new venture in marketing technology (MarTech), in collaboration with his close confidant and serial entrepreneur Madhu Sudan. In December 2022, Rao announced that Punt Partners raised its first round of capital from prominent angel investors and entrepreneurs.

A visionary par excellence, Rao's absence will leave a deep wound in the hearts of many, and not to forget, that his achievements have been cut short by his untimely demise.
---

A Pioneer of Our Times
Rohit Ohri
Chairman & CEO, FCB Group India
"Woke up to this terrible news this morning, I can't believe that Sid is no more. I met Sid in early 2013. After the acquisition of Taproot, I was looking for a digital acquisition and Dentsu Webchutney was the best option at that time. Sid was a pioneer. He had the vision to create a digital agency way before digital marketing really took off in India. Sid had this very earthy and completely disarming way about him. Everyone in Webchutney loved him. He was a truly empathetic leader. Sid will be missed."

A Close Friend
Ajay Gahlaut
Former Group Chief Creative Officer, Dentsu Creative
"This is truly heartbreaking. I was regularly in touch with Sidharth over the phone, and I was supposed to meet him next week in Mumbai. Now that will never happen. He was a close friend. Apart from my personal loss, Sidharth's demise is a big setback for our industry. He was a visionary and had a lot more to contribute. He left too soon. Go in peace my friend. Om Shanti."

A Super Human Being
Sukesh Nayak
Chief Creative Officer, Ogilvy
"This is a huge loss for all of us. Sid was one of the brightest, unassuming, and a super human being. We will miss him."

A Brilliant Adman
Vivek Bhargava
Co-founder, Profitwheel
"In the advertising fraternity, Sid was one of my closest friends, we had both sold our companies around the same time to Dentsu, and so I spent a lot of time with him at Dentsu. He was one of the most brilliant and the sweetest guys anyone could have ever known. I just cannot digest or accept the fact that he is no more. We just had our ProfitWheel offsite at his farmhouse in Karjat, and he postponed his flight to Dubai just to spend time with us. I write this with tears in my eyes, although the heart is too numb to accept that I will never be able to speak with him again."

A Source of Inspiration
Anand Bhadkamkar
Group CFO and President, Strategy, Logicserve Digital
"The news of Sid's death is a huge shock. A gem of an individual, besides being a creative person at heart, Sid wore many hats - that of an entrepreneur, an author, a mentor to his juniors, an investor, a colleague, a friend, and above all husband and son, and he excelled in all. Always willing to help, Sid was a source of inspiration to many, whose lives he touched. Gone too soon, this is a huge loss for the Industry and for me personally as well. His memories will remain with us forever."

A Passionate Individual
Titus Upputuru
Founder, The Titus Upputuru Company
"I am shocked, this is absolutely unbelievable. I thought he just started another life, and will have another long innings, and I can't believe he's gone! To me he was such a spirited guy, always with a smile and a twinkle in his eye. Will miss him terribly. I remember when I had put in my papers at Dentsu last year, he called and had a long chat at night, asking me to stay. So loving, so giving, so passionate. Gone so too soon!"
---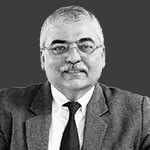 'Sidharth built leaders whom he gave all the credit to'
By Ashish Bhasin
Co- Founder and Chairman of RD&X Network and former CEO APAC and Chairman India, Dentsu
"It has not sunk in yet, an absolutely tragic loss. We worked very closely and he often came home, knew my family well too. So, it feels like a very personal loss. In fact, I last spoke to him just yesterday (a day before his demise). And we promised to meet up in the coming week, once I was back in India.

I remember when the acquisition of Webchutney had just been done, I sort of helped him, encouraged him to rediscover himself and reinvent Webchutney which he did, and wow...in what a way! I told him "you make me (the agency) famous and I'll make you rich." And he really did make us famous. He went and won The Agency of the Year! (At Cannes Lions). It almost feels like his signing off gift in a sense.

I could share a hundred anecdotes about him, everybody knows what an amazing creative leader and digital guru he was. But besides that, there were some amazing qualities which only Sidharth could have. I'm not sure how many people know what an absolutely wonderful human being he was. Absolutely pure and full of love for everyone, and willing to go to any extent for the people whom he loved.

He was an integral part of my Exec team- the core team that we had. So there used to be this joke back then. While he had many strengths, punctuality certainly was not amongst them, and he would typically be the last guy walking into the meeting. And everybody would leave the chair next to me empty, so for every single exec meeting the poor guy ended up sitting next to me. And that used to be the big joke — Ashish is most fond of Sidharth, as he gets to sit next to him in all the exec team meetings.
He put his heart into his work in a very unassuming way, and the best part was that he built leaders whom he gave all the credit to, for all the success that Webchutney has achieved. But I think that nobody can deny that the heart and soul behind Webchutney was indeed Sidharth.

And what an amazing mentor. He inspired loyalty in his people beyond belief. Different people have different leadership styles. His leadership style was pure, unadulterated love. He just gave so much love to his team, and they loved him back so much. Not just to his team, but everybody else around him. There's nobody you'll meet who will not have a great story to tell about Sidharth.

I know that it's a cliché to say that there's a vacuum created when somebody goes, a vacuum that nobody can fill. But I think in Sidharth's case, there is no vacuum created because he has generated so much love that, the love will permeate well beyond Sidharth's departure from this world.

I think because he was so unassuming and simple in his mannerisms and behaviour, people tended to underestimate his skills and his capabilities. And I think that was the hallmark of his leadership. He was the most unassuming, very happy to put his team in front to get all the credit. But I know this for a fact that he was the driving power behind a lot of the success that WebChutney had, and was instrumental in building a world-beating team. And not only WebChutney, but as a part of my exec team, he was an asset across the entire organisation when I was running it in India.

And this is a guy who had almost given up around ten years ago - he wanted to pack up and leave. And I clearly remember a meeting we had in my room, where I told him, "Look, you have got it in you. WebChutney is going to be much more famous than what it is so far. So, there's a long journey ahead." He took up the challenge, and just see where he led it to — he made it the most creative agency in the world. Never before has any agency in India been able to do that, and I don't know when next the opportunity will arrive. No doubt he would've been successful in his second innings (at Punt Partners) as well.

But while we remember his leadership, his creativity, what we must remember about Sidharth is his love- the amount of love that as a human being he could generate around him. We all could learn that lesson from him.

I will miss him at several levels…I miss him as a former colleague, miss him as a friend and a brother, but most importantly, miss him as one of the really wonderful human beings the world has lost today.

Lastly, I will only say this…Sidharth my friend, there isn't going to be another one like you ever again. And I'm going to miss you…"