With the rise in consumption of gaming content, several influencers from Tier II and Tier III cities who indulged in mobile and PC game streaming on YouTube have grown. About five of the Top 10 YouTube creators in India this year were gaming creators, including Total Gaming (Ajay), Techno Gamerz (Ujjwal Chaurasia), A_S Gaming (Sahil Rana), Lokesh Gamer (Lokesh Raj Singh) and Gyan Gaming (Sujan Mistri). Total Gaming and Techno Gamerz took the top two slots of this year. Revenues from India's game streaming industry could touch around $300-400 million by 2023, industry experts say.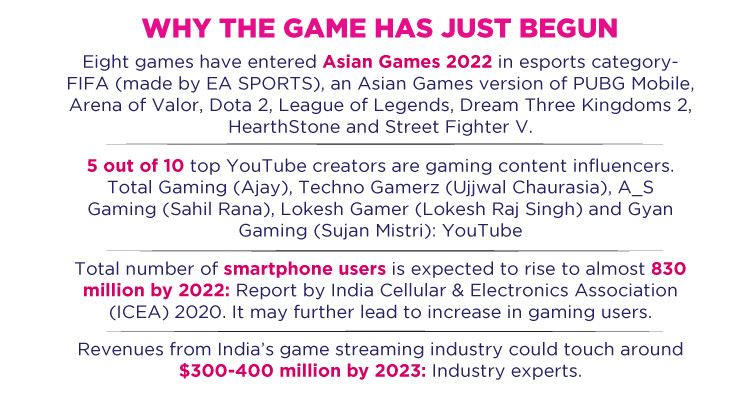 For Harnit Khatri aka Gunshot, a former esports athlete and gaming influencer, the growth on YouTube and Facebook increased at the onset of COVID-19 pandemic, he says, "We have been associated with brands since a long time. The growth in subscriber base and fan following has grown tremendously. We have seen increase in growth of numbers in terms of content creators as well as the user base. It is no doubt that today, a gaming influencer is considered as an idol and no less than a celebrity."
For gaming YouTuber Aniket Chauhan aka YT Hathoda growth in number of users and watch hours surged during his live streams when he dominantly entertained his audience while playing GTA V Role Play. "Interaction with our fans and followers regularly on live streams and social media platforms has led to our popularity. Brands collaborate with us due to the high ROI we provide. Be it in terms of clicks, reach or from a sales point of view. Rise in number of influencers today shows how effective influencer marketing in India is today.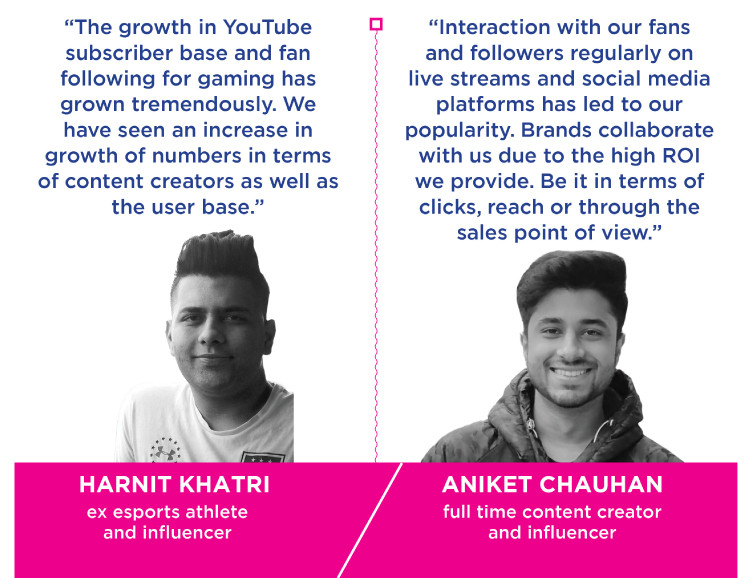 Trinity Games has been at the forefront in acquiring and engaging with top gaming influencers in India. Talking about the role of influencers in the mainstream gaming industry, Abhishek Aggarwal, Co-founder and CEO for Trinity Gaming says, "We have seen an increase in the number of gaming content creators. The market is huge where non-gaming content creators like Harsh Beniwal or Gaurav Taneja started contributing to gaming content. Our star content creator- Aaditya Sawant aka Dynamo Gaming hit the 10 million subscriber mark during the pandemic. Today, we have 200-300 influencers and we help brands to connect with these influencers to suit the brand's budget. In 2021, the gaming industry exploded and when the world opens up we will see an exponential growth in this sector."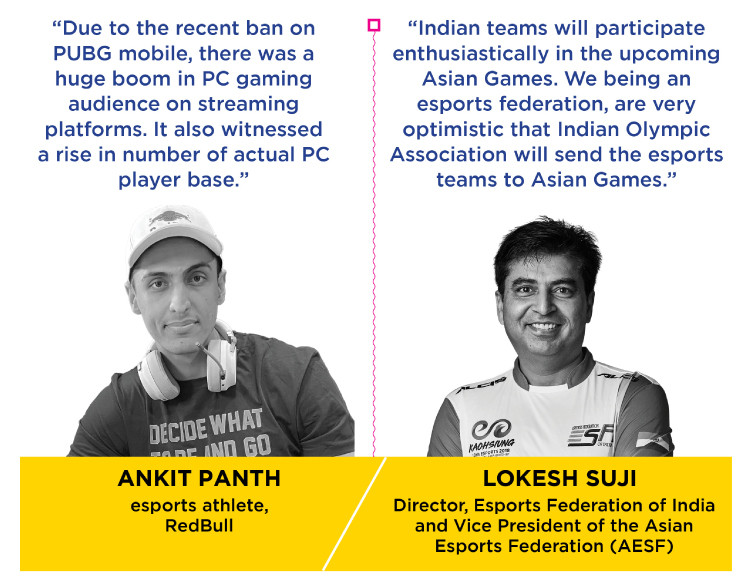 In September 2022, eight medal events and two demonstration games will be conducted at the Asian Games to be held in Hangzhou, China. This comes as a major boost to the Indian esports ecosystem. In 2018, Esports was a demonstration event at the 2018 Asian Games when Indian gamer Tirth Mehta won a bronze medal in Hearthstone. Lokesh Suji, Director, Esports Federation of India & Vice President of the Asian Esports Federation (AESF) says, "Compared to last year, the overall revenue in approximate numbers will not be more than 20 million. But today, the endemic or non-endemic brands with the help of agencies are sponsoring tournaments and esports teams. Indian teams will participate enthusiastically in the upcoming Asian Games. We being an esports federation, are very optimistic that Indian Olympic Association will send the esports teams to Asian Games."
Vinit Karnik, Head-Sports, Esports and Entertainment of GroupM South Asia says, "Unlike online gaming, esports is defined by online games of skill that are played in tournaments. As esports tournaments grow more competitive, they will draw more viewership and support from players and the audience. Gaming and esports can help brands connect with hard-to-reach audiences."
KFC India recently sponsored BattleGrounds Mobile India esports team- OR Esports with the catch phrase 'Winner Winner Chicken Dinner'. KFC will provide unique jerseys for players to wear their excitement and also perhaps surprise players with a digital avatar of Colonel Sanders.
"KFC is always open to collaborating with culturally relevant partners, in a way that's distinctive. E-gamers and KFC fans in India share commonalities of being passionate, youthful and innovative. Hence, we were excited to announce the partnership with OR Esports, one of India's most exciting mobile gaming teams. Being the first WWCD (Winner Winner Chicken Dinner) sponsor sounds pretty epic. What's a better way to celebrate a great game of BGMI than with a bucket of KFC's hot and crispy chicken dinner! Now, that's what I call Finger clickin' good," said Moksh Chopra, Chief Marketing Officer of KFC India.