Adman and acclaimed Bollywood Director, Pradeep Sarkar passed away recently (March 24) at the age of 67, leaving both advertising and Bollywood industry in shock. Sarkar, who was affectionately addressed as 'dada' by his friends and industry colleagues, has donned many hats in his career.
Advertising Journey
He graduated from the Delhi College of Art in 1979 with a gold medal and joined Tulika Advertising Agency as Creative Supervisor. He began his career in Contract Advertising, Delhi and after 17 years of pure mainstream advertising, he left Contract as Associate Vice President Creative to start his journey of ad-film making. He launched his own production company, Apocalypso Filmworks 25 years back and went on to produce some of the award-winning and highly successful ad campaigns like Cadbury's iconic 'Pappu Pass Ho Gaya' campaign; Tata Yellow Pages; Onida KY Thunder and Campaigns for Aaj Tak and ICICI Prudential. He won the 'RAPA' Award and 'Best Director of the Year' Award at the Abby's for his Aaj Tak commercial, which was shot in black and white. He has directed over 1000 commercials in his career.
Iconic music videos
Apart from advertisements, Sarkar also tried his hand at music videos and directed some of the remarkable music albums of that time. From Shubha Mudgal's priceless masterpiece, Ab Ke Saawan, featuring Mudgal as the desi rockstar to Euphoria's 'Maeri' or Ustad Sultan's 'Piya Basanti Re', which has touched every 90's kid's heart, Sarkar weaved beautiful stories through his music videos.
The Adman who conquered Bollywood
After winning hearts with his advertisements and music videos, Sarkar became one of the first admen to conquer Bollywood. He forayed into feature films with Vidhu Vinod Chopra's Parineeta. He brought Sarat Chandra's literary character 'Lalita' alive with Vidya Balan. Besides, he has also directed films like Mardaani and Helicopter Eela among others.
The Star Maker
Most of us knew Sarkar for his work, be it his ad campaigns or music videos or feature films, but he was also known for making stars out of new talents. He always believed in guiding and giving chances to new talents in the industry. Vidya Balan made her debut with Sarkar's directorial debut, 'Parineeta'; Director Amit Sharma who is known for 'Badhaai Ho' started his career under him. He also gave some significant breaks to Bollywood photographer Atul Kasbekar in his initial days in the industry.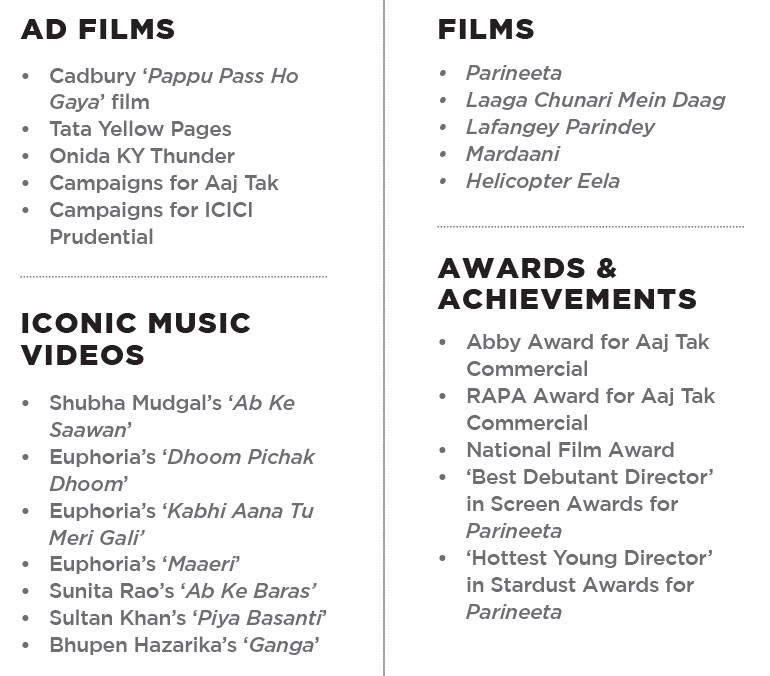 Azazul Haque
Chief Content Officer, Media.Monks
"I still remember my first meeting with Pradeep Da at his office. It was for Dabur Himsagar Tel and even though I was only a few years old in advertising while he already was a seasoned director, he involved me in conversations, seriously listened to my creative inputs and didn't behave like directors of that era who always put themselves on a pedestal. Such was Pradeep Da, very down to earth and simple like a common man and that is the reason why his sense of characterization was far better than any other director, his characters were middle class, rooted and from the heartland, unlike most directors then who were making mostly west influenced ad films.

Characters, casting, storytelling was his forte and it continued to be even when he made his Bollywood debut. Even after he had given many successes with Bollywood, his love for advertising films continued. I got to work with him on another Dabur campaign after a decade and he was as excited as the first time when we had worked together, in fact his excitement was childlike. Everyone respected him, especially the actors had huge respect for Dada as he used to get the best out of them. His grasp over performance led roles was outstanding.

From 'Sabse Tez' Aaj Tak Campaign till his last campaign, Pradeep Da had given Indian advertising many interesting characters, rather he has taught creatives like me the importance of characters in ad films. Characters that are real, that we can relate to, that we see around us, characters that somewhere embodies him. And Pradeep Da will live in those characters forever."



Abhinav Iyer
Chief Marketing Officer, Muthoot Finance

"It is extremely sad that our dearest Dada …one of Indian Film Industry's greatest talents Shri Pradeep Sarkar is no longer with us. A legendary filmmaker, a creative genius and above all a very humble, affable and lovable human being! His invaluable contributions to the world of films, commercial cinema and equally to the world of advertising are simply unparalleled.

I was blessed to have had the privilege and honour of working very closely with Dada while creating and shooting many advertising films for Muthoot Finance since 2018. During every project that I worked with Dada, I observed that the one thing that remained consistent & unchanged was his relentless passion for making magic, which he always ensured for our brand!

Despite being an institution in himself, Dada always encouraged creative feedback irrespective of where it came from. He would quickly start pondering and in no time come up with such brilliant solutions, spot-on! I will never be able to write enough for you Dada! You will forever remain in our hearts; thanks to the indelible impression that you have left in my mind! Rest in Peace Dada! Om Tat Sat!!"

Divyansh Pandit
Founder & Director, Wild Buffaloes Entertainment
"Pradeep da was one of the best people the Hindi film industry ever had. My association with him goes back to 2017-18 and I have not seen anyone being so creative, yet so aloof--who kept his distance from the regular PR exercises and parties. He was a big foodie and could literally go all the way to Hyderabad to do his writing sessions just because he likes the food there. In fact, when I met Pradeep da I realized that if he likes you, he will give you the same amount of love, that he showers on food.

For me, Pradeep Sarkar was a Dil Fek person, whose heart did the talking. He was running a team which had been with him for many years, and of course, he always had a support system in his wife, Panchali. He was on a decline as far as his physical health was concerned, but dada was a tiger on the set. He used to forget about his health problems because for him his survival was linked to his work. Pradeep da was someone who would stand up for you and even go against his own people if he thought that they are wrong and you are right. Though he was vulnerable in his last few days, the man had a spine and the news of his demise was heartbreaking."