In a major development in the digital space, MX Media Co. Ltd the parent company of MX TakaTak, and ShareChat, the parent company of Moj, announced a strategic merger between Moj and MX TakaTak, to create the largest short video platform in India. This bold strategic move is considered as a major threat for Facebook's Instagram Reels and Google's Youtube Shorts. After the merger, MX Media and its shareholders will become strategic shareholders of ShareChat.
According to media networks, ShareChat will acquire MX TakaTak in a $700-million deal. As per media reports Mohalla Tech, the parent company behind Moj and ShareChat recently raised $266 million as part of its Series G round at a valuation of $3.7 billion. ShareChat, counts Singapore's Temasek Holdings and Twitter among its investors.
Since its launch in July 2020, Moj has emerged as the largest Indian short video app, with over 160 million MAUs and over 50 million creator communities in the 15 Indian languages. MX TakaTak was launched in July 2020 and reached 150 million MAUs, across 10 languages. The combined platform will have 100 million creators, over 300 million Monthly Active Users (MAU), and nearly 250 billion monthly video views.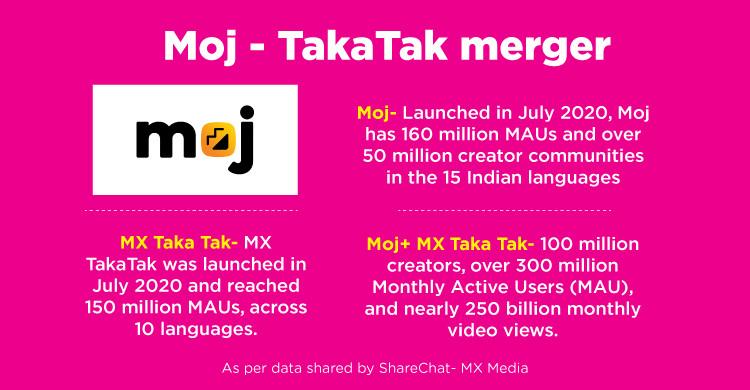 When Impact contacted Ajit Varghese, Chief Commercial Officer for ShareChat and Moj to get an insight on the merger, he said, "We believe coming together of app ecosystems (Moj and TakaTak) has natural benefits from a user and creator point of view. A lot more focussed energies can be spent on developing AI, Content ecosystem, User experience and driving creator growth vs. each one of us doing it individually. For advertisers wanting to reach out to these young and vibrant consumers - improved reach, targeting and ROI are the big benefits instead of splintering budget across many smaller players."
When asked how this merger will benefit content creators of the individual platforms, Varghese said, "All creators eventually want their content to be discovered more, grow their influence across wider audience base and find ways to engage with them. With a unified way of working and a larger combined audience base, they will find it more useful to develop their strategies with us to build their fame, find more ways to engage with the fan base and make a living in the long run."
When asked if this strategic merger is to take the competition with Instagram and YouTube Shorts to the next level, Varghese says, "We think the competition in social space eventually is for 'consumer attention' in their process of content discovery. In that way, everybody vying for that is competition. There is a natural growth and affinity of consumer in SFV space in the last few years and that is where we want to play a significant role in the coming year(s) when social media penetration is set to double. Although there will be multiple players in this game of seeking attention and time from consumers/ creators, we want to be amongst the top 2 players in this space."
According to experts, ban on Chinese mobile applications in India led to a major boost in Indian Short Video Format (SVF) applications. Ban on TikTok in India created an opportunity for home grown SVF apps like Josh, Roposo, Moj, Chingari, MX TakaTak, etc.



According to Apptopia, Instagram reels was made available to India on July 12, 2020, which is before its official release in August, 2020. From July 12 to August 16, Instagram downloads increased from 7 million downloads to 7.8 million downloads after the launch. There was an increase of 11.4% in the download trend and the average time spent on Instagram in India increased by roughly 3.5% after the launch of Instagram reels.
Commenting on the partnership, Karan Bedi, CEO MX Media said, "I am excited to announce the strategic merger of India's two most popular social media platforms. As India's largest digital entertainment platform, MX has always strived to build superior world class products, and TakaTak is no exception. This combined with Moj's AI and execution capabilities makes the combined business a truly world class short video platform. MX has created two 'unicorns' within one business, unlocking significant value for our shareholders, and will now continue to double down on OTT, with significantly increased financial resources."
By 2025, three in four Internet users, or 600 million to 650 million Indians, will consume short-form videos with active users spending up to 55 to 60 minutes per day, according to the report by Bain & Co, so this space is clearly set to explode and this merger will create a short form video giant to watch out for.


Next few billion users can come from new local players: Karan Bedi
Roughly two years ago, the exit of Tiktok from India signalled the arrival of a host of homegrown short form video platforms like Moj, Josh, Takatak, etc. A few days ago two of the biggest such platforms in India--- ShareChat's Moj and MX Media's Takatak joined hands to create the largest short video platform for Indians. The two platforms will now be controlled by ShareChat, while MX Media and its shareholders will become strategic shareholders of ShareChat. The combined platform will have 100 million creators, over 300 million Monthly Active Users (MAU), and nearly 250 billion monthly video views. But what will be the way forward for these two brands which were once competitors, what will the new entity be called and with ShareChat as the controlling company in the merger, what will it mean for brand Takatak. Karan Bedi, CEO, MX Media in his first indepth interview since the announcement on the big merger talks to Neeta Nair about all this and more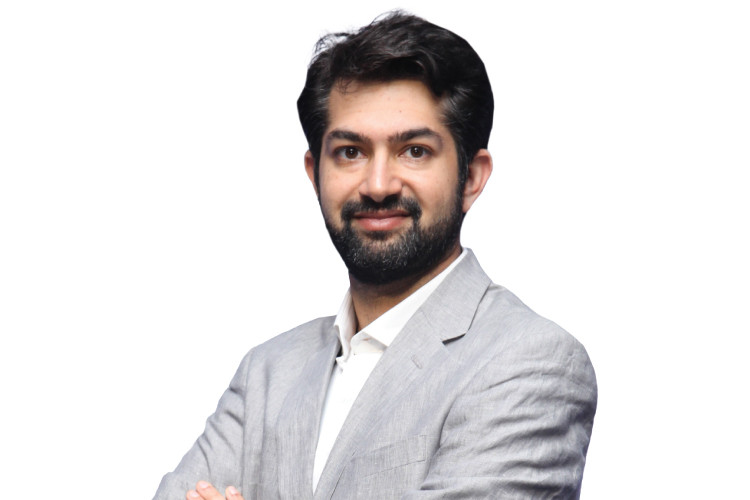 Q] The coming together of Moj and Takatak can be called as one of the biggest mergers in the short form video space in India, how long will it require to take shape on the ground? And what will the new entity be called?
It's already taking shape. MX TakaTak will be a part of ShareChat and MX Media and its shareholders will become strategic shareholders in ShareChat.
Q] With Sharechat being the controlling company here, what happens to brand 'Takatak' which has got significant popularity in the past couple of years? Will it lose its identity?
As you mentioned, Takatak is a very popular brand and it will be around for some time.
Q] Media reports are claiming it is a $700 million deal. In 2018 Times Internet acquired MX Player reportedly for Rs 1000 crore and set up Takatak in a short time. Was it always the plan to find an appropriate partner when the time comes to scale Takatak further?
We think about new products for our users first. We saw this opportunity in July 2020 and understood the user need. As products and markets evolve, we are constantly analyzing what will deliver maximum value for our users and our shareholders.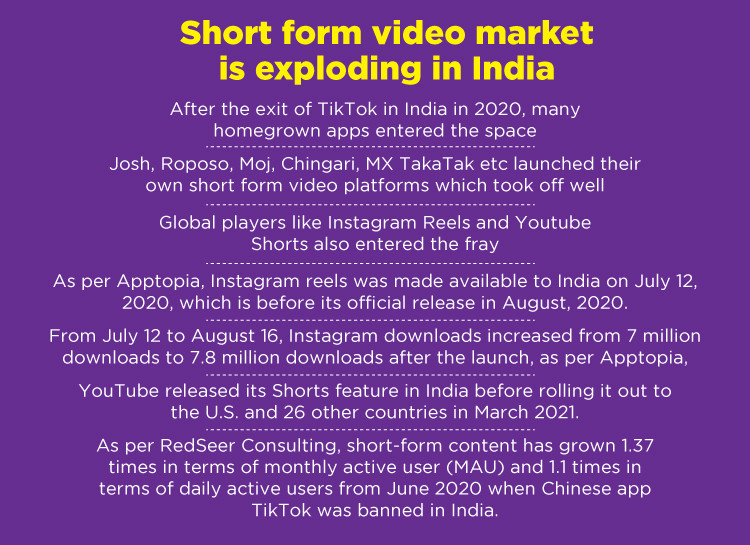 Q] In what way will you combine your strengths while creating this short form video behemoth. What will it mean for the users and what kind of newer experiences will you bring for them?
There is a massive convergence emerging in content consumption formats. Users want to consume different kinds, lengths and intensities of content. This means that talent, stories, interactivity will translate across every different kind of platform. Learnings from both platforms will be combined to address gaps in user needs and many new experiences will emerge from this. The combined entity will have more than 100 million creators.
Q] What will the merger mean for the short form video industry, globally and locally who would you consider big competition, like the very popular Instagram Reels?
Globally, TikTok continues to reign supreme but there is ample room for local players, not just in SVF, but also in many media consumption categories. We have witnessed the first ever historic decline in FB DAU last week. Netflix's struggles in many markets including India are well documented. This indicates that the next few billion users can come from new local players in every kind of media - be it OTT, Short Form Video, Gaming, etc,.