At the start of the year, industry bodies and media agencies had their predictions in place with projections for Adex to grow at an estimated rate of 10% in 2020. About a month later, as the industry finds itself grappling with an enormous challenge in the form of the coronavirus pandemic, media agency leaders are uncertain about the days ahead.



Certain sectors like aviation, hospitality, tourism and events are so dramatically affected that their revenues are down to near-zero. Explaining that the impact on the economy is going to see a domino effect on the advertising business, Ashish Bhasin, CEO, Dentsu Aegis Network APAC and Chairman, India, says, "The impact on the economy will be long lasting. Production has come to a complete halt, companies have shut factories and labourers have returned to their villages. It's going to take a while for companies to recover and there will be a definite slowdown in India as well as the global economy. Unfortunately, advertising is one of the easiest expenses for companies to cut at such times. It is becoming difficult for companies to pay salaries, vendors, etc. Therefore, I am afraid that there are dark clouds looming over the advertising industry for the foreseeable future."
According to estimates from media agencies, if the pandemic is not controlled within the next three months, the advertising industry may see losses to the tune of Rs 4,000 to Rs 5,000 crore.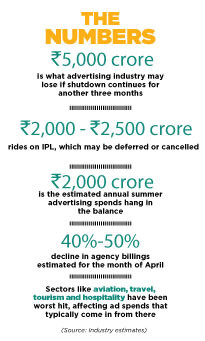 The Indian summer months usually see higher volumes of ad spends, especially with the Indian Premier League (now cancelled) and with sectors like FMCG, travel and tourism and consumer durables raising their spends.

What is noteworthy, however, is that TV viewership has seen a sudden jump of 8% during the lockdown (as per a report released by Nielsen and the Broadcast Audience Research Council of India). This has resulted in a 13% growth in ad volumes in the week that ended March 20, compared with the pre-COVID-19 period.

While the future does look gloomy, agencies are doing whatever it takes to keep their businesses running, whether it is through virtual pitches or taking a digital-first approach for all campaigns and communication. "Everything is being coordinated and managed through calls and by using all forms of available technology.



Reviews and daily engagements with clients and teams are far higher than ever before. We have more pitches to emphasise on," remarks Rana Barua, CEO, Havas Group India, adding that the agency has adapted to the current climate and is taking things one day a time.
The exact impact on ad spends may still be a guesstimate since no one can predict how long the crisis will last. However, agency heads also estimate the impact this year will be worse than the 2008 crisis.



Economists predict a dismal GDP growth of 2% or less, which will have a direct impact on Adex. According to the Madison Media Matters newsletter released by Vikram Sakhuja, Partner & Group CEO, Madison Media & OOH, the Adex growth projection as per Pitch Madison Advertising Report released on February 13, 2020 was 10.4%.

The report's projections were made keeping in mind that GDP growth would be 4%-5% until September this year, and 7% after that. However, if GDP does fall to 2%, we may see an overall shrinking of Adex by 0-5%. The report recommends that brands should remain authentic and build trust in these troubled times instead of being opportunistic.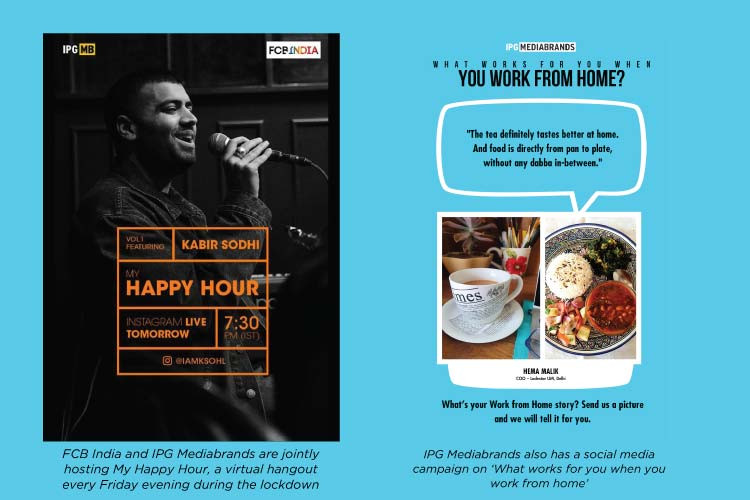 Looking at the situation in China, which is now moving towards normalcy, industry leaders are hopeful that India will not see a three-month shutdown too. "It is very hard to put a number because there is no fixed end date in sight. One can only learn from other markets. Let's say China has the most remarkable recovery. At our company, the employees are back at work, which is true for most companies. The market, at least from the second half of April, should be going towards normalcy. But that means there have been three months of non-normalcy in a market like China.



Will that period be three months in India or more than that? We don't know. We are hoping we will recover as fast as or faster than China," says MA Parthasarathy, CEO, South Asia, Mindshare. He adds that media agencies for now just have to work towards minimising impact from the lockdown and plan better.
Pointing out that all agencies and companies should share experiences and learnings through this difficult time,




Ajay Gupte, CEO-South Asia, Wavemaker says, "This is an unprecedented situation that all of us across the world are experiencing. Having never been through anything like this, it is important for us all to be constantly in touch, sharing our experiences and our learnings to help the community cope with this situation as best as possible.

I am grateful that technology has now evolved to support us in these trying times. It is gratifying to see how our teams have risen to the challenge. We are regularly in touch through video calls, managing our work and sharing our experiences." He adds that clients are also seeking advice in these times to cope and adapt, which is where the company's global learnings across categories are particularly helpful.

Since most agencies have already learnt from the crisis when it hit their counterparts in markets like China and South Korea, they were prepared to take it on when the time came here in India circa mid-March. Companies, therefore, have roped in their HR and IT teams to ensure smoother coordination and support for employees to keep them safe and productive during these trying times. "We had been preparing for this lockdown, given the experience in the other markets. By the middle of March, we had already completed our remote working policies and tested all critical software and tools across all levels and departments.



Today, we are working remotely and ensuring that all our functions are operational and most important, compliant," states Navin Khemka, CEO, MediaCom South Asia.
Agencies are also going the extra mile to make sure that employees do not feel isolated in these times. Bhasin adds, "The social distancing mandate requires companies to work towards achieving virtual proximity."

Therefore, while agencies like MediaCom are lining up fun virtual activities like quizzes and 'tamboola', others like IPG Mediabrands have joined hands with FCB India to create a virtual 'happy hour' on Friday evening for employees in both companies. It allows everyone to unwind as well as showcase their various talents.