These are uncertain times. Even though trouble was brewing in the name of COVID-19 across the world for some time, when it hit India, the marketing industry started spiralling out of control.



Amongst the least hit are believed to be the online grocery stores, but though they fall under essential goods, it has been hardly easy for them on the ground in the past couple of weeks. Albinder Dhindsa, Co-Founder & CEO, Grofers explains, "We noticed some misunderstanding on the ground level with respect to implementation of instructions covered in the Central Government directive.

Our warehouses in cities like Hyderabad, Mumbai, Pune, Delhi NCR were forced to a lockdown and delivery partners from our local stores were being turned back. We are working round the clock to support people who are relying highly on our services. We are also abiding by the rules and ensuring the maintenance of proper hygiene and sanitation in our facilities and vehicles." The brand is not planning to release any moment marketing campaign in the time of COVID-19, saying the focus is just to supply people with essentials.



For most others, it hit where it hurts the most. Ankit Mehrotra, Co-Founder & CEO, Dineout says, "All industries across the globe are severely hit, and none more so than the Travel and Hospitality industry as it thrives on social gatherings. We have initiated a petition with change.org to appeal the Finance Ministry to immediately introduce employee unemployment pay covers for the restaurant industry so that no one has to worry about their salaries in times of need. Despite the conflict of interest, we are promoting that social distancing and self-quarantine is the need of the hour to flatten the curve." Their social initiative 'Dineout Later. Stay Home Now' was curated in-house by the core marketing team.



On coping with the situation in the banking industry, Elizabeth Venkataraman, Joint President and Head of Marketing, Kotak Mahindra Bank says, "At Kotak Bank, we are asking customers to bank from home (BFH) as far as possible to stay safe.

WHY BRANDS HAVE REDUCED AD SPENDS

• Uber, Ola suspend services in several Indian cities
• Automobiles like Ford, FCA, Maruti Suzuki, etc., halt production
• Amazon, BigBasket, Grofers and other delivery services struggling to operate amidst lockdown
• FMCG firms such as HUL, ITC and Dabur India shut manufacturing facilities, except for plants producing essentials
• Aircraft grounded, airlines are losing money due to travel curbs
• Nestle and Coca-Cola suspend production (except essential products) on a temporary basis
• Consumer electronics firms, smartphone makers and appliance makers like Samsung, LG, Godrej Appliances, Haier close down factories
• Banks cut operations, push use of digital transactions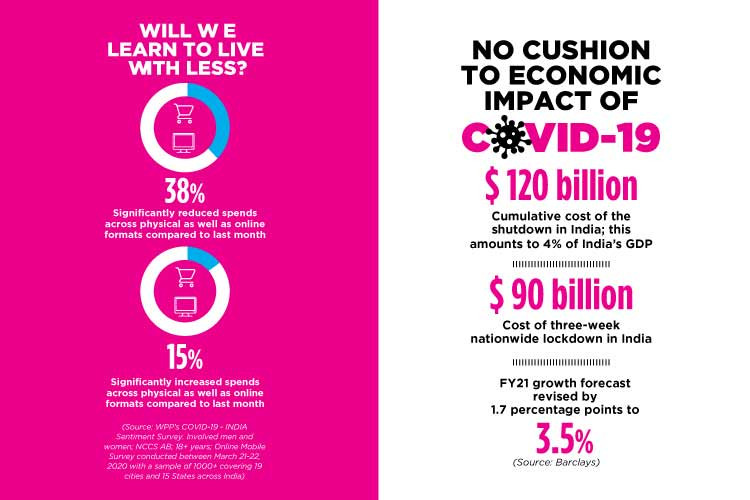 We have education videos on 180+ features on our mobile app which helps you do most of your banking services from home." The bank is putting out creatives to spread the message of BFH through its social media handles. These were made by their social agency, Tonic Worldwide. Talking about whether it has been difficult for the brand to communicate in times of COVID-19, Venkataraman says, "All our agencies are delivering just fine so far. We work with Cartwheel on ATL and Tonic on Social and a few other agencies on BTL and all of them are able to respond and deliver.


We, along with our agencies, are using the time to think, strategize and plan, so that when things return to normalcy, we are ready to go."
Anshuman Chakravarty, Head Brand and Corporate Communication, Orient Electric Limited says, "As far as Q4 2019-20 is concerned, only some marginal pull-backs happened largely in cricket-led properties. But for Q1, we will hold a great part of the budget till the situation evolves out of the lockdown." He says largely summer-centric products like fans and coolers will have a direct impact on sales, but they are assessing the situation continuously on a daily basis and will evaluate the situation when the markets open. "We are planning, preparing and galvanizing so that whenever required, we can restart our campaigns and marketing activities," he adds.



On one hand, India's FMCG majors like HUL and ITC are ramping up production to meet the increasing demand as people panic and hoard goods, while on the other, brands like Coca Cola have suspended production at their manufacturing facilities. Similarly auto-makers like FCA and many consumer electronic firms and smartphone companies have ordered shutdowns, along with cab aggregators like Uber and Ola. Uber says its goal right now is to flatten the curve and at places like Bangalore, it has partnerships with the Government to ferry the local health authorities. The brand, known for its moment marketing campaigns, is not expected to come up with one this time.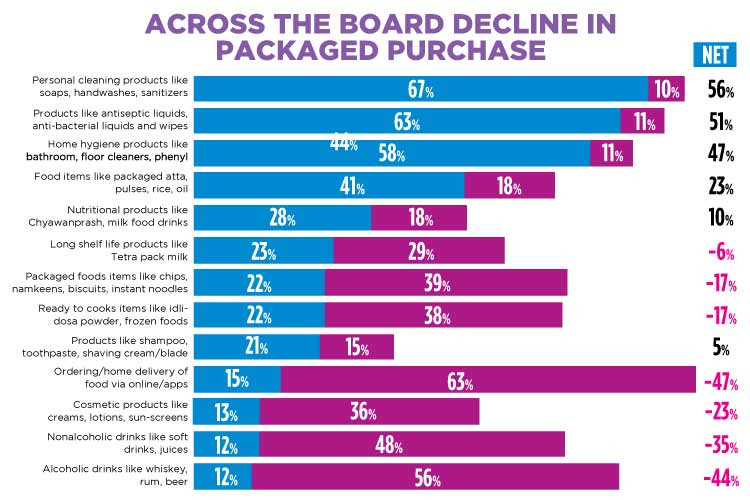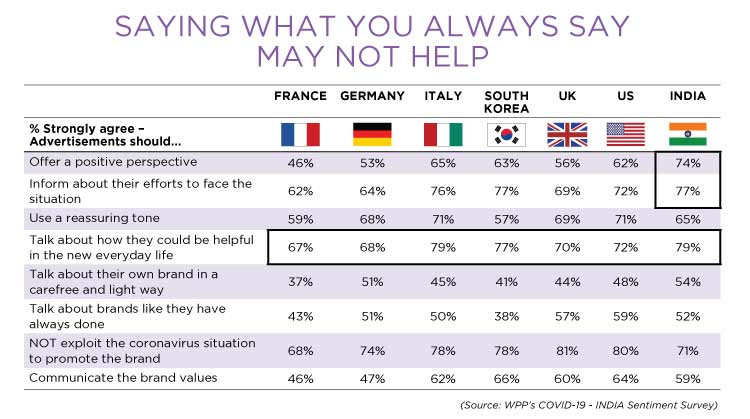 Mansoor Ali, Chief Sales and Marketing Officer, Hamdard says, "Advertising spends have been retracted by most brands except for essential categories. Firstly, advertising is a function of distribution, and points of sale being available. With most sales channels i.e. retail, e-commerce being closed, the walk-ins have diminished. The consumers who do walk in or order are those for essentials. In such a scenario, big spend advertising is not a logical thing to do."

Another marketer we spoke to says as much as 60% of the planned spends have been slashed for the April-June period. Especially traditional mediums have taken a hit like TV, Radio and Print, where spends have largely slowed down. Digital engagement continues, however, with disruption in e-commerce supply chains.

Advertising on e-commerce channels, as well as overall advertising will get impacted. A consumer electronics brand head, on condition of anonymity, said that they have reduced their spends on TV by as much as 90%, while completely halting spends on Radio and Print. But engagement on digital mediums continue.