India's Renaissance Man, Gerson da Cunha, the legendary ad man passed away in Mumbai on Friday at the age of 92. A science graduate from St Xavier's College of the University of Bombay, Da Cunha wore many hats. After starting his career as a journalist with Press Trust of India (PTI) and All India Radio he went on to become a writer, author, playwright, actor, and civic activist. During his long stint in the advertising industry, he worked with JWT and headed Lintas which then handled an advertising giant like Hindustan Unilever. He spent a quarter of a century in advertising much of it at Lintas till 1979 after which he passed on the baton of Chairman of Lintas India to Alyque Padamsee. In fact, many in the industry say that his legacy to Lintas was moving it beyond being a Lever-only agency to newer clients, laying the foundation for the present-day creative powerhouse.
Gerson Da Cunha was not only a highly respected ad man but was a multi-dimensional personality. He was tremendously passionate about the theatre, arts and the country. Veterans also remember him as the news anchor of Bombay Doordarshan in the 70s. Being a theatre artist his love for acting was visible through his skills. He reportedly acted in plays and movies such as the Electric Moon (1992) and Cotton Mary (1999). He was also a part of Shah Rukh Khan's Asoka, which released in 2001, and John Abraham and Lisa Ray's Water, which had released in 2005, among others.
The advertising veteran also dedicated a good part of his life to social causes, in fact he moved to the US to work for the UNICEF and was honoured by the Brazilian government with a medal of 'Order of Rio Branco' for his services to the Latin American country in 2018. He was the chief executive of Bombay First and was involved in various NGOs and citizen groups in Mumbai, in addition to being a trustee of NAGAR and convenor of AGNI (Action for Good Governance and Networking for India).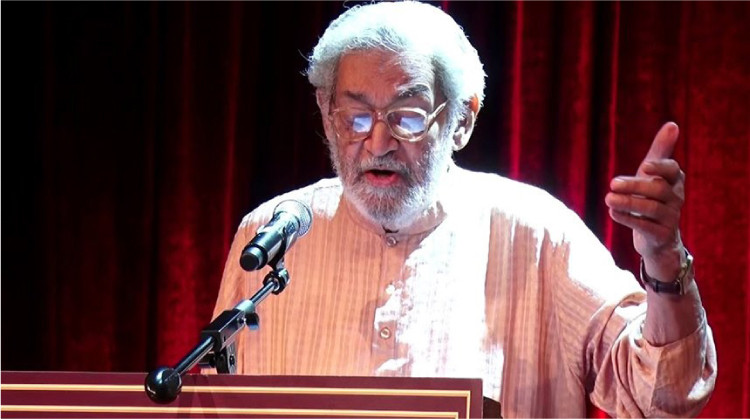 Advertising Industry remembers Gerson Da Cunha
Amer Jaleel, Chairman and CCO, Mullen Lowe Lintas Group says, "My fondest memory of Gerson is that of cheering him on as he cut his birthday cake in his beloved Express Towers, where we had invited him to bid farewell to the iconic office that he set up there over 50 years ago. And just the sheer presence and aura of the man even decades after having left the profession was awe-inspiring. And later we invited him to the new BKC office where once again all of our Mancomm were reduced to star-struck teenagers around him. One can't really capture the stature and contribution of Gerson. He wasn't merely an advertising great, rather a towering figure over our lives. Gentle, gracious, titan that's how I'll always think of him."
Advertising veteran, Madhukar Kamath says, "More than a true legend, Gerson was Special. The only one of his kind. He was Special. Not just multi-faceted but truly multi-talented. His contributions and achievements be it in Advertising & Communication, in Theatre, Public life & Service etc have been well documented and much lauded. But very few know about the significant role that he played in the early days and the subsequent growth of the Mudra Institute of Communication Ahmedabad (now MICA). Gerson was one of the first few doyens of the Industry along with the late Mani Ayer who selflessly committed themselves to make the MICA dream of A.G. Krishnamurthy (AGK) come alive."
Kamath adds, "Gerson was a member of the Governing Council of MICA in the first two decades, from 1992 to 2010. He also served as the Chair of the Governing Council from 2001 until he stepped down in 2010. MICA truly owes him immensely for his contribution, connections and steadying hand in the first two decades of its existence. More than being an inspiration, he was a friend, philosopher & guide for me on the Governing Council from 2003. Even after he stepped down, he would always check with me on the progress of MICA, whenever we met. Despite all his achievements, accolades and awards he was a thorough Gentleman. Modest & humble to the core. Gerson for me will remain the only Special & Gentle Gaint. No one comes close. Blessed is his soul. He will rest in peace and remain in our hearts forever."
Piyush Pandey, Chief Creative Officer Worldwide and Executive Chairman India, Ogilvy, says, "I worked closely with him in the nineties when he was associated with the National Literacy Mission. Ogilvy made advertisements for the mission under his guidance. Ever since, our relationship has remained warm and close. Today, we have lost a stalwart, a gentleman with a golden heart."
Panday says, "He used to call me often to discuss his civic projects. I extended my support whenever he needed it. I will always cherish all my interactions with him. The ad industry should get up and salute the man who was a pillar in his hay days. He has left an indelible mark through his tremendous contribution to social causes."
Prasoon Joshi, CEO of McCann World group India and Chairman APAC says, "Though he was out of the real day-to-day actions in advertising by the time I started into the profession, for my generation of professionals, Gerson was someone who represented the cerebral. He had a much larger horizon of life and things he loved - be it cinema art or music. He kept curiosity and keen interest alive and made living life like an art form. I will cherish all my interactions with him deeply, he had so much to impart, and that too with generosity."
Ambi Parmeswaran, Founder, Brand Building.com says, "Gerson Da Cunha was one of the true giants of Indian advertising. He made a significant mark in social sector marketing communication in his later years. I got to know him when Bal Mundkur (Founder of Ulka Advertising) roped him to help with the Ad Katha book project. Later I spent many hours with Gerson when I was doing research for my own book Nawabs Nudes Noodles (Gerson was generous with his time and his words of praise). We used to seek his blessings at all industry events that he was kind enough to attend. His gentle presence will be sorely missed. Rest In Peace Gerson!"