Q] What is the insight behind your latest ad campaign, Popcorn Nachos? How was it conceptualized?
Popcorn Nachos brings together two iconic elements - KFC's signature Popcorn Chicken with crispy Doritos' Nachos. The product pretty much wrote the campaign brief - a smashing hero. It is full on masala and a twist in the tale, or rather taste. The product certainly amps up the 'drama' quotient of snack times and that's what the campaign is built upon. And who better than the 'King of all things Drama' - Karan Johar - and the latest sensation, Srinidhi Shetty, to play out this drama on screen?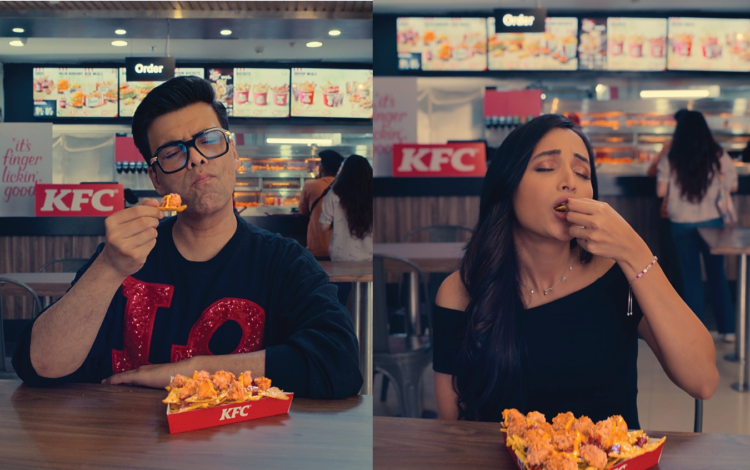 Q] KFC India plans to unveil 20 eco-friendly restaurants in 2022. Can you please elaborate on this 'eco-friendly' initiative?
Recently we announced our KFConscious initiative, which aims to harness sustainable solutions and create a positive impact on the planet. We also launched our most sustainable restaurant in T N Nagar, Chennai, and that was the first of its type restaurant in the QSR industry in India. The solar panels at that restaurant will help save about 18,000 units of power every year and hence, will reduce carbon emissions from electricity consumption. 100% of the rejected water from the RO is utilized in flushing systems of the washrooms. Thus, there is no water wastage in it. Also, we have used natural and LED lighting system to increase energy efficiency, and eco-friendly materials such as sustainable laminate and local clay tiles for wall finishes. We have plans to start 20 more such restaurants at different places this year.
Q] In 2013, you opened a restaurant in Darjeeling, which is managed and powered by an all-women crew. How many such restaurants do you have in India at present?
KFC India as a brand has been supporting gender equality since 2008, pioneering such initiatives in the QSR industry. With the launch of the KFC Kshamata programme, we have further strengthened our efforts and are working towards driving double empowerment. So, our aim is to bridge the gender gap by increasing the woman workforce at our restaurants by 2X by 2024. After the launch of the first all-women restaurant in Darjeeling, we opened one such restaurant in Hyderabad and Mumbai each. We have plans to launch a few more over the next few months.
Q] KFC came to India in 1995. But you still don't have a strong presence in several parts of the country. What's your strategy to expand your business?
We are deeply committed to growing in India, and with India. Enabling ease and access for our customers to their KFC favourites is one of our priorities, through both - physical restaurants, as well as digitally with the KFC App and website. We recently celebrated the milestone of growing 600 restaurants in the country, with #KFCBucketCanvas campaign. During that campaign, we brought together budding artists from across the country to create unique bucket designs representing each of the 150 cities that we are present in at the moment. We continually strive to ensure better access and better online ordering experience for our customers. Recently, we also launched an improved version of the KFC App, which is faster, more intuitive and is based on integrated marketing technologies.
Q] Can you please give an idea about your marketing mix?
While TV continues to play a key role, Digital and Social Media have become even more prominent as far as our media strategy is cocerned. We have also increased our focus on our Digital access points such as the KFC App, website and presence on aggregators.