As one of the most coveted sporting competitions in the world, the Premier League has consistently been a powerhouse of fan fervor and India has been a key market in the global proliferation of the league. Last season the league's broadcaster in India, Star Sports, took strides in growing the league's viewership by adding marquee channel Star Sports 3 for televising 70 games in addition to introducing regional commentary to target specific regions in the country. As a result, the league's viewership in India grew 3x in comparison to the previous season. Advertisers looking to tap into premium audiences on TV have leveraged the English Premier League to drive results across key brand health metrics.
E4M takes a deep dive into an industry report that studied profiles of EPL viewers as well as evaluated the effect ads and activations run on TV by associating brands.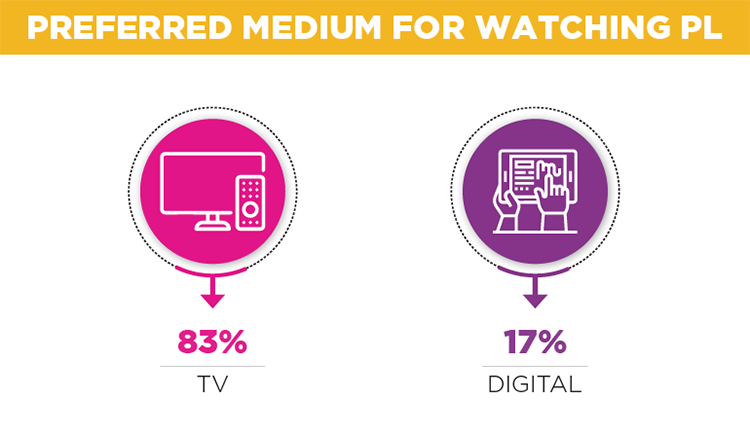 Consistent advertising and innovative activations drove strong results for a beer brand
A renowned beer brand leveraged the TV association with Premier League through TVCs and multiple brand activations which translated into significant uplifts for the brand across salience and key brand health metrics. Sponsors on Premier League's broadcast can create customized co-branded promos featuring superstars from the league, creating effective synergies between Premier League and associating brands. The brand achieved 1.69X uplift in consideration, 1.82X uplift in recommendation and 1.86X uplift in brand love among EPL viewers on TV compared to non-viewers. The association with Premier League's broadcast also gave the brand an exclusive opportunity to work with English football legend John Terry in creating an innovative brand activation, bringing passionate fans closer to iconic stars of the game.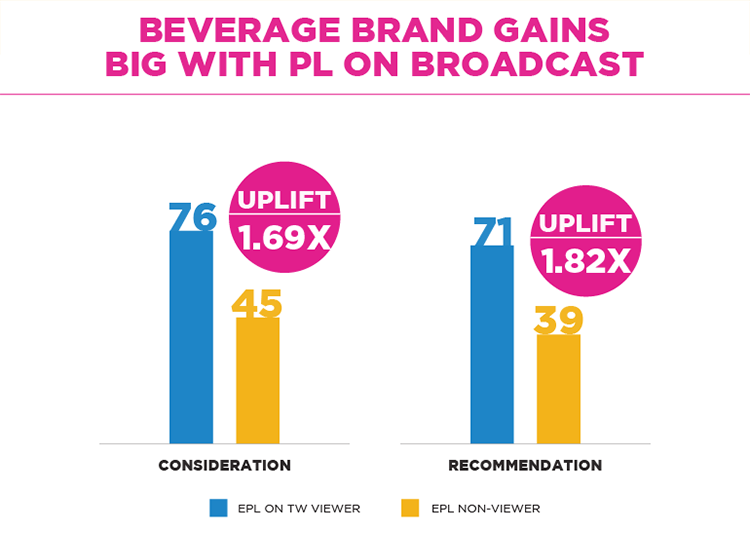 Handset brand generated high salience and drove recommendation for a new product launch
A leading handset brand that came aboard the Premier League broadcast and to drove awareness for its products through TVCs and immersive augmented reality integrations showcasing new product launches on live broadcast. The brand achieved 58% uplift in consideration and 18% uplift in recommendation compared to Non EPL Viewers of the brand's communications on broadcast. The augmented reality activation during live broadcast of PL was claimed to be seen by 80% of viewers along-side a positive impact on salience, consideration and recommendation.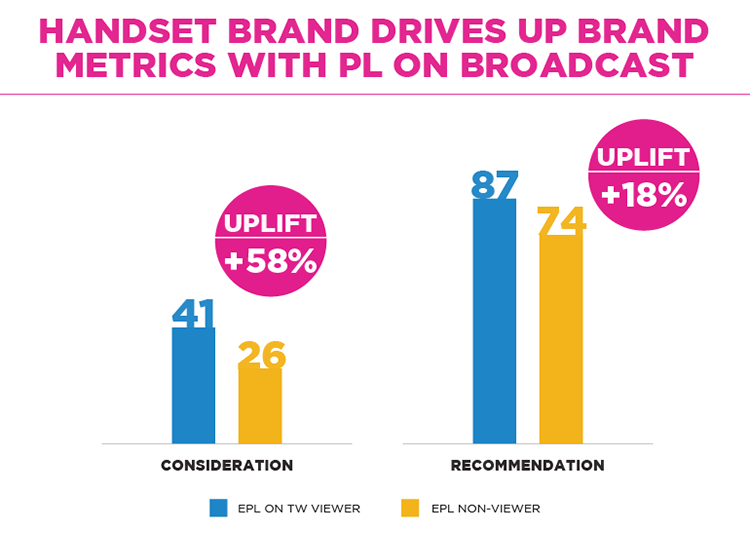 TV Advertisers generated higher brand uplifts than Digital advertisers
A comparative study of uplifts generated by a PL sponsor on TV as opposed to a PL sponsor on digital revealed that the uplifts across salience, consideration and recommendation were significantly higher for the TV sponsor. The report also indicated that 83% of viewers prefer watching Premier League on TV, which is testament to the fact that big screen viewing enhances not just quality of audio-visuals but also consumption of brand messaging.