With video being the fastest growing traffic medium today and occupying a share of 74% of Internet traffic, Youplus, a unique video opinion search engine, has come up with the largest index of short-form videos and a search engine to understand people's opinion from videos.
Youplus has built four products using its VOISE search engine – Snack Size Video Opinion (VIEW), Network of Short-Form Video Channels (VIEWX), Video Customer Experience Listening Platform (VISION) and Video Insights Search on Demand (VISIONX).
More than 800 iconic brands and agencies in the US, UK and India are already working with Youplus using VISION and VISIONX. The VIEWX network has been currently operating on 250 million page views per month. The company's notable customers include brands like Unilever, Proctor & Gamble, Samsung, Coca-Cola, e-Bay, BMW, Tyson and Colgate.
The product offerings of Youplus are based on the idea of understanding people through videos, says Shaukat Shamim, Founder & CEO of YouPlus.
Shamim was also the founder of Rhythm Newmedia, one of the first mobile advertising companies that merged with Blinx and subsequently went public as RhythmOne (RTHM:Lon). He was an early member of the Yahoo! team (from 1997, where he led the creation of one-of-the-first messaging platforms, Yahoo messenger). He was also a partner at Neocarta Ventures, a $300-million early stage venture fund based in Silicon Valley.
Here, in his own words, Shaukat Shamim talks about his entrepreneurial journey, the uniqueness of Youplus products and his expansion plans.
ON HIS ENTREPRENEURIAL JOURNEY
My entrepreneurial journey started when I was just out of college. It was not an entrepreneurial journey, it was more like a necessity and I thought that was the only way I could find a job. So, I ended up creating two companies. Although the companies attained reasonable success, my quest for learning ended up in me joining Symantec and Microsoft. Then I joined Yahoo! and was fortunate enough to witness the wave and growth of the Internet. The stint with Yahoo! made me think about how people and companies chase their own dreams.
In 2004, I witnessed the emerging trends in mobile. I understood that every medium, when it becomes big, has an advertising play; so I decided to create a mobile ad company and we went into mobile video advertising. We were the first and largest mobile advertising company in the world. Years later, I saw another trend that was emerging: the world was shifting its focus from search advertising to display advertising. We thought it to be a great idea and started a company called Buysight.
Subsequently, I started another company in the media and design space, as photography was my passion. We wanted to create a marketplace for undiscovered designs, but that was a failure. Then I started Youplus. Previously, text was the medium of expression but today, people express themselves through videos. We understood that people are conceiving video as a medium of understanding each other. We realised that was a fundamental shift and thus Youplus was born.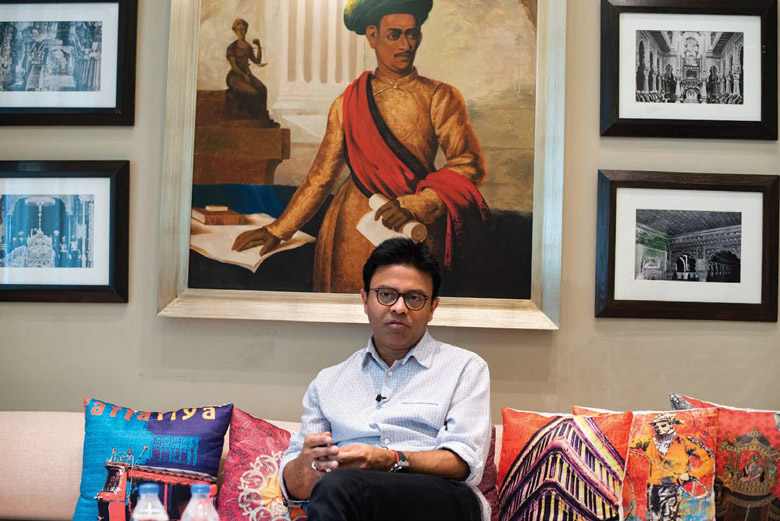 ON YOUPLUS AND ITS UNIQUENESS
The product offerings of Youplus are all about understanding people through videos. We came with a broad understanding thesis. Today, a majority of traffic on the Internet comes through videos. Consumption of videos tends to be in the short form. On platforms like TikTok and Snapchat, people are consuming short-form videos, but when they are expressing themselves, they talk in the long format. Today, the best medium for humans to understand each other is talking and the best medium businesses have is to talk to people in groups.
Today, when businesses want to understand people's feelings and buying patterns of consumers, they will do a focus group study. I will elaborate with an example. Within 30 days of the release of Apple iPhone X, millions spoke about how they felt about the phone and its product features in 400 million hours. If a company like Apple wants to understand what people feel about the products, they will do a focus group study, the old school way of asking people in a room about their opinions.
We started working on the concept where we could take a video, separate sections of the video and create short-form content categories. Then we build an AI engine which looks at those million videos that we have already indexed. We could answer questions using technology and we could do it at speed of search, not research. Our efficiency, speed and effectiveness are going through the roof. We are the largest in the industry and have been fortunate to have thousands of brands across the globe using our products.
ON MARKETING STRATEGY
We are very sensitive towards marketing of our clients. That is our first and foremost focus. We believe when we build better products and solve real problems, we get noticed in the market. Most top advertisers in the industry have been doing business with us. Our primary focus was to create awareness. We associate ourselves only in places that are really meant for us. We recently got included in the Fortune Technology Council. We won the AI excellence award by the Business Intelligence Group. We are not a consumer brand, hence we are not present in every consumer conference and other places. We are very deep in AI and the Machine Learning space and that will be our strategy going forward.
ON AI IN INDIA
The heart of AI is pure skillset in Mathematics in which India is very strong and the second factor about AI is Computer Science. The education system in India is such that we get exposed to Science and Mathematics at an early stage in our career. What we are seeing is that the basic skillset of people in India, particularly in Bangalore, is very good; they are world class.
ON EXPANSION PLANS
We are right now in a hyper-growth stage. We have made a few conclusive decisions and India is a growth sector for us. We grew 10X in 2018 and we have the ambition of growing another 10X this year too, in India itself. The growth is very much inclined with the global demand. Although our company has seven offices in different countries, India is our largest business area. As per our expansion plans, we will continue to have a global presence and enter more countries. Our biggest growth from technology to product to research will happen in India, particularly in Bangalore.