Q] You recently launched new variants of the popular Activa bike. What is the kind of growth you have seen for this brand?
Activa is a flagship brand for us. In terms of our business, almost 50% of the volume is coming from Activa. If we talk about total scooter sales in the country, every second scooter sold in the country is from this brand. This has been the scale of acceptability and love for Activa.
Q] What is the media mix you've devoted to the campaign for these new launches?
This campaign is a 360-degree campaign. We started with Print from January 1 where we had all the major dailies in the country with a full-page advertisement wishing everyone a happy new year and then we spread it out on to Digital. We also did an outdoor campaign for Activa in a select few cities. We are looking at a fair mix of both digital and the traditional way of approaching the market.
Q] Tell us a bit about the initiatives that Honda has taken as part of its national road safety campaign. What kind of reach have these initiatives seen?
Honda was the first automobile company in the world to include road safety initiatives as an integral part of their business, long before CSR came into the picture. We have a vertical with dedicated manpower to take forward the initiatives of road safety promotion across the globe, and across the country, and in active collaboration with the local administration and state governments. We launched our digital road safety initiative, which we call as the 'Honda Road Safety, E-Gurukul' in May last year. We have sensitised over 2 lakh individuals across the country in 185 towns through this initiative.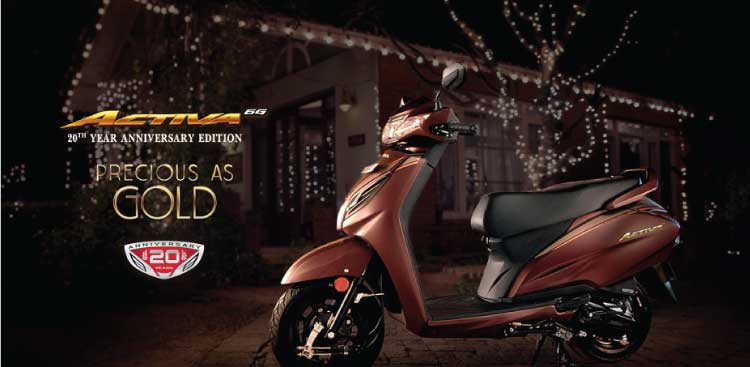 Q] Having spent two decades in India, what are your plans going forward?
This pandemic and crisis have given us an opportunity to re-look at the way we have been doing business for many years. Some of it looks very traditional to us now because most of us worked on something new that we would have never dreamed of. It gave us a chance to recalibrate all the standard operating procedures and bring in new operational efficiencies, be it in the area of logistics, in production, in sales or marketing. In fact, our supply-chain partners have been able to relook into their existing way of working, found new ways of engaging with the customers, which resulted in shedding a lot of weight and waste but had never been identified as waste earlier. We will see a new level of efficiency from the existing manpower with a new mix of tools.
Q] How have the last 10 months been for Honda? And to what extent has recovery been made now that the offices and markets have opened up?
Most of our plants were operational by the end of June last year. The most important thing was opening up our network in the market because that is the first point of contact to the customer, and we can measure demand from there itself. And in the first quarter, it was all about getting back to business by changing from survival to revival mode. The Q2 was all about starting our activities in the market wherever restrictions had been lifted. That was a time when we started seeing a shift towards growth in our business; we started getting ready for the upcoming festivals in November. We clocked more than 1 million retail sales during the festive period. However, the industry is in minus 23% compared to the first three quarters of the financial year 19-20. We are going to see double-digit growth in Q4 of this financial year compared to the previous year.
Q] What are the key focus areas for the company going to be in terms of marketing strategy?
It's very difficult to evaluate today which trends will stay because I still believe that it is too early to talk about the new normal in terms of what we are seeing as customer behaviour. Today's media mix has a high evaluation and contribution from the digital so it will remain as a focus area. We need to seek new methods and recalibrate our operational efficiencies at the same time. I would say that it will be a leap of faith on what will stay and what will change forever and then taking action accordingly.