Simeran Bhasin, VP – Brands and New Ventures, Licious tells us how brand Licious is by and for meat lovers, how the brand has leveraged content marketing and properties like the IPL to target consumers. Bhasin also takes us through the company's plans to expand in markets outside India
Hearty, gregarious and gastronaut – these are the three words that Simeran Bhasin, VP - Brands and New Ventures, Licious says stands for the brand persona of Licious, a meat and seafood consumer brand created by meat lovers for meat lovers. The brand treats its customers to an array of products such as fresh chicken, mutton, fish, seafood and eggs as well as cold cuts, spreads and ready-to-cook meats.
A proposition built on 'joie de vivre'
Started in 2015 from Bangalore, Licious is today present in 14 cities and has recently launched the 'For the Love of Meat' campaign targeted at the national audience. Bhasin says that the campaign that features actors Anil Kapoor and Arjun Kapoor, is an ode to the meat lover that brought a meat lover's 'nakhras' to life and emotionally connected with people, adding that the company received 'a fabulous response to the campaign.'
Sharing the insights behind the campaign, she says, "The typical meat lover has many nakhras when it comes to their choice of meat and they are very particular about it. As a company full of meat lovers, we understand these nakhras, and across functions our back end is built to cater to this." The company conducts over 150 safety checks and has built an entire infrastructure around 0-4 degrees temperature to control the supply chain right till the product is delivered to the consumer's doorstep. Commenting on the association with the uncle-nephew duo she says, "Anil Kapoor and Arjun Kapoor are passionate meat lovers. Licious is a brand built on pleasure and the phrase, 'joie de vivre' is truly representative of the brand that we're building; both actors authentically reflect what the brand stands for. As chacha-bhatija, they share an authentic connect and a natural bond. As a brand, we reflect the same naturalness."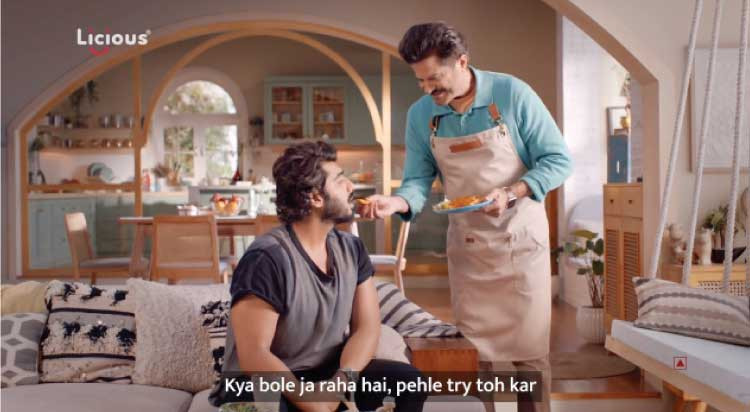 Working up the consumer's appetite
A big part of Licious' marketing strategy has been content marketing and the use of influencers. As a food brand, focusing on drool-worthy content and ensuring a conversational tone has been key. Bhasin explains, "The first filter is – how do we get you hungry? How do we bring the brand and passion for meat alive in all our conversations? Another filter is how we carry our learnings and share it with our consumers. In terms of contextual advertising, when you're searching for meat, how can Licious pop up whether it's with a recipe or whether it's with a product that would be absolutely perfect for you to cook that particular dish?"
Licious has also leveraged the IPL with its 'Ready To Game' campaign for which it roped in actor Aparshakti Khurana and stand-up comic, Naveen Richard. Says Bhasin, "Authenticity and natural effortlessness in terms of connect are important for us when we do tactical campaigns like IPL. When we've gotten this entire combination right, it's worked very well for us." She adds that the fast-paced IPL, with short innings breaks, lends itself perfectly to Licious' ready-to-cook range and platters, which can be cooked in 8 to 15 minutes depending on the products picked. "Sports, especially IPL and cricket will be a continued focus area for us and that's where we will use our ready-to-cook range increasingly," says Bhasin. These initiatives have helped the ready-to-cook range grow from a small base to now contributing a significant portion of the brand's sales.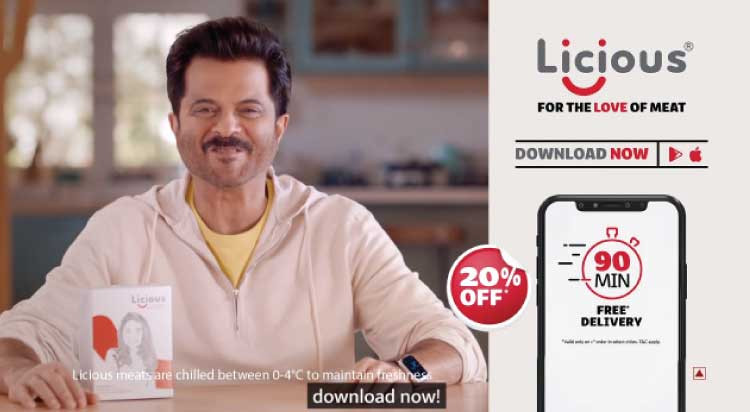 Catering to regional tastes
After launching with a Digital-led marketing strategy, Licious released its first TV campaign in July 2020. For the first time, regional edits were done in Tamil and Telegu. Since then, the brand has expanded to add edits in the other languages such as Bengali, Kannada and Malayali. Bhasin explains, "Even on Digital we use regional edits very effectively. With food, the cultural connection is so deep that the way you connect with meat is much closer through your mother tongue. This has worked well for us and we will continue to invest in connecting at a very regional level with multiple ethnicities that consume Licious." While Licious' initial TV spends were small, the TV spends have increased by 3x to 4x in recent months.
A big learning for Licious was the use of video content, with over 50% of new consumers discovering and coming on board to join the Licious family through video content. Another has been the use of Google Search as a platform. Says Bhasin, "We realised that sharpening our focus on fewer keywords helped us become more efficient. Over 70% of volume on Google Search comes from just five keywords for us. As we have gotten into more cities, we've experimented with the geographic focus of our campaigns in terms of media targeting or media content creation. These are some learnings that we've implemented. We will keep picking up new things as we experiment and see what works for us." As a brand, Bhasin says Licious constantly experiments and one such experiment which has paid dividends are spreads. The company launched a first-of-its-kind 'meat-based-spreads' in 2019 and is continuing to expand its range. Adds Bhasin, "There was no meat spread in the country before we launched spreads. As a brand, it's important for us to constantly experiment and try new things. Some will fail, but there are many more that will succeed, and we will keep building on the learnings that we have to get better and better at it."
With consumers locked in for more than a year, many discovered cooking and even indulging in home-cooked delicacies. This trend benefited the brand and saw Licious grow by over 300% with the average basket size up over 20%. Its biggest markets are the key metros of Mumbai, Delhi and Bangalore. The company has over a million and a half unique consumers with orders in excess of million and a half orders per month.
Bhasin concludes by telling us that the brand definitely has its eye on markets overseas. She says, "India has massive growth potential but we're not satisfied with just being a national brand. We have set our sights on the international market. We are looking at the Middle East and then the Southeast Asian markets."