A couple of weeks ago, Lowe Lintas, one of the biggest creative agencies in the country charted an altogether different course, by launching the Kaam Wapasi platform which seeks to connect migrant labourers, who had to leave the cities owing to the pandemic, to potential employers. Here's Virat Tandon, Group CEO, MullenLowe Lintas Group in conversation with Neeta Nair on the novel initiative, just as they launch the official video ad for Kaam Wapasi

Q] What was the thought behind launching the Kaam Wapasi platform? Whose brainchild was it and for how long has it been in the making?
After the lockdown began, all of us saw the heart-wrenching images of the migrant workers walking or cycling back or crowding near the train and bus stations to find a way back home. Many died. It made everyone feel terrible. The question of their safety and getting their livelihood back was on our mind.

Initially, besides donating money and food through NGOs, there was nothing else we could think of. Until it started dawning on us that businesses will find it difficult to re-open if these workers didn't get back to their jobs.

This is when Prateek Bhardwaj, CCO, Lowe Lintas came up with this idea of creating an online platform to bring migrant workers and employers together and help match skills to jobs. We scouted around to see if there was an existing platform to address this and when we found there wasn't we decided to make it ourselves.

We pulled in Sumanta Ganguly, who heads innovation and creative technology and he and his team went about building the UX. Prateek got Nisheeth Srivastava and team to build the UI and also the campaign.

Shantanu Sapre and his team have pretty much managed the entire project in terms of doing the research, bringing partners on board and mobilising the resources. Poonam Wahi and team helped immensely to produce all the video content. It has been great teamwork. We have taken about two months from the inception to launch.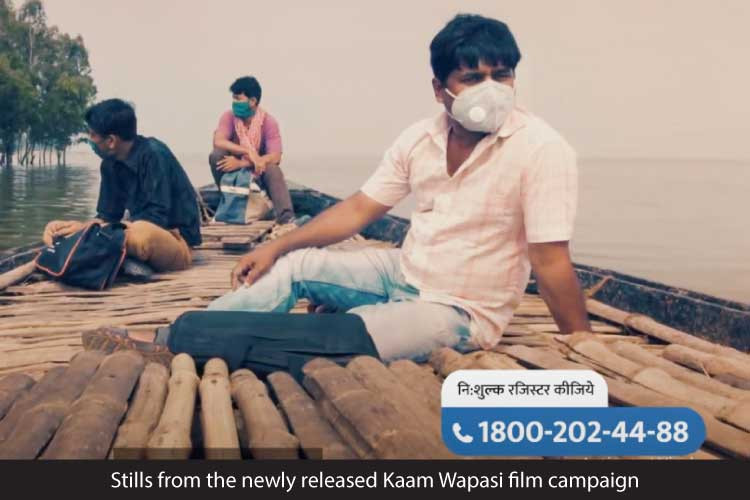 WHAT IS KAAM WAPASI?
Lowe Lintas has launched Kaam Wapasi, a unique tech platform built to help migrant workers get back to work and at the same time assist employers with access to a pool of readily available workers

Companies like ZEE Network, Bharti Airtel, Axis Bank, Radiocity and Razorpod have put their weight behind the social-good initiative, which complements the government's initiative to fuel the Indian economy.

The Kaam Wapasi platform will primarily operate as a mobile-first site, but will also offer an IVR solution to those who may not have access to a smartphone. It can be accessed by visiting www.kaamwapasi.com or by giving a missed call on 1800-202-44-88.



Q] After COVID struck, we have seen brands, not agencies go the extra mile and issue messages in public interest. Why have you at MullenLowe Lintas Group decided to go alone in this case and what are the challenges you are facing currently?
When Prateek shared the idea with me, it instinctively felt that this was a very important need for the society as well as for businesses. It's not the kind of work we do usually and so there was no specific client brief here. We also felt that this was not something affecting just a single client.

But we knew that if we joined hands with a few like-minded corporates, we could not just help the migrant workers get the livelihood back, but also help businesses get back on their feet faster. So, between Amer, Prateek, Shantanu and I, we shared this idea with a few corporates and we got a great response.

A few of them such as Zee Network, Bharti Airtel, Axis Bank, Radio City and Razorpod hopped on board immediately and are helping with resources such as airtime, mobile marketing, providing access to their MSME customers and managing the platform. So, we are not at all alone in this venture.

It's a beautiful co-operative of like-minded corporates, with the Lowe Lintas team at the centre playing the role of governing it. Since launch we are getting encouragement and support from many more corporates and NGOs.

One big area where more corporates can contribute is to put up their job listing on kaamwapasi.com. By the way, Kaam Wapasi is just one of the several proactive initiatives we are driving this year. All emanating from the thinking that we should do whatever we can as a strategy and creative community in order to help the economy get back on its feet faster.

Q] How differently are you promoting the platform, will you use mass media in addition to Digital medium?
We are using an integrated approach to promote the platform. From PR and influencers to TVC, digital videos, OBD and text messages on mobile, radio and social media, we have prepared assets for all platforms.

Our partners such as Zee Network, Bharti Airtel, Radio City and Axis Bank are contributing by way of promoting the assets on their platforms. We all live in an inter-connected world. I believe that every corporate that becomes a part of the Kaam Wapasi initiative is not just helping the migrant workers,

but also helping the entire ecosystem of business. So, if you are a business owner and want to help, please get in touch with us, and your contribution in whichever way, will be very welcome.
Q] Will you extend the website later as a listing site of some kind to benefit the Group in the long run, once Kaam Wapasi serves its purpose?
Since the time we started working on this solution, we have learnt a lot about the issues that migrant workers face. There is clearly a lot more that needs to be done for them on a consistent basis. Getting them jobs is only the first step. There is a longer term vision that we are developing.

I think Kaamwapasi.com can really play a big role in society in the following years. Having said that, there is a big job to be done right now and that's where our current focus is.

Q] What kind of response have you received for it so far and how many migrant labourers has Kaam Wapasi managed to help?
It's too early to look at any numbers right now. Media activity is just going to start. It will be better to look at some numbers in a few weeks.