In the context of the current pandemic, Facebook and Boston Consulting Group together launched their 'Turn The Tide' report last month, detailing the impact of the situation on consumer behaviour. The report also provides insights for businesses looking to build solutions that are relevant for new consumer journeys. Explaining how the company is supporting businesses in these times, Sandeep Bhushan, Director & Head, Global Marketing Solutions, Facebook India takes us through the key take-aways from the report and explains how the organisation leverages the combined strength of all its apps rather than viewing them in isolation when offering business solutions. At a time when platforms like TikTok are gaining prominence, Bhushan points out that the various Facebook apps continue to play a meaningful role in the lives of people in India and across the globe.
Here are excerpts from an interview with Sandeep Bhushan: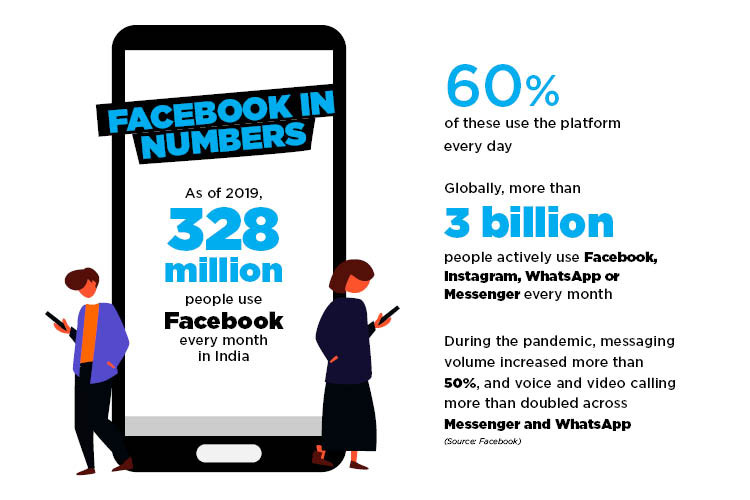 Q] With brands cutting back spends even on Digital and Social media, what are the kinds of solutions Facebook is offering advertisers to ensure effective reach?
The 'Turn The Tide' study revealed a significant increase in Digital influence across the path-to-purchase. There are seven key steps that businesses can take right now to win in the new normal, as detailed in the report -
Build social connect in times of social distancing
Focus on hyper-localization
Bring alive experiences with digital access
Optimize portfolio for value creation
Relook at media mix models to drive growth
Build your online presence
Strengthen CRM solutions
Q] How is Facebook supporting smaller businesses that are hit hard in these times of upheaval?
COVID-19 is not just an unprecedented health emergency but also an unparalleled economic crisis. The last three months saw most businesses in India come to a standstill almost overnight as a result of the pandemic and the ensuing lockdown. Small businesses have been particularly hit hard. At a time like this, we're committed to supporting the economic recovery of India, and enabling businesses, both large and small, to resurrect from this crisis.
Enabling businesses to build for the new path-to-purchase: The key take-way from the BCG-Facebook Turn The Tide report is that Digital influence has increased significantly across the path-to-purchase, which means consumers' awareness and consideration is influenced significantly by what they see on their mobile screens, whether they close the transaction online or offline. We are working with partners to help them at every stage of the purchase funnel. For example, Hyundai India recently partnered with Facebook for the launch of Hyundai Aura, and leveraged influencers and branded content ads on Facebook and Instagram. Samsung recently partnered with us to train and enable offline retailers to build a digital presence through the Facebook family of apps that will help close sales. Aditya Birla Health Insurance did over 100 Facebook Live sessions to empower and motivate families to prioritize their health during the lockdown, building both affinity and consideration for the brand.
Supporting small businesses: We have created a $100 million grant programme to help 30,000 small businesses across 30 countries, including India. We've also launched a Business Resource Hub to enable businesses to take some basic steps required to build resiliency, and survive these uncertain times. To support small businesses in the food industry, for example, Instagram recently rolled out the food order sticker in India. Businesses can now share Instagram's new food order sticker on their stories, and people can tap to place their order through the Swiggy and Zomato websites.
Enhancing digital skilling for businesses: We already have industry-leading programmes for the timely upskilling of businesses, and in light of COVID-19, we've further strengthened these. The comprehensive suite of virtual programmes guide businesses on crucial business decisions such as how to make creatives and ads in a remote set-up, how to do virtual launches and reach consumers in ways that are relevant for the current times. We recently launched 'The Webinar Series', a free programme for advertisers and agencies to enhance their understanding of Facebook's key advertising tools through webinars. We have also taken several of our programmes for skilling SMBs online. We just concluded our first virtual 'Boost with Facebook' – our flagship programme for skilling SMBs - through a Facebook Live that saw four times more registrations than the on-ground Boost with Facebook.
Q] There's a lot of talk about how Facebook has seen a drop in engagement, while platforms like Instagram have gained popularity. During the pandemic, have you seen a change in the way people are using both Facebook and Messenger?
Facebook is home to communities and businesses across India. As of 2019, 328 million people are using Facebook every month in India, indicating the massive reach of the platform across the country. About 60% of these people use Facebook every day, illustrating the tremendous stickiness on the platform. Usage of the Facebook family of apps has only increased everywhere including in India during the pandemic. We recently announced that for the first time ever, there are now more than 3 billion people actively using Facebook, Instagram, WhatsApp or Messenger each month globally. That includes 2.6 billion people using Facebook alone. In many of the places that have been hardest hit by the virus, messaging volume increased more than 50%, and voice and video calling have more than doubled across Messenger and WhatsApp. We are living in unprecedented times, and as a company, we are privileged that our family of apps are playing a meaningful role in the lives of people around the globe and across India.
Q] Given that consumers and brands today also have the choice of platforms like TikTok and even YouTube, how do you keep Facebook relevant for businesses?
Each one of our apps boasts of a unique and strong value proposition, and hence has an unparalleled place within the Digital ecosystem. When we look at business solutions, we leverage the combined strength of all our apps rather than viewing them in isolation. To illustrate this, businesses can opt in for dynamic allocation of budgets between Facebook and Instagram to ensure efficiency. Similarly, consumers can action the 'click-to-WhatsApp' through an ad on Facebook to continue the conversation on WhatsApp. Most critically, the Facebook family of apps delivers strong business outcomes across the value chain. For instance, recently Vodafone Play adopted a full-funnel approach, and ran a multi-phase Facebook campaign to increase awareness, consideration, and installs that resulted in 43% lift in installs, 33% lift in registrations, along with a lift in brand preference.
Unravelling new consumer journeys for businesses: Facebook has been leading industry conversations on demystifying the path-to-purchase for businesses in India. Two years ago, we launched the 'Zero Friction Future' initiative aimed at guiding businesses on how to reduce friction in the path-to-purchase. With COVID-19, we saw a dramatic change in the path-to-purchase, and that inspired us to partner with Boston Consulting Group to unravel the new consumer journeys.
Enabling small businesses: There are 160 million small businesses that use the Facebook family of apps globally, and a substantial number of them are on Facebook in India. These businesses are at the heart of India's economy. We are deeply committed to enabling and growing these businesses, many of which set up a Facebook page even before they set up a website or start offline operations.
Building standards for the Digital industry: We are also focused on building the Digital ecosystem in India by creating the right standards for the industry. Last year, we started Facebook Thumbstoppers, an India-first initiative in partnership with leading creative agencies and creative minds of the country aimed at establishing industry-wide mobile creative standards. When Nielsen developed Custom Mix Modelling (CMM) last year as an industry-wide solution to measure sales ROI of all media with the same granularity and rigour, we decided to pilot that solution in order to enable industry-wide measurement standards.
Above all, we build for people first, and we keep evolving our ad solutions based on the changing consumer and business needs. We have Automated Ads that are a perfect fit for businesses that are small in size. They require business owners to answer just a few quick questions about their business and goals, based on which Facebook creates recommendations for the kind of ads they should run. In the age of reducing attention spans, advertisers can leverage interactive ads such as Augmented Reality (AR) ads and Brand Playables. Many people and brands are already engaging with influencers, and that's why we started Branded Content Ads that allow advertisers to promote creators' organic branded content posts as feed and stories ads, thereby reaching new audiences and delivering impact.
Q] Recently, Instagram announced new ways in which influencers and content creators can earn through IGTV and Insta Live content. Is that something you're planning to do on Facebook also?
Given the uncertain circumstances many people are facing today, we solidified our commitment towards creators by announcing new ways for them to earn revenue through Instagram Live and IGTV. These have been rolled out in select countries, but not in India yet. We are always exploring ways to provide new opportunities for creators to turn their passion into a living via Instagram. On Facebook, we do support eligible creators to drive revenue with our monetization tools including instream ads.

CHANGES IN CONSUMER BEHAVIOUR
63%
consumers are paying more attention to origin of product
43%
of consumers are expecting decrease in overall spends in next 6 months
51%
consumers saw an increase in payments via digital wallets
50%
of all consumers expect to increase e-commerce spends in next one month
Over 40%
may increase spend on Health & Wellness
60%
increase in Instagram Live views in a week
91%
Indian households washing hands more often
(Source: Turn The Tide Report)