Q] What is the concept of Firework TV and how are you positioning it in the country?
Firework is a short video network. We are a decentralised platform where we work with audiences that exist in clusters and environments that are not based on app. Our content comes from professional creators and is available across a wide network of publishers. We don't focus on an app as a destination. Less than 3% of our consumption happens through an app. The app is a creator tool that allows you to shoot horizontal and vertical video simultaneously, which we call Reveal. We are available on mobile phones as a native app, smart TVs, telecom networks and publisher sites. We are going live with Vodafone in a couple of weeks and talks with Samsung and Airtel are on. We also provide e-commerce companies with short vertical format videos which their customers can view on their websites.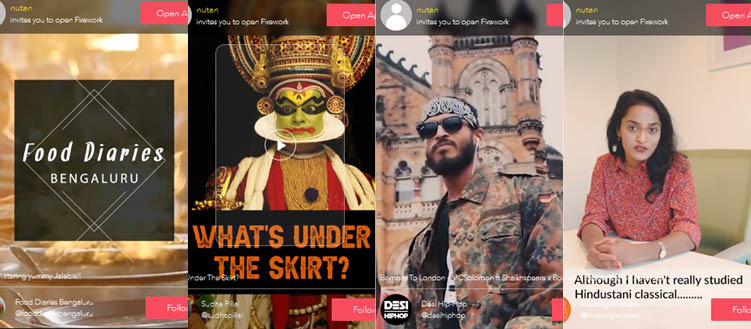 Q] What's your reach across the world and how much is your reach here in India?
In India, top of the funnel reach right now is about 180 million users per month. Globally, we have about 455 million.
Q] What are the various revenue formats or models that you have in place for brands and marketers?
We have a grid where in one unit you can run an ad on the basis of cost per view. The grid allows us to do a lot more. On one bar, we can showcase an e-commerce affiliate product where we get the revenue share of the sale. The other two bars are what we call Audience Extension Programme, where content can be put up by brands across our 118 network publishers and revenue is on the basis of videos watched. Lastly, we have branded content which is a big category that is being built right now. We started ad sales about two-and-a-half months ago.
Q] In India, you started operations in October 2019. How were the initial two-three months and how have the last two-three months been? What difference have you noticed?
The initial two-three months was about building the team. We are now 45 people spread across Mumbai, Bangalore and Gurgaon working across business operations. We were one of the few companies that started working from home from March 8 onwards. In lockdown, we have actually added 22 people on board and I am proud of my team for that.
In terms of ad spends, the big splash campaigns are of course not there. A lot of budgets have been pulled back. But there is a big surge of the smaller tactical ones like subscription service, insurance services, health and wellness and online education and skilling; they have all been very active.
One of the things that we have not begun to offer is for a brand to own the network and run an entire activation on the network spaces. This has story-telling, brand visibility and engagement with the consumers, which goes beyond a simple banner sale. We opened this up just at the beginning of the pandemic in Japan, and it worked really well there. Now, we are bringing it to India and it will be available in the next couple of weeks.
Q] What are the viewership trends that you have noticed?
Viewership jump has been in the range of about 30-35%. The session time has doubled to around 18 minutes and with almost 40% of increase in video views. Another interesting behaviour we have seen is that earlier about 65-70% of viewers would watch a complete 30-second video, now we are seeing a lot more completion. Categories like spirituality, wellness and food are being viewed extensively.
Q] Social media thrives on negative context and the popular hashtags are generally based on negativity. But that is what drives mass participation for a social media platform. How can brands be part of such an environment? What is your view of this?
It is a Catch-22 situation. With an influencer culture, the followers are fickle, they go away if the influencers don't do something which is a gimmick or outlandish. So, wherever there is influencer-led activation, this is bound to happen. There is no story-telling really happening. It is just frivolous controversy that is getting created. Earlier, it was a controlled environment where you knew what programmes you were advertising on, and if you did not agree with the tone of the programme, you would not advertise. But at present, there are short term spurts that are happening to gain followership. Brands are smart now. I am not seeing brands that are premium in nature or the ones that go after the buying consumer putting their money on these platforms.
Q] Do you plan to bring on influencers on your platform?
At present, the only person of certain amount of influence we have on the platform is journalist and TV anchor, Faye D'souza. We have traditionally, across the board, stayed away from this influencer-led activation. We did work with a few influencers when we started off two years ago, but what we quickly realised is that an influencer comes in and brings a certain burst and daily active users go up. But when the influencer goes away, the daily active users are gone. We as a company are trying to build something clean, brand safe and long term. We are not chasing after spurts in daily active users because some creator said something controversial and a whole bunch of people are either trolling or for or against it. We would like to remain in that space. So we work with story-tellers to create these 30-second storyboards. In 30 seconds, one can tell a good story. I would be ambitious to say this, but we might actually have a bunch of story-tellers coming out of the Firework platform who are not depending upon negativity in any manner.
Q] Across various platforms, there is a lot of content available. How do you carve out space for Firework content? What is your challenge here?
The challenge is two-fold; one is relevant content. We are talking about 550-600 million smartphone users in the country. Part of these are data consumers who just watch videos and connect over social media. And then there are around 100 million out of this, who actually transact online. What we are looking at is a balance between the two. We are looking at this transacting and the more premium mass audience as the base for us to build. That audience really values quality content. Hence the differentiator for us or any OTT or video-led platform would be quality content on an ongoing basis.
Q] What are the next steps for you as an organisation? Where do you see yourself as a company in the next six months?
I think we are very serious about expanding the e-commerce side of the business. We would also be increasing our footprint. The idea is to bring in more destinations into the eco-system and expand on the content. These are the three things that we are focused on. We are a two-year-old organisation and have built a lot in this short time. Now, the next three years will be about consolidating on the last two years and the learnings that we have had and building a business which pans across eight countries that we currently operate in.