Zoya, the diamond boutique from the House of Tata, recently introduced its new collection, 'Rooted' — a line-up of over 45 pieces for the modern sophisticate.

Zoya's 'Rooted' draws on motifs from the world's rainforests, seen to be exotic, colourful as well as resilient and nurturing. The Zoya woman is typically well heeled, well-travelled and seeks exclusivity and the rainforest mirrors the Zoya woman's inner resilience and salutes her inner strength.

Ajoy Chawla, CEO of Titan's Jewellery Division says, "With Zoya, we are redefining luxury jewellery as a personalised and purposeful connectionnwith our customers. The muse for the new collection is the Zoya woman – a nurturer, a caregiver, a dreamer and an ambitious go-getter.

We see her breaking free from patriarchal and societal expectations, finding ways to authentically reconnect with her deep feminine. She now engages more deeply with her personal aspirations finding clarity of purpose and strength within."

The brand collaborated with entrepreneur and interior designer, Gauri Khan for the launch of the 'Rooted' collection. Khan had been associated with Zoya previously for the launch of its Delhi store.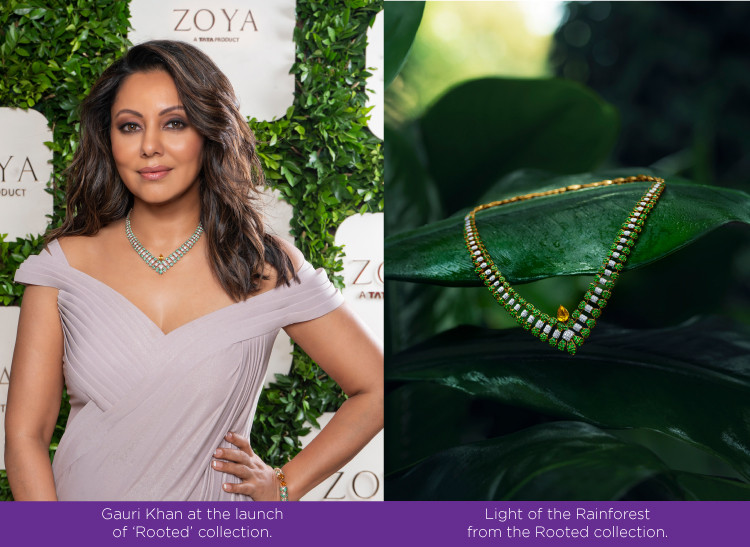 Speaking about her collaboration with the brand, she says, "Zoya is a brand distinguished by its fine craftsmanship and design, and each piece has a beautiful story behind it. So it is a brand that appeals to me very much."

She adds, "I am launching Zoya's new collection for them. This collection, Rooted, speaks to the inner strength of the feminine spirit, something very relevant in today's challenging times.

The motifs in the collection are inspired by the rainforest, which is a fitting metaphor for the inner strength and perseverance that women share with nature."
Talking about marketing plans for the new collection, Chawla says, "We connect with our customers through events but as we are constrained from doing events this year. However, we will be present across all relevant media, be it Digital, magazines and newspapers."
On the recovery path
Launched in 2010, Zoya has built its reputation over the last decade on the artistry and craftsmanship of its products. The brand has two stores in Mumbai, one in Delhi and opened its latest store in Bengaluru in March.

However, two weeks later the newly launched store had to pull down its shutters, albeit temporarily, because of the COVID-19 pandemic and the ensuing lockdown. With restrictions gradually being eased, the recovery has been encouraging, notes Chawla. "We are very encouraged and happy with the response.

There's confidence in brands like ours and customers have been comfortable visiting our stores. For Zoya, we target a certain profile of customers who have not been economically impacted. The Zoya customer is very keen to celebrate her personal milestones and that has driven sales recovery during this period." He adds that the recovery has primarily been led by its existing customers.

What has also helped the brand is the digital outreach it took to help consumers in smaller cities such as Alwar, Jabalpur, Jaipur and Indore connect with Zoya's jewellery advisors online and complete transactions.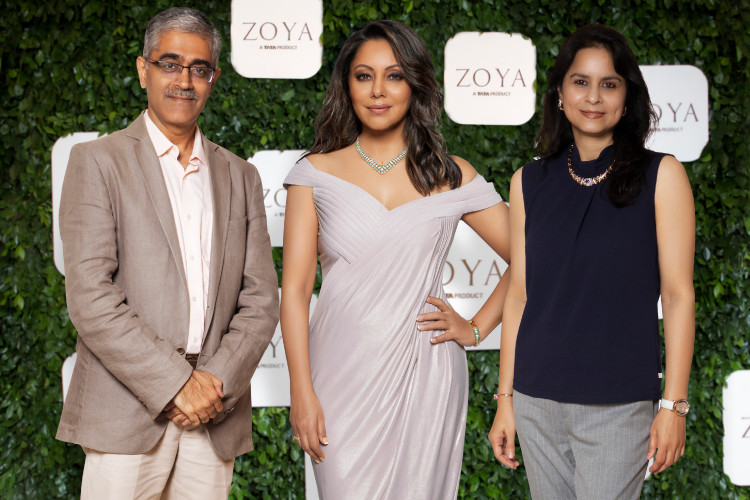 The company enabled its customers to shop remotely through online videos. While the company had employed this strategy for Zoya earlier, the pandemic resulted in this being extended to Tanishq as well.

The company also had a significant part of its product portfolio photographed and put it online on an endless aisle. In the specific case of Zoya, shortlisted products were delivered to the consumer's home to enable final purchase. "We saw a lot of online traction for all our brands.

We increased our visibility and presence online, enabled remote shopping with video walkthroughs of the new collections and product launches, and enabled online appointment booking in a much bigger way," explains Chawla.

A big priority was to ensure that safety protocols were followed in all the brand stores in the portfolio – Zoya, Tanishq, Mia and CaratLane. "There was zero compromise on safety protocols. This built a lot of customer confidence. In fact, we believe this also helped us gain some market share," says Chawla.

Titan also ensured that it continued with all its slated product launches and launched Tanishq's 'Aarambh' collection in July following it up with Zoya's 'Rooted'. Chawla says, "We continued all our efforts to drive growth.

We ensured that none of the product launches were deferred indefinitely. We launched products, ensured merchandise availability in our stores and did not cut down on stock." He also adds that the company will shortly launch a new collection for Tanishq, and will retain all the things that will create and build desire among its customers.

Explaining how these initiatives have enabled the brand's recovery to a large extent, he adds, "Over the last few months, we've seen close to a 90% recovery, both for Zoya as well as for Tanishq. However, Q2 of last year was a weak quarter as gold prices spiked.

Therefore, the base effect might also be showing up a little bit in this recovery. When I say 90%, one should not assume 90% on business as usual but on a weak quarter Y-O-Y. On a like-to-like basis, the recovery may be about 80%-85%."
Ringing in some festive cheer
With consumers confined at home and cutting back on spends over the last six months, the upcoming festival season provides the consumer an opportunity to indulge, reward themselves and even gift their close friends and family.

In addition, expectations are that people will start the shopping for the upcoming wedding season by October. Chawla is optimistic on Q3 and adds, "When we look at the next few months, we aspire to get to 90% level of last year.

Q3 last year was a big quarter, as it usually is, and we saw good growth. At an overall level, I would simply say that we are going into the festive season full throttle expecting a very successful and good season." Looking ahead, this year the company is actively exploring the Hyderabad market. Plans are also in place to test markets like Chennai, Kolkata and Ahmedabad for Zoya.

On a final note when asked on marketing spends Chawla states, "We've spent and done a fair amount of advertising in Q2. I don't see any reason why we should hold back spends in the second half of the year. We will in fact be comparable to what it was last year in the second half of this fiscal."