Ajit Mohan, Managing Director, Facebook India, is upbeat about the unprecedented pace of digital transformation taking place in the country, and the influence of digital technology on Indian consumers. In conversation with Annurag Batra, Chairman & Editor-in-Chief, exchange4media and BusinessWorld and Nawal Ahuja, Co-founder, exchange4media Group, he dwells at length on 'Leadership and the Digital Economy', pointing out how Facebook has pushed the agenda of economic revival by bringing people and businesses online.
Taking about the current situation, Mohan says India is dealing with a difficult time, and Facebook is trying to contribute towards India's fight against COVID-19 on both the economic and healthcare fronts. "On the healthcare front, Facebook has joined hands with the State governments across India to make sure that people have access to accurate health-related information. We also created a $100 million global fund for small businesses," he adds.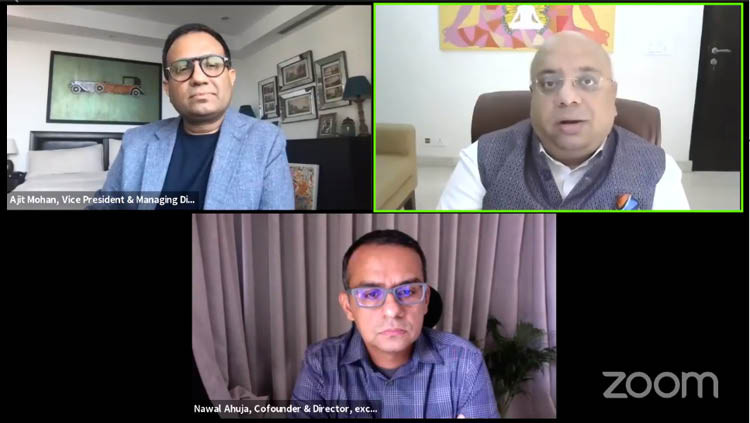 The Facebook MD says his company has created COVID-hub, an information portal that gives people a one-click access to all the pandemic-related information. "Around 2 billion people saw that hub, and more than 350 million people clicked on it and actively engaged with the information aggregated there," he states.
Mohan affirms that Facebook is focused on India's economic revival, especially the revival of small businesses. He says, "It has always been a particular strength of ours, in terms of helping small businesses, to activate markets, reach out to potential customers."
Talking about where India figures in the global scheme of things for the company, Mohan says it is a very important global market for Facebook. "We invested $5.7 billion in Jio. It gives a good view of how we are leaned in towards India. The largest communities on both Facebook and WhatsApp are from India. Instagram has been growing dramatically in the country. The role these three apps play in India is deeply immersed in the fabric of the country. We can't perceive a reality where our daily lives don't begin and end with WhatsApp. Facebook also plays a particular role in connecting friends and family," he observes.
Emphasizing the importance of India, Mohan adds, "If you look at the last five years, digital played a particular role in transforming India. No country, not even China, has gone through a period, where in four years, nearly 450-500 million people have come online and have access to affordable high-quality mobile broadband. Jio played a pioneering in it. India has brought more people online and given them cheap access to the Internet in the shortest period of time and it's just the beginning. We have brought consumers online, our next task is to bring 60 million small businesses online."
Facebook, an American tech company, values that India is an open democratic country, and thrives on the openness of the Internet in India, Mohan says.
THE INDIA-FIRST LAUNCH OF 'REELS'
Mohan also talks about the growth of Instagram and its recently launched short-form video product, 'Reels'. In his words, "Growth of Instagram has been phenomenal in the country. It has played a defining role in shaping global culture. Instagram has been extremely successful with IGTV, and stories, and the feed itself. We saw an opportunity for creating short format video, so now we have tested 'Reels'."
Explaining why 'Reels' was launched in the Indian market before anywhere else in the world, he says, "India is at the top of the chart whenever we think about any product introduction. [The idea] was in the box for a long time. This was the perfect time to implement it. I am excited about Reels because I feel big, global stars can come out of India. If we look at the growth of Instagram, it has grown rapidly in the public narrative."
Over the past year, Facebook has noticed an increase in content creation from smaller cities and towns, other than the large cities, and it gives a sense of how deep Instagram has penetrated society, Mohan says. "Instagram is the place for big celebrities with existing followers, and that will continue, but 'Reels' also opens the gate for new creators," he adds.
WHERE HE SEES OPPORTUNITY
What are the unexplored areas that have the potential to transform the Indian economy, or Indian lives? Mohan says one is the offline to online transition, that is accelerating. "Fundamentally, the foundation of the digital economy - one side of it - looks really good. We have brought a lot of people online, and they're engaged online. Acceleration of small businesses going online will connect the dots on this, in a way where you can actually have an explosion and growth of transactions between consumers and businesses. India has around 60 million or so small businesses. They account for a disproportionate share of the economy and jobs. Part of our effort with the partnership with Jio is actually to see them online. The COVID-19 outbreak has given people a taste of what the digital economy could look like. Now the opportunity is to build on that."
The second one is virtual presence, Mohan says, as all of us have discovered that we can get things done without a 20-hour flight, or two-hour, or six-hour commute in Delhi or Mumbai. "On my Facebook feed, the consistent story is families discovering that they should get into patterns of being on video calls every week. We didn't discover video calls in the last four months, but the outbreak kind of created the trigger for that behaviour. That's going to be an opportunity. Virtual presence, especially around AR and VR, is going to be a big part of it. We spent the last 2000 years designing experiences or constructs that are grounded in terms of people being in the same room. All of that will face extremely positive disruption. The real innovation will come when we start building tools that are native to this experience, that actually make it 4X above what that experience was – be it teaching, or consulting a doctor, watching a TV show or a gaming experience," he says.
A third area where Mohan sees opportunity is hyperlocal experiences. "There is a tremendous opportunity for anyone looking at creating good, robust, trustable hyperlocal products and services because my sense is consumers are more tuned towards hyperlocal in a way that they might not have been earlier," he says.
ON SMALL AND MEDIUM BUSINESSES
"I don't know whether Facebook is disproportionately focused on small businesses, but small businesses are disproportionately focusing their energy on Facebook. And there is a reason for it," Mohan says. "What we call 'performance money' - you can exactly know if you hadn't spent a dollar on Facebook, versus if you had spent a dollar, what is that incremental impact you got from it. How many people watched the ad? How long did they watch the ad? Did you get value for the money you spent? Our entire marketing platform, the advertising engine, has been tuned towards delivering that impact. Small businesses tend to use us more because they are very frugal. They don't have a lot of money. Hence our emphasis on small businesses."
Mohan sees the market recovering. "Whether large or small, businesses are coming back. Even if they're coming back with 60% or 70% or 80% of what they were doing in February or March, they are realizing that they have to put a lot more of that on digital because they can see measurable outcomes, and a lot more of the behaviour is online. So, I am seeing recovery and a disproportionate share of digital ad spends," he says.
"The narrative for the last 15 years was that the mass media vehicle is television. On the back of what Jio and the other telecom operators have done in the last four years where we now have 500-600 million users with good quality broadband engaging daily, there has been a turning point where the mass media vehicle now is digital. Some platforms have daily engagement of the magnitude of 400-500 million users; suddenly it is the largest vehicle now. Marketers haven't moved fast enough to recognize that the needle has moved from television to digital, and it will take a while," he observes.
OTT, PLAYGROUND FOR INNOVATION
Now that even movie launches are happening on OTT, what will be the scenario for OTT platforms 12 to 24 months from now? Commenting on this, Mohan says, "It's fabulous to see all the innovation continue at Hotstar. The release of movies straight on Hotstar is exciting. The success of Hotstar was not just because it had a compelling content portfolio, but because in the very early years, we were clear that our success would be based on our ability to create a great product. So, technology and engineering was a large part of it."
According to Mohan, consumers love the choice in the OTT space, but in the long term, they pick platforms that are building sustainable models, that continue to innovate. "In the next 12-24 months, subscription can play a big role in creating sustainable revenue models for streaming platforms. Streaming platforms can play a role in bringing live sports back into action. There is an exciting canvas of opportunity there," he says, adding that the third big lever for the platforms is people's appetite for content consumption and innovation. "How are you fundamentally going to transform the experience of watching content - whether it's a TV show or a movie or live sports or news, whether it's short form or long form video; how are you fundamentally going to provide innovation for two constituencies – consumers and creators? Bringing the conversation back to Reels and Instagram, there's an entirely new set of tools for creators. This creator can be anyone - it doesn't have to be a Bollywood producer who has been making movies for the last 20 years. It doesn't have to be someone who has been writing TV shows for the last 30 years. The exciting opportunity is, can we actually have the 20-year-old with an ambition to tell a story, and a format that she prefers - maybe a 15-second video with the power to tell the story and reach global audiences. Equal energy has to be on how you are enabling a new breed of creators as much as how you are introducing innovation to media consumers."

'BE OPEN TO LEARNING'
Mohan advises young professionals who want to make it big in the digital economy to be open to learning new things. "Openness and learning agility are the two leadership skills people should practise," he declares.