Q] Your brand has been associating with IPL over two seasons. What were the key objectives in terms of associating with this platform?
We have been associated with the property for almost ten years, not two years. We have used the IPL to our advantage for the past decade, and we have made incremental gains, and are taking incremental steps towards being consistent partners of IPL. Earlier, around ten years back, when we were getting into IPL, we used to only do Spot Buys on the telecast ecosystem. Now we have scaled it up, and have grown as a brand, along with the tournament. Any national brand, especially in the leadership space, needs scale; and IPL gives you that scale. Secondly, IPL coincides with our peak season of summer; for air conditioning, air cooling and refrigeration products. All these products have a degree of seasonality, and it is usually between March and June, that the sales peak. Thirdly, this property cuts across multiple consumer segments. So as a wide spectrum brand like Voltas, with a portfolio of multiple products, this helps us to cut across various segments. So, if you are talking about popular segments, premium segments or masses, IPL cuts across all the segments. This has been a consistent property throughout many years and it is only going to build up. Of course, initially it had its own set of controversies, but that also helped it to gain popularity in the market. I think it's here to stay.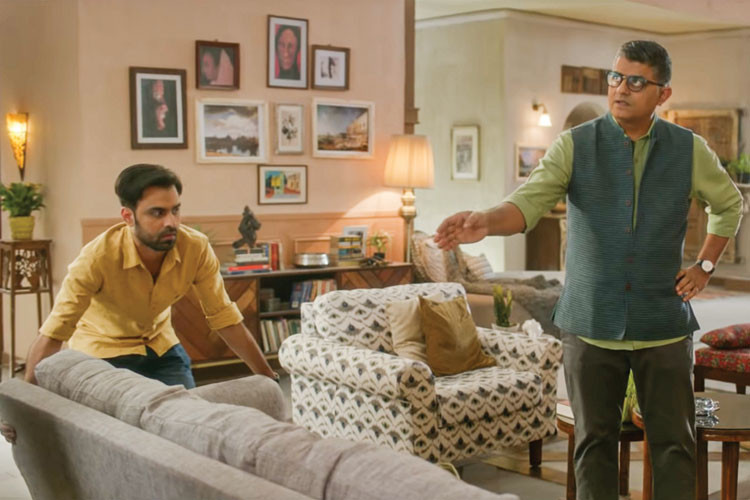 THE MARKETER SCOREBOARD
Deba Ghosal is the Vice-President, Marketing, Voltas and holds two decades of cross-functional, multi-cultural experience in marketing, sales and product management across categories. His recent experience has been in handling the marketing of business units with challenging top-line, P&L and brand mandates. Some of his previous stints have been with LG, Hero Group, Honda and many others.
Q] Given that the IPL coincides with the peak summer season, which is when demand for ACs and coolers at the highest, what kind of impact did you see with this association in terms of sales, share of voice and brand recall?
The Products business of Voltas is the consumer facing business. We also have a Projects business which is B2B, where we do limited activities. We have seen a lot of gains in the past couple of years. Amongst many other factors which helped us gain market share and brand equity, IPL is one of them. It's a good medium for us to carry our message effectively across segments. Our Market Share today is the highest in the category, and our nearest competitor is half our market share. This has not happened overnight, but over the past many years. We have gained steadily and incrementally every year. We have seen that during the course of the summers when we maximize our share of voice, and we leverage properties like IPL, we witness an instant connect with consumers, and our trade partners recall the brand message much higher. People walk into stores with our brand as a considered brand. There are some instant, tangible gains that we observe in the market, when we launch our campaign, along with the IPL. In hindsight, we've consistently gained on brand equity in the category, and we have the highest share-of-voice in the category. All these things have helped us gain traction, as you are not competing with only 2-3 brands, but almost 20 brands in the space of air conditioning, in a cluttered environment.
Q] How did the brand leverage the cricket frenzy in India and extend it through activations, Digital and other campaigns?
We have never been on-ground sponsors ever, and have always been part of the telecast opportunity. Recently, we've been telecast sponsors since our product range has gone wider. Activations will come up more, when you are ground sponsors. However, there are certain things which we feel have the potential like the IPL fan-park. Those are opportunities that we can look into as we move forward. Besides, on the consumer durables space, there are a lot of things that we've done in the past few years. Whether we've launched- the All Weather AC, or the All Star Inverter AC, or recently the Adjustable AC, we've tried to build assets around the tournament. The 'All-Star player of the match' property, which was launched 3 years back, trended heavily on Twitter. The 'Adjustable Moment of the Match' was launched last year and did very well. 'Voltas Cool Facts', which was launched some years back, also did very well. We've tried to associate with IPL through some of these properties, which have given us mileage beyond regular advertising.
Q] Are there any specific markets where you have seen a lot of traction during the IPL? Any case studies that you can share?
In the initial years, the IPL was not doing that well in South India. It saw greater traction and eyeballs in the North, Central and East India. South India had more of GEC and Regional channels, if you're talking about numbers and share. Recently, we have seen the South markets respond well to IPL, and we see South responding better as we move forward. IPL was initially more of a Hindi-belt property. Later on, it spread itself to other markets, and in the last two years we've seen good traction from South India.
Q] Since you have associated with it for so long, what are some of the key learnings from IPL campaigns that marketers should keep in mind while associating with the IPL? What are some of the best practices marketers can adopt while looking at partnering with the IPL?
When we started with IPL we were a very small player, and our investments in IPL were very humble and modest. However, that is the learning we had. I would say that brands should not get intimidated by big sponsors around IPL. IPL is like a staple diet for cricket fans in India. They need it every summer. However, it's getting expensive for many marketers. Every brand today has an opportunity to do something unique and relevant for its audience. Even if it's a small investment in spot buys or whether it's an opportunity to showcase your products in the stadium, or whether it's an opportunity to carry your Channel Partners with you. There are different opportunities for different brands in the IPL; so they should not get intimidated with big sponsors around them. Secondly, I would say do not treat IPL as an opportunity for big billboards. We have to leverage the opportunity to build stories, showcase our products, and engage with viewers. If you treat the IPL as a billboard opportunity only, you are missing the opportunity completely. Whenever we have used the tournament, we have used it to launch something new and fresh, and we use it to create a story around our brand. Right from the days we launched the Voltas All-Weather campaign back in 2011-2012, we used the IPL to build a story about all-weather ACs, that is relevant for the consumer, throughout the country. That is something marketers should think about, creating the right story, and the right fit for the brand, while leveraging the property. Most importantly, the IPL reaches more than just the metros. It provides good traction across tier II, III and IV markets.
Q] Do brands get lost in the IPL, considering there are so many brands trying to leverage such a big sporting event?
The moment you treat the IPL as a static opportunity for a billboard, or just a passive logo on somebody's chest, it doesn't work for you. You will get lost in a clutter of brands, either on the attire, or in the stadium. However, you will not get lost in the tournament when you build a unique opportunity for your brand. Take for example the old property of Vodafone Fans – they had a property that they consistently used for many years, and people still remember that. Besides that, when you launch a new sub-brand or a product, if your creative is powerful enough, IPL delivers and ensures that your message stands out. Just putting your brand on a jersey, or on the ground will not help a new (or an existing) brand. One has to create opportunities for the brand across the spectrum of IPL, and engage and talk with the consumer.
Has this also helped Voltas build stronger partnerships with stakeholders and partners?
We've not looked at IPL as an opportunity for channel activation. In a small way, yes, but we have not really used it in that direction, in a larger scale.
Q] What were some of your favorite campaigns and moments from last year's IPL season?
The last IPL season was a very hot one. The temperature crossed 45 degrees Celsius. That helped us. What I can recall of IPL of last year was an extremely generous summer, which was beneficial for us, and our new campaign rocked! The Voltas Adjustable AC campaign did really well, and we launched a new segment of ACs through last year's IPL, which did very well in the market.
Q] What are you looking forward to during this season of IPL?
There are two things that I am looking forward to – one is a hot summer, and the second is that IPL is now cutting across segments even more. I believe there are more and more women watching IPL today. We have recently launched our new range of Home Appliances under the Voltas-Beko brand. And IPL will play a vital role in building the brand in that category as well.