Sports is one of the many routes for our brand to connect globally with their target audience, says Nipun Marya, Director – Brand Strategy, Vivo India as he discusses the brand's campaign for the upcoming UEFA EURO 2020. He also speaks about the pandemic's impact on the brand and the smartphone category at large, as well as its initiatives to support relief efforts during the second wave
Q] Your association with IPL has had a huge role in making Vivo a popular brand in India, what are your expectations from Euro 2020 sponsorship?
The Indian Premier League has been an integral part of our marketing strategy. Over the years, we have introduced benchmark innovations to our customers during this mega-sporting event. Being the most influential sporting event in India, Vivo IPL gives an opportunity to broaden our customer base and target the existing and potential audience in the most creative manner. While Vivo IPL is widely celebrated as a festival in India, popularity for Football is slowly but surely picking up pace. The sport has undoubtedly caught the imagination of the youth of the country. Football is a global sport, and Vivo's association with the sport has helped generate good brand presence globally. In 2018, Vivo became the official smartphone brand to sponsor the 2018 and 2022 editions of the FIFA World Cup. Now, as the official smartphone of UEFA EURO 2020, Vivo aims to let football fans enjoy those 'Beautiful Moments' during the tournament. The recently launched 'To Beautiful Moments' campaign encourages people to connect virtually with friends and family or fellow fans and celebrate the game, even if it means putting the phone down to give their full attention to the matches. Sport is one of the many routes for Vivo to connect globally with their target audience. As a brand that celebrates the 'Joy of Humanity', we believe that sports can break down barriers and build connections.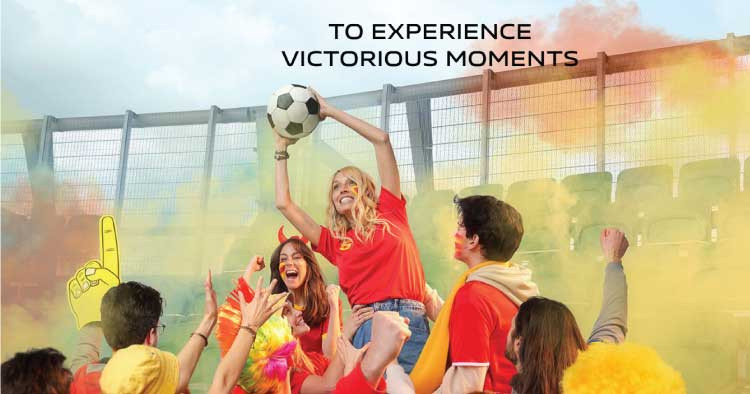 Q] On what mediums are you promoting the new 'To Beautiful Moments' campaign?
'To Beautiful Moments' aims to encourage consumers to be more present for life's valuable moments. Our products can help celebrate them by capturing the moment with professional photography performance, even when conditions are dark and shaky. The new advertising campaign has been rolled out and is airing on television in Europe, the Middle East, Southeast Asia and China, and around the world on Facebook, Instagram and YouTube.
Q] With IPL getting postponed experts are saying that Euro 2020 will be a good value proposition for brands… but unlike IPL does it enjoy popularity across family members, or will it be limited to young male audiences from metros and the football-crazy states in India?
The popularity of football is witnessing an upward trend in India. While Vivo IPL enjoys a larger fan base here, football is a global sport that is breaking down the barriers and connecting the Indian audience to the global ones. As one of the leading global smartphone players, Vivo caters to a wide variety of target audience across the globe. The values of UEFA EURO coincide with Vivo's mission to connect and create. The partnership with UEFA is an important milestone for us to provide a unique experience for people around the world.
Q] Vivo has always dedicated a huge amount of its marketing budget on sports...how much of your spends will be earmarked for Euro 2020?
Sports in India evoke the strongest emotions among people. Therefore, it is imperative for us to create a bond with our existing as well as international consumers with the help of UEFA EURO 2020. While we do not share marketing spends, I feel it is more about the impact. With this partnership we are looking at connecting with the user base of over 400 million people worldwide. Vivo is incredibly proud to partner with UEFA to engage with football fans across the world as we are a brand deeply connected to and invested in the like-minded passions and interests of our users.
Q] Has the second wave impacted your marketing spends in a big way, have you re-evaluated your spends or is it business as usual for you?
We saw the world changing in the year 2020, and with the second wave, uncertainty has undoubtedly taken centre stage. Consumption behaviour patterns have changed, which has compelled many companies to evaluate their spends on marketing and strategies to meet the needs of the evolved consumers. At Vivo, we have and will always try to reach our consumers with game-changing innovations coupled with enhanced smartphone user experience. Our consumers are everywhere, so we will continue to ensure that we focus on each channel equally, be it TV, Digital or OOH, working towards our commitment to provide an honest experience to all stakeholders.
Q] Q1 of 2021 saw a stellar run for smartphones in India…. But have the subsequent lockdowns and restrictions on everything except essential goods in certain parts of the country impacted Vivo's sales, what has been your strategy to counter it?
There is no doubt that every segment of the Indian market is bearing the brunt of COVID-19. While Counterpoint reported that India's smartphone shipments grew 23% YoY to reach over 38 million units in Q1 2021, the same cannot be committed for the April-June quarter due to uncertainty imposed by the second wave of COVID-19. However, Vivo witnessed double-digit growth in 2020, when the industry grew by -17%. As a brand, our focus is to ensure our customers, employees, and partners' safety and well-being. Vivo has been actively trying to lend its support to the government of India and recently pledged Rs 10 crore to aid COVID-19 relief efforts and to help acquire oxygen concentrators. Last year, Vivo had donated over 9 lakh masks, 15,000 PPE suits and 50,000 litres of sanitizer to the state and central government agencies. We believe that we are all in this together and must fight as a unit to defeat COVID-19. We are confident that once the lockdown is lifted completely, the business will thrive again. We do foresee a surge in smartphone sales once the lockdown is lifted as consumers, especially in Tier II-Tier III markets, realise the need to upgrade to smartphones as it has become an essential product helping them to stay connected during the lockdown.
Q] What are the new products you shall be launching in the next two months and specifically during Euro 2020?
Over the years, Vivo has always set benchmarks by bringing relevant innovations for our customers. We have a strong product portfolio across price segments. Recently, we announced the X60 series and the Vivo V21 in our most popular V-series. There are more products in the pipeline for the future. In June, we will be launching a new addition to our Y series - the Y73. We shall continue to work towards our commitment to provide the best innovations to our consumers.