Q] 2020 has been a tough year for almost every brand across categories. How has Twitter Next helped brands in these testing times?
The purpose of Twitter is to serve public conversation. And public conversation has never been more crucial and meaningful, as 2020 taught us. So, the immediate need for people was to find the most accurate and reliable information quickly. Hence, the influence around the message was really critical. And if you bring that back to what it meant for brands, who were actually just trying to understand the challenge ahead, with their entire marketing calendar thrown out of the window, the biggest thing for us was to emerge as their partners. So for Twitter Next it was very important to zoom out and launch what we call, almost like a consultative opinion on how best to manage brand communication in times of crisis. With our global and business marketing, we launched an initiative called 'The Conversation Starters', to make sure people on Twitter actually get to hear from marketing leaders, media leaders and advertising leaders. So we hosted those conversations live and ensured that is the conversation that people connect with and probably learn how to adapt in this environment.
Q] Tell us about a few brand campaigns you've rolled out through Twitter Next this year. What kind of impact did you achieve with these campaigns?
We've seen many launches across some of the dominant categories, be it tech or OEM where multiple companies were about to release their flagship phones. You've seen those launches happen in a world where on-ground events had completely gone away.
Twitter became a virtual roof for those launches to happen. What we also saw was a lot of diverse categories that emerged. Digital was suddenly fundamental and foundational for every brand and every category, whether it is edutainment, brands like Unacademy, WhiteHat Jr. or whether it is FinTech brands like Cred or Paytm. Many such brands were actually looking at Twitter in the marketing mix. So we've seen a lot of diversification of campaigns.
Star Sports being obviously a brand and a publisher had evolved completely in 2020, on how to engage fans that were no longer on ground. One great atmosphere we saw both in Star Sports and the Indian Super League that they actually leveraged Twitter to start a campaign, which was #truelove. When IPL was officially confirmed, Star Sports again was right there as the driver of the conversations.
Samsung has been a brand that's done both launch and connect really well this year with us. And one of the conversations and themes that we've seen on Twitter is actually around K-pop. K-pop is a popular phenomenon, and when Samsung Galaxy was actually launching S 20+, which was a special BTS edition, they looked at Twitter again knowing fully well they would get the kind of consumer response they looked for.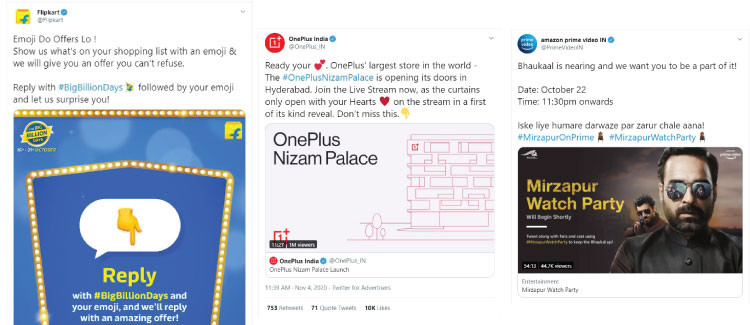 Q] Who were the top advertisers/spenders on your platform? Which format gained the most traction this year?
Digital is no longer probably just a part of the strategy, it is the strategy for multiple brands and multiple verticals. Irrespective of whether you're in retail, CPG, or BFSI, digital advertising has shown a significant amount of growth through the pandemic and post pandemic. And Twitter was right there as one of the most crucial marketing mix vehicles.
Q] How are you leveraging technology and the pre-existing features of Twitter to drive brand activations?
The great advantage that we see with Twitter and our developer ecosystem is to actually go beyond what we call as ad production solutions and work bespoke for every brief and every marketing challenge we receive. For us, the biggest priority is to see and keep the people on Twitter right at the centre of execution. So an idea on Twitter should be very integral to Twitter.
For example, OnePlus was announcing the world's largest store in India. At a time where no on-ground events were happening, and everything required a virtual roof, we collaborated with team OnePlus and several other partners. Our goal was to ensure that we evoke the sense of community and give fans some sense of control that they could make a difference in revealing the world's largest store. With all live streams on Twitter, you would actually see the broadcast of what was happening. But what fans saw was actually just a curtain. It was a curtain that will only be powered when they start actually pressing hearts on Twitter live. And that made the best difference. So that is a great example of the experiments that we are doing with technology.
Q] What change has Twitter Next witnessed in the approach of businesses from the pre-COVID era to the current pandemic period?
One of the biggest changes for a marketer and a brand we observed was the ability to pause. And in pre-COVID, you wouldn't really think twice about the service and the product you're launching. That was one big change. The biggest behaviour from the brand and the marketers, what we saw was reflection, understanding their brand, and their ability to predict and partner with us to forecast what is the right message and what is not. And at the same time to not just speak about what the pandemic is doing but ensure there's enough space for distraction levity.
And, COVID actually contributed only a small percentage of the overall conversations on Twitter. There were conversations far beyond pandemic, there were conversations around hope, gratitude, sports, tech, lifestyle, and all of that. And that is what we saw brands really dive into, and start speaking about that and trying to actually drive what we call a sense of virtual community.