Q] Recently, we saw Dancer Rukmini Vijayakumar dancing on a Samsonite suitcase in one of the 'Tested like Samsonite' campaign ads. What was the thought behind it, and how was it conceptualized?
Samsonite is a global brand that strives to provide durable products of the highest quality. Samsonite has been innovating towards that goal for 113 years now. We were the first ones to transform bags from horizontal trunks to vertical ones. Then we introduced two wheels, 4 wheels, and finally the spinner wheels. Now you have the shock absorbing wheels. Each Samsonite bag goes through rigorous tests, and the product reaches the market only when it can withstand those tests. We decided to find a common ground between the Samsonite test and the tests that people go through in their daily lives. Therefore, this campaign theme, 'Tested Like Samsonite' was executed with popular individuals such as Amitabh Bachchan, Yuvraj Singh, and Mithali Raj. They portray the rigorous tests that they have gone through in their lives, only to emerge as winners.

The campaign was released across TV, Cinema, and other mediums. However, we realised that the Digital audience did not really watch the ad. The content on social and Digital media has to be relatable and approachable. So we began featuring influencers. Manushi Chhillar got a frozen bag, and she had to break it free from all the ice, displaying how a Samsonite bag can withstand sub-zero temperature. We had Nikhil Chinappa throw a bag from multiple flights of stairs, almost 50 or 60 times. Also, Indian percussionist Drums Sivamani played drums on a Samsonite bag. So finally, we asked Rukmini Vijayakumar, a well-known Bharatnatyam dancer to dance on a bag, which shows that Samsonite bags can withstand overloading.
Q] What was the brief given to the creative agency?
We had told them how Samsonite is synonymous with reliability and durability, and we also wanted to show an emotional connect without losing the brand DNA. We didn't want to stray from the brand's truth, which is, how the products are being made, and how they are making journeys easier. Therefore, the creative agency successfully mapped the brand's core.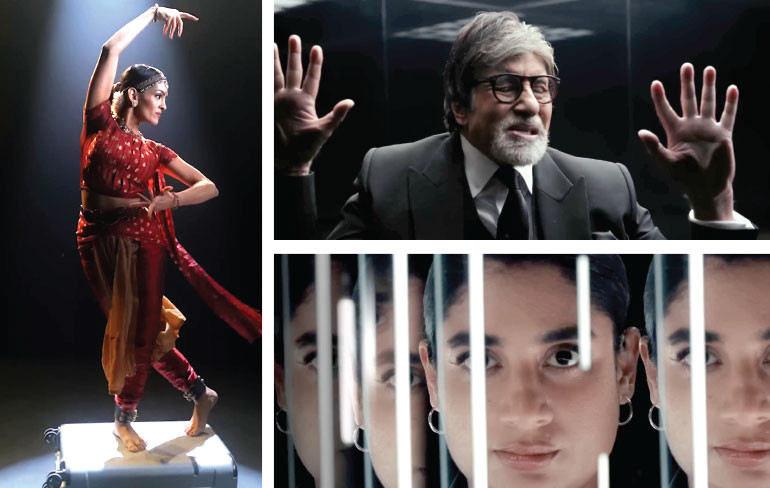 Q] What media mix and budget was allocated towards the overall campaign?
It was a holistic campaign across TV, Cinema, Outdoor, Social and Digital mediums. Samsonite's budget for Digital used to be 25%, which has now increased to 30%.
Q] What are the Digital marketing strategies adopted by Samsonite in the D2C segment?
We have Samsonite.in, and our Digital journey has been amazing. When it comes to D2C, consumer experience on our website is the most essential thing. We always try to enhance the experience of consumers who come to our website. In D2C, you have to be there at the right time and right place with the right message. So these are the key filters that we always adapt when it comes to performance marketing.

Now performance marketing contains multiple things within it, such as, Google Performance Max, Display, Social Media, Affiliates, Blogs, Native Blogs, etc. So, there are different verticals, and within that we have different campaigns because it's not only about luggage, but also about the size of the luggage, and the various needs of the consumer. Understanding the consumer is very important, and the learning continues. So, there are 3-4 basic filters, and then there are some 20 other sub-filters. But we try to study a consumer, and find out whether he or she is interacting with the brand or not. Then we reach out to the consumer's overall Digital social media journey hoping for a conversion. If that does not happen, then we put a pause because we don't want to irritate the consumer, and then we reach out to newer audience. So, there's always a healthy mix of reaching the current audience and the newer audience, and trying to engage with them with their needs and communications.
Q] Last year, Samsonite introduced a new collection called 'Magnum Eco,' which focuses on sustainability. Tell us a bit about it, and how has it been faring in the market?
We've received an amazing response on Magnum Eco. We are also trying to make it affordable and accessible to the consumer. In terms of sustainability, there's a lot more work to be done, so that there is acceptability and awareness among consumers for such products. Magnum certainly had a successful launch in India.
Q] You've mentioned about roping in Cricketer Mithali Raj for the campaign. How important is sports marketing for brands? Out of the total marketing budget, what percentage do you keep aside for sports marketing?
If there is something which is really apt, we are always open to that opportunity. It's not just about being available on different verticals and screens, but also about ensuring that the brand is a good fit. So, as long as such opportunities are there, we will be associating. There is no set budget that is kept aside. Mithali Raj has a really inspiring story and she has received immense recognition for women's cricket in the country. So that was the kind of human story we were looking at. We thought of associating with her, and the association is quite firm, and long-lasting.