Q] Can you give us a sense of where the channel stands today with regards to BARC ratings?
If I were to compare week 32 to 39 pre-BARC clean up in 2020, with that post it i.e. the last seven weeks of 2022, there is a dramatic difference in the English language news landscape. Then Times Now was shown to have a share of 24% and now it is 40% and yet there is hardly any difference between the cumulative television rating points on Times Now in both the durations. From 686, it has just increased to 699. So, how is it that we had a 24% share then and 40% now? Because at that time BARC CEO Partho Dasgupta and his team were rigging the data.
Q] A big change with regards to ratings post the clean-up is that BARC only shares it with the stakeholders- channels, advertisers, and media agencies. Most channels tend to cherry pick the time band and cities that they perform best in, everyone projects themselves to the viewer as the leader this way or that?
Why do we have ratings? So that advertisers purchase advertising on your channel at the rates you want them to purchase it at. And all three stakeholders have access to that required data that will help them do the best targeting. A particular channel has been claiming that they have been number one for 20 weeks uninterrupted. It's a vanity and perception-building exercise from which the advertiser will get nothing. As far as I am concerned, I am talking about daily time spent, the weekly average of all days of the week for the whole channel for any city with a population of 10 lakh/ 1 million plus, i.e. a significant urban metropolis, which includes your six metros, which is the megalopolis and for the age group of 22 plus in AB homes. This is the most important metric for anyone broadcasting in English news because this is precisely your English viewing universe.

The competitor channel instead, is showing all India numbers where most of the ratings is coming from rural India. I'm not trying to be classist here, but why would an English news channel be getting numbers from Arhariya in Uttar Pradesh? How is it that their viewer for example is coming from rural Andhra Pradesh, but no one in Hyderabad, Delhi, Mumbai, Calcutta, Chennai is watching them. So, either it's the greatest story that everyone is missing or there is something odd about it. Can they truly be number 1 by that logic in the 22 plus AB, 10 Lakh plus segment of the population, which is the English language population?
Q] You had previously accused BARC of fraudulently reducing your ratings and had sought damages from the measurement body, would you say the current system has your nod?
Now, is BARC without imperfections? Every system can improve. If you want more barometers you have to be prepared to invest in the system too, set up a fund maybe. As far as ratings are concerned right now, our daily time spent figures are at 9.9 minutes today, which was 7.9 minutes pre-BARC clean up. The time spent of a relatively newer channel on the block has come down by almost four and a half- five minutes. While the percentage share of another channel which is calling itself number 1 has grown from 11% to 19% after the clean-up at BARC on the back of time spent, which went from 7.4 minutes to 8.3 minutes. Their TVTs are at 328, which is half of ours, and even lesser than the newer channel I mentioned above, so there is definitely something wrong there. The reason why I am giving you these two data points is because I believe even during 2017, 2018 and 2019, Times Now was number 1. BARC produced its own audit report under Sunil Lulla, which suggested that Romil Ramgarhia, Partho Dasgupta, and several others in his inner circle were actually manipulating ratings. They were doing it by scaling down Times Now's time spent numbers. Our reach has remained same, which means as many people were tuning into our channel then as they are now and that means even back then I was at least the number two most tuned into channel. The only problem was that they weren't watching me once they were tuned in, which is a bizarre logic.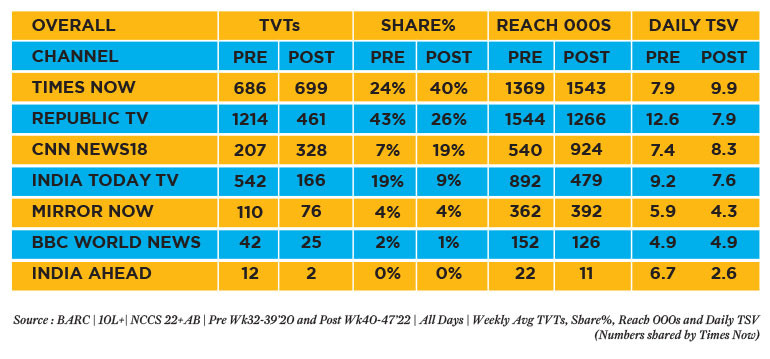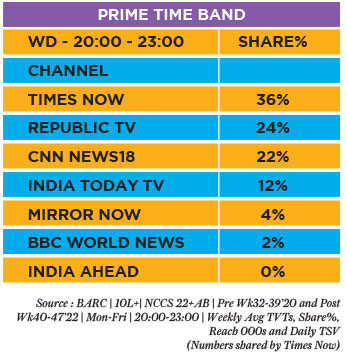 Q] But the landing page controversy has always been there wherein the viewer watches a certain channel first because he lands there by default and then he moves on to something else he likes?
That's a very good question. Now, landing pages have been around for eternity. They have been used by entertainment channels like Sony and news channels like CNN News 18, Times Now, etc. You have to first ask yourself why landing pages came into the equation, in news. Because when this new channel was launched, they not only had landing pages, they also had double LCN, which was banned under TRAI regulations, and they also had a henchman in a person called Partho Dasgupta inside BARC, the charge sheet said it, there were Whatsapp messages leaked where the channel chief and Partho were saying that they have capped Times Now's time spent.
Landing pages are akin to advertising, where I spend my money which could otherwise have been used to make my top-line look good, it is a perfectly legal activity, similar to buying the first page of TOI. It is not forced viewership, a channel comes up when you switch off your set-top box and switch it on the next day. If you watch it for one minute then I get some benefit out of it, but if there is some nonsense being aired, will you continue to watch it for 3-5 minutes? But having a landing page in a market where there were people rigging the system was my insurance policy. Today I don't need that insurance policy. BARC has come out clean after removing those tainted fixers. Look at the two channels, the new channel which had an FIR filed against it, and one legacy channel that was fined for tampering with ratings. At one time they were almost getting a 20% share, today they are in single digits. Pre and post BARC blackout, Times Now is still number one in the most important genre of English TV news. Back then, my reach told me that, but my share, which is a function of TVTs, didn't reflect it.
Q] To what extent are TVTs responsible for the revenue of Times Now, and will we see ad rates go up, now that BARC ratings are favourable for you?
Times Now rates have not fallen even when we were supposedly number two as per BARC, but whether it will go up will depend on the economy and several external factors. As far as content is concerned, I have never sat here and done activism. There are channels which attack the government, irrespective of whether the government is right or wrong because they have an agenda, they're activists. They didn't make noise when Rajiv Gandhi's killers were given bail. There are others who simper at the government and do ji hajoori, because they have that agenda. In addition, I'm competing today with 30 other types of media. When the cookie really crumbles, Times Now asks the relevant questions, and that is why people have stuck with us from day one.
Q] In the past few months, a bunch of channels bowed out of the rating race i.e. NDTV, ITV, Zee News, etc. Would you call BARC the true representation of viewership hierarchy when many competitors are missing from the ratings chart?
In the many months of ratings black out, certain channels had evolved from TV to Digital, realizing that ratings don't really matter to them because their revenues were coming from Digital. So, why be part of a system that is not actually doing anything for you. We have learned of how there is complete mismanagement at another such channel in the past two years, so there are other strategic reasons for these channels to get out of BARC.