India is believed to be the largest market in the world for short form mobile video app TikTok, the United States being the second largest. In his first exclusive interview, Sameer Singh, VP Monetization, ByteDance India (the parent company of TikTok) talks about whether more users, more videos on TikTok automatically translate into more safety checks in this market where the platform has already seen 200 million downloads and boasts of 120 million monthly active users
Q] You joined ByteDance a couple of months ago. What, according to you, makes the platform TikTok so exciting?
As a platform, we embrace diversity; also combine it with a model which has made content creation as well as content consumption really simple. As a consumer, you don't have to sign up for anything, follow anybody or join any group. You just start swiping. And the more you swipe, the more the app learns about what kind of stuff you like and the more it shares content. This democratization of both consumption and creation is what makes this app truly exciting. You combine that with an interface which natively uses music and gives you the ability of doing 'jugalbandi'. For example, we have this feature called 'duet' where one person in New York may make a 10-second video and another person in London can add his half and create a duet of sorts with him. Then, someone sitting in Rajasthan too can make another version of it, which is fascinating. I recently read a report which said Flipkart and Amazon are seeing a huge spike in mobile phone accessories' sales because of TikTok. Thanks to TikTok, you don't need a laptop or fancy software today; users are turning their mobile phones into editing platforms and video stations. If you are adept with your phone, it will take you 15 minutes to create a decent quality video, and then you can share it with the world out there.
Q] Months after TikTok was banned in India briefly, owing to objectionable content on the platform, what kind of safety nets have you managed to put in place?
Our safety feature starts with community guidelines which make it very clear as to what is acceptable and not acceptable in terms of behaviour on the platform. Also, we understand that many of our users are in fact first time users, first time netizens, so we also educate them. We have 13 existing industry-leading safety features, which are designed to protect our Indian users. Features like age gate, restricted mode, screen time management, comments filter and safety centre are helping users safely showcase their creative expression through their videos. This year, we also launched 'device management' that enables users to have complete control of their accounts. In addition to the safety features, TikTok has also implemented a moderation technology based on an algorithm and a robust human team. In India, because of the diversity in culture, our moderation team also covers 15 major Indian languages, including Hindi, Tamil, Telugu, Bengali, Gujarati and more. That links up with our machine learning based system. It learns from the moderators and feeds it back to the moderators and is thus a loop that keeps getting reinforced. So, it will learn from the decisions that they take. We have already taken down about six million videos in the last few months. We have a very responsive organization. Communication flows up pretty quickly. Also we are very sensitive to things that come up, both from a user and creator safety perspective.
Q] Undoubtedly TikTok is one of those rare apps which has caught the imagination of urban as well as rural India. How are you monetizing its popularity?
We are creating interesting formats that help our clients' brands connect with our viewers through content that is extremely engaging as it is native to the platform. TikTok has come forward with innovative solutions for brand enhancement with short videos that can further increase the impact of the ad. We have offerings like the Brand Takeover which is a gateway for digital traffic and has full-screen vertical display, In-feed Native Video allows for a more immersive, original, and interactive format for ads. Then there is Brand Lens with its cutting edge technology. In addition to this, we also have the Hashtag Challenge which has now become the most popular digital advertising solution. This is being leveraged very actively by brands that are seeking insights from the digital community to trigger more high quality content and explore innovative and engaging ways for branding. It has become a cult globally. Clean and Clear's #UnbottleApnaSwag was one of our first challenges which resulted in 10K+ videos getting created, and got 19.6 billion views and an engagement of 170 million.
Q] A factor that concerns advertisers is lack of engagement, as only 29% of users access the TikTok app daily, compared to 95% upwards for rival apps as per Apptopia. Also TikTok is believed to have a limited range of targeting and measurement tools…
Actually, in some ways counter-intuitively if you have people who come back with less frequency, that means now my campaign over a successive base can actually build reach, because each day it's not the same people that you are talking to. It is reach versus frequency; your frequency of showing ads may go up but you will be showing it to the same people in that case, so reach remains the same. Will that serve the purpose? Having said that, we do see highly engaged users on our platform. We see brands having ample opportunity to build both reach and engagement. We are a young company and we are building scale but as we partner and collaborate on research studies with our clients in terms of seeing what's the effectiveness and impact of campaigns, we realized it actually works really well.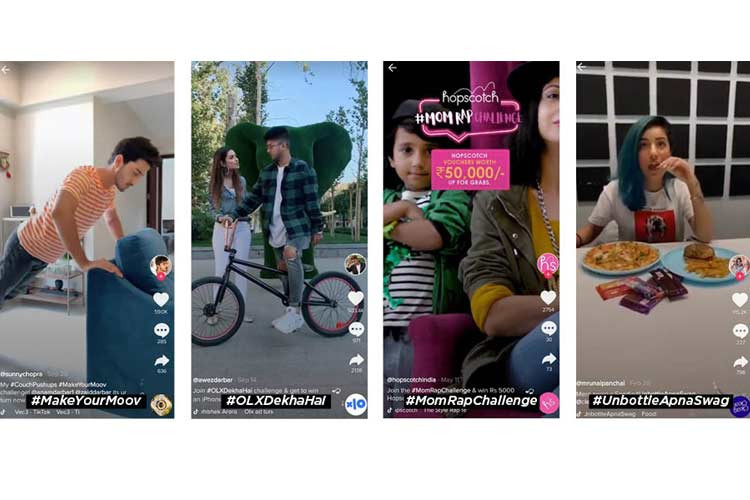 Q] What kind of growth rate in terms of user base and advertising are you witnessing at the moment?
We have seen 200 million downloads in India and have 120 million monthly active users. On the advertisers' side, from a monetization team perspective, I am hiring like crazy. My hiring is always behind my needs. And that is a reflection of the conversations that clients want to have with us, and partner with us.
Q] Do you see yourself becoming as big an advertising platform as Google and Facebook today?
TikTok will become faster and much bigger than what most people can imagine it will be.
Q] In a leaked video, Mark Zuckerberg recently admitted to TikTok having a larger scale than Instagram in India; Facebook has launched Lasso to combat it and then there is Sharechat - for how long do you think you will have the first mover advantage?
One of our principles is to stay grounded and be humble. If there is competition, it means there is interest in that area. It is good for consumers to have competition. Competition keeps everybody on their toes, keeps everybody honest. We respect and invite a competitive environment. After all, good competitors make every company even better.