Q] Tell us about Laqshya's transformation journey from an OOH player to a multi-media solutions provider…
Laqshya was set up 22 years ago as an Outdoor (OOH) solutions provider. While we faced some struggles in the first couple of years, we soon got our overall business model right and for the past 20 years have been growing at a steady CAGR of 30%. Today, we are among the top three OOH agencies in the country with a vendor base of over a thousand media owners and presence in over 1,800 cities and towns, wherein we have executed over 10,000 campaigns over the years. Our group infrastructure extends to 22 offices and over 400 employees. In 2013-2014, we expanded our reach to events and experiential marketing with the launch of Event Capital and Laqshya Live Experiences, which are both doing very well today in their own right. Subsequently, we ventured into Digital Marketing in early 2018 with the acquisition of Digitalabs, primarily with the objective of targeting the youth who spend a substantial amount of time on their mobile phones. In November 2018, we entered into a strategic alliance with Comkeys, a French independent international communications group to bring Mediakeys, a specialised international media exchange to India, with the aim of boosting the exchange of OOH media between common clients of the two companies in India and globally. Through Laqshya Assets and Solutions, we manage end-to-end media spends for various brands and we also own media like billboards, street furniture and transit media across cities.
Q] What are some of the internal tools and processes that play a key role in Laqshya's growth strategy?
Laqshya has an in-house research department which offers regular study of competition activities, category overviews and post campaign analysis. We also have an in-house creative department which works on innovations and creative enhancements. Apart from this, we recently launched an advanced planning tool 'SHARP' (Strategic Hyperlocal AI-powered Reach Planner) through which we are able to do precise targeting from physical data acquired from sensors, layered mobile data (GPS/GPRS based monitoring of campaign execution) and a third digital layer of data from Google Maps and various other applications. This helps us to provide clients with the gross reach for their entire campaign, among other features. A lot of brands have shown a great deal of interest
in SHARP, which we believe will translate into more account wins and better delivery, in terms of sharper audience targeting.
Q] Do you see Digital Out of Home (DOOH) driving the growth of OOH in India over the next five years?
While DOOH is growing rapidly in the global context, in India it will still take some time to pick up due to regulatory and other industry-related hurdles. However, while we see street level digital billboards picking up slowly, ambient DOOH in airports and malls especially, are growing rapidly. While we exclusively handle the mandate for Hyderabad airport, we are looking at creating a network of digital billboards across the country in top cities and at the right locations where clients will find it extremely valuable. While this digitization will not replace static media, digital is increasingly being integrated in static billboards as well, like the live digital display billboard we recently created for Zee5. On our part, we are looking to focus on three areas, namely, precise and targeted data, creativity and innovation, and technology, with an aim to integrate experiential technologies like augmented reality,
virtual reality and more into our offerings to provide better value to our clients.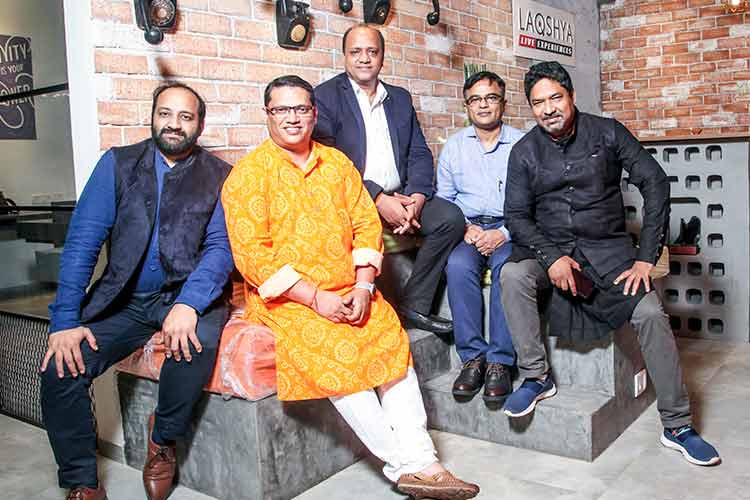 The Transformation team - Changing the game: (L to R) - Deepak Chaudhary- Founder and Director Event Capital, Navneeth Mohan, CEO - Laqshya Live Experience, Alok Jalan - Managing Director, Laqshya Media Group, Atul Srivastava - Executive Director, Laqshya Media Group, Satyabrata Das - Head Strategic Alliances, Laqshya Media Group and COO, Mediakeys India
A lot of international brands are keen on advertising in India and at the same time, many Indian brands want to advertise outside India. So the alliance with Mediakeys came about to facilitate servicing of both types of clients and to expand our reach beyond India to multiple geographies. Some of the international brands for whom we have executed campaigns as a result of this partnership include Turkish Airways, Armani, Calvin Klein, Royal Enfield and others. Similarly, ZEE5 and Incredible India are Indian brand campaigns we have executed globally through the Mediakeys partnership."
SATYABRATA DAS
Head Strategic Alliances & Corporate Communications,
Laqshya Media Group
Q] Event Capital recently picked up an 80% stake in Indian Games Expo (IGX). What are your plans to leverage this?
Given the increasing popularity of gaming in the Indian context, we decided to enter this space by acquiring a majority stake in IGX, which is one of the largest gaming events in India, with an aim of making it even bigger. In December, we will be organising the Indian Gaming Expo, a large format gaming event targeted at gamers of all age groups.
Q] What is the strategy to expand the scope of Event Capital and Laqshya Live Experiences?
Through Laqshya Live Experiences (LLE), we organise large format events for marquee clients like Google, Facebook, Capgemini, Autodesk, and UltraTech, among others. We try to create new experiences and unique innovations for every brand we work with, which has resulted in LLE being one of the most awarded agencies in the past three years across award platforms, in India and globally. Through Event Capital, we handle sports and talent management and create our own large format event IPs, like music festivals and the upcoming 'SocialNation' social media creators festival. While we will continue to deliver value through innovation with respect to both these experiential arms, a fourth area which we are looking at is content, be it social media content or branded content for clients, with a focus on youth marketing. We are already engaged in creating content for web series, films and serials.
Q] Do you think consolidation will aid the fragmented OOH industry?
Consolidation is always good for any industry. Today, there are a few large players which clearly stand out, handling various clients from government to railways and buses to big ticket brands. So we are already seeing a sort of consolidation on the supply side. A lot of media owners are also looking at consolidation. We are also on the lookout for good partners to collaborate with or acquire, if the opportunity presents itself. That said, OOH as a medium has been growing at a steady pace with a lot of global brands like Apple, Amazon and Google investing heavily in it, and for most OTT and e-commerce players, OOH makes up a huge part of their media mix; with data insights clearly showing that the mediums is delivering high returns for them, in terms of consumer engagement. Laqshya is also working closely with the Indian Outdoor Advertisers Association (IOAA) towards a unified measurement system which will greatly aid the industry and boost overall revenues for all players. Personally, I am hoping to see the OOH industry grow from approximately Rs 5,000 crore currently to Rs 10,000 crore within the next three-four years.
Q] What are your plans for Laqshya Media Group going forward?
Firstly, I want the company's overall DNA to be innovation – be it in terms of planning or executing a campaign or through overall measurement and research, where SHARP is just the beginning. We want to make SHARP even sharper, in terms of overall segmentation of audiences, and various other measurement tools, with an aim to make OOH one of the most accountable and measurable mediums. Airport advertising is yet another area which we are heavily invested in to leverage our expertise, as we see this space growing exponentially. Last but not the least, our focus is to make our existing businesses even larger, with a special focus on Digital, in order to create a combined solution using OOH, Experiential and Digital, offering greater value to clients. We are looking at hyperlocal marketing very seriously because OOH and Digital are two mediums which can become as global or as local as you want them to be. In terms of expansion plans, we are open to the right kind of opportunities in OOH, Experiential and Digital for local partnerships.