Q] Tell us about the launch of the 12th season of 'Radio City Super Singer'. What are your expectations from it, considering it will be a virtual event this time?
We are happy to announce the launch of the 12th season of Radio City Super Singer and take pride to have launched the first ever singing talent hunt on Radio. Through Radio City Super Singer, we aim to encourage aspiring singers by giving them a platform to showcase their singing talent across 39 cities. With the ongoing uncertainty, this year the contest will be completely virtual. The auditions have already begun through the IVRS and missed call number in all cities, our microsite, along with social media channels and I am so overwhelmed with the response we have been receiving. Unlike previous years, this year the winners will be from Hindi, Kannada, Tamil, and Telugu speaking regions and will be chosen through public voting and by well-acclaimed playback singer Kailash Kher himself across Hindi speaking markets, composer Ghibran, music director Chaithan Bharadwaj, and singer All Ok in Tamil, Telugu and Kannada markets. The winners will be announced on 20th December across all our radio stations and social media platforms.
Q] How would you define the journey of Super Singer over the years? How has the property benefitted the company till now?
Radio City's commitment to nurturing talent has helped this flagship property grow in the last 11 years. In its 12th year, Radio City Super Singer has not only grown by scale but this time we are certain it will exceed its level of engagement among listeners. Over the years, we have received immense support from our listeners, and we hope that this year too people participate in large numbers. Our prime motto is to celebrate this country's talent pool and showcase them to the listeners. The property has undoubtedly helped us widen our reach and strengthen the connect with our listeners across 39 cities. We have had immense support from our sponsors all through the years who have instilled their trust in us and the property over the years.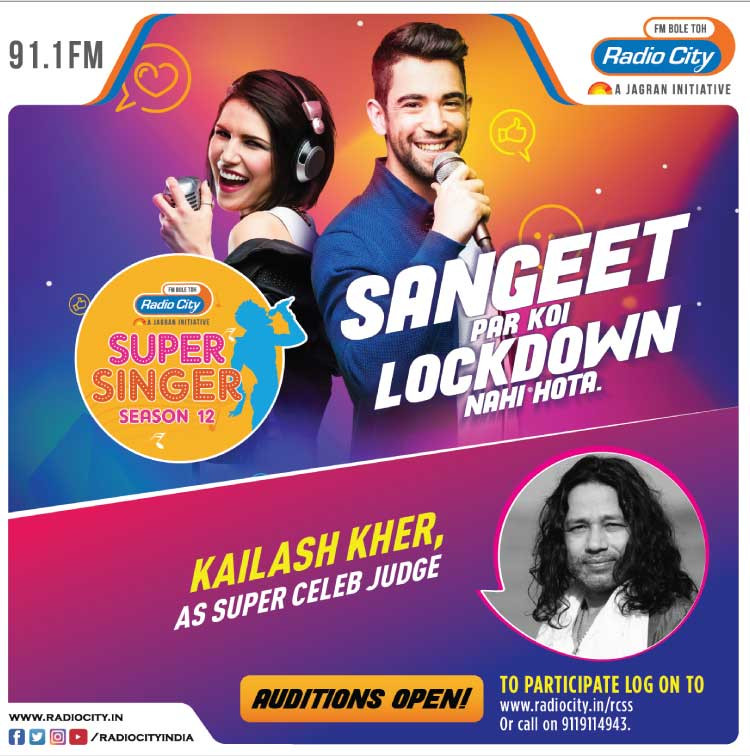 Q] How are you marketing the property this time around, especially since it is virtual?
Being our tentpole property for the last 11 years, Radio City Super Singer is already well known among people. However to further amplify our reach, we leveraged our on-air and social media presence to get the word out. We are actively promoting auditions across all our 39 radio stations. Since the lockdown, social media has played a very important part in our revenue generations and campaign promotions, and hence we are using it to the maximum. Apart from this, we are promoting Radio City Super Singer across various newspapers in the respective cities that we are partners with.
Q] What impact did the pandemic have on the radio industry and your channel in particular?
All the sectors were in some or the other way impacted by the pandemic. The radio sector too saw a substantial reduction in volumes, and we witnessed investments drying up as brands were not advertising like they used to. However, the sector saw a surge in listenership and engagement rates. As per AZ Research PPL report, 82% of people tuned in to radio during COVID-19. We witnessed a listenership of 51 million people, an increase from the 48 million listeners in the six metros where the research was conducted, before the lockdown was implemented. These numbers clearly act as a testament to the fact that Radio is one of the most trusted platforms by the citizens.
Having said that, our current numbers show that we have recovered by close to 80% -85% of pre-COVID-19 levels in terms of volumes and 60% -65% of pre-COVID-19 levels in terms of revenue. Being an easily accessible medium and staying true to its relevance, it has been possible for us to get back to normal. Especially in tier-2 and tier-3 cities, we are already ahead of the recovery process with around 85% -90% operating at pre-COVID-19 volumes. Owing to the pandemic, forecasting in these situations is a difficult task as nobody knows what might happen tomorrow. We might see actual recovery starting next quarter once the situation is under control.
Q] What other initiatives has the channel undertaken recently to keep listeners engaged and advertisers invested?
We launched some innovative digital campaigns across all our social media platforms to spread positivity and entertain 'digizens' during the lockdown. Most of our campaigns digitally are in tandem with our on-air communication on Radio, which has helped us generate a stupendous 280% growth of our social media reach numbers. One of the highlight campaigns was in association with Think Music, Divo, Aditya Music & D Beats, titled 'Concert From Home'. We are also leveraging RJ influencers and their reach to drive on-air solutions to our advertisers. We have started providing radio plus digital offerings to our clients to stay relevant and bounce back to normal in these testing times.