Think Sulekha, and what comes to mind for many is online classifieds. However the company has over the last three years evolved to become a digital mobile platform for expert services. What prompted this move was the transformational changes in the overall digital ecosphere and the difficulties in making the classifieds play 'a monetizable asset'. With consumers not willing to pay, the online classifieds model was a difficult model to sustain both growth and monetization. Satya Prabhakar, CEO, Sulekha says, "We found that there were certain services based SMEs who had a strong inclination to pay. So, we started focusing on the services sector. The second epiphany for us was that if we became are a pure listings play, we would be competing with the likes of Google. Instead, we focused on providing a superior value to the consumer and the service provider."
The Solution Provider
Starting off, Sulekha crystallized the challenges faced by service providers into four problems – first, they were ambitious and wanted to grow but did not have enough work; they were not flush with capital nor did they have access to capital; they do not enjoy brand equity and fourth, they have no access to media. Prabhakar elaborates, "The service sector entrepreneurs require a sales channel. They want actionable return on their investment. We looked at it and decided that we needed to completely rethink what Sulekha does. In the last three to four years, we have completely re-engineered and re-built the platform to address the pain points of entrepreneurs and are now totally out of the classifieds space. The growth of Sulekha's core business excluding discontinued business lines (such as corporate advertising) grew at 25% CAGR during FY'17-19." He adds, "We are here to grow service sector entrepreneurs who take pride in their work, building a reputation for themselves, serving and keeping customers happy. We can confidently say that we are the leading digital platform for service sector entrepreneurs." Sulekha believes that the expert service category is ready for a digital disruption.
The Big Opportunity for Sulekha
As per estimates, the overall size of transactions in the expert service category today is over $110 billion with 16 million service SMEs catering to the needs of 450 million consumers (Source: Omidyar Network & Boston Consulting Group (BCG) Study, 2018, and Sulekha Management Estimates).
Sulekha has categorized its offerings into three spheres which is then divided into six specific categories – Home Improvement – Home & Accommodation; Life Improvement – Business & Events; Self Improvement – Training & Services. Under these six buckets, there are over 200 sub-categories which include everything from carpenters, brokers, pest control, packers and movers, interior decorators and modular kitchens, to connecting consumers with consultants, lawyers, GST tax specialists, graphic designers, caterers, wedding planners, decorators, overseas admissions counsellors, tutors and test preparation specialists. "We are really broad based and our structure is horizontal and every sub category we are in has to fall under one of the six buckets. We enable expert service entrepreneurs to come and participate and grow on the platform by connecting with targeted consumers who have the need for their services," explains Prabhakar.
The Services Matchmaker
Sulekha boosts of over 20 million unique visitors per quarter who come on to the platform looking for a service and over 120,000 registered service SMEs who provide services across 200 categories in over 40 cities (including around 10 cities with a large NRI population). Connecting the consumer with the service provider through a 'matchmaking' process where the consumer puts in a service request and every requirement is captured with the consumer filling a form detailing their need. This information is then run against the database of service providers and by using AI and machine learning, the consumer is presented with a shortlist of four to five service providers who are most suited to serve their specific needs. For the service providers, the probability of the leads converting into a booking is high as the lead is targeted and in their locality. The matched service request is apportioned to the service provider who is highly qualified and best placed to serve because it is matched to all his capabilities, location criteria and various other things. "We use a lot of parameters to figure out which is the right service professional for the consumer and then do the matching. The matching is really what measures our success. We are an aggregator. We are like the Airbnb for digital expert service providers. That differentiates us from Google and JustDial as we are not about plain listing but intelligent matchmaking," points out Prabhakar. The best comparison for Sulekha, according to Prabhakar, is with IndiaMART that has a similar model in the B2B marketplace while Sulekha operates in the B2C space.
Targeted Marketing
Despite the fact that many consumers still view Sulekha as a classifieds brand, Prabhakar notes that the perception is now changing as consumers come to Sulekha whenever they need expert services. The brand also focuses on Digital and targeted advertising for target consumers. He explains, "We get about 95% of our traffic organically and through search. We advertise primarily on Digital. A challenge we face is that our problems are specific to city category cells. We may need more service providers in home improvement in Chennai, while in Mumbai we may need more users in home improvement." He adds, "We have a highly sophisticated micro targeting marketing, aimed at filling that imbalance rather than broad-based marketing. In the future, when we look to general brand building, we could use Television and other media. As for marketing spends, we plan to increase our ad spends by 30%-40% next year."
Tapping the Indian Diaspora
Sulekha has also seen success in the US market where it has established a strong presence by targeting the Indian diaspora and catering to their specific needs. The company gets higher margins here as the operations are based out of India. Currently, based in 10 cities, which have a huge NRI population, the company's international strategy is looking to replicate its successful US model in other NRI markets such as UK, Middle East, South East Asia, Australia and South Africa. Currently, 20% of Sulekha's revenues come from outside India and by 2023 the company expects NRIs to contribute 25% of their revenues.
Looking Ahead
The category that Sulekha has placed big bets on is home improvement, lifestyle and training. The focus for the company going forward is to triple its paid subscribers, from 50,000 currently to 150,000 by 2023. Another focus area will be getting freelancers on board the platform, particularly for services such as language translation, astrology, voiceover, editors, design etc. On a final note, Prabhakar says, "We will continue growing the business for the next one year. We don't have plans but will evaluate listing the company and we're constantly looking at various opportunities for liquidity. We expect to achieve a 40% CAGR over the next four years (FY20-24). By 2023, we see Sulekha as the largest marketplace for expert service entrepreneurs."



The Monetization Game

Of the 120,000 registered service SMEs, 50,000 are paid subscribers who pay a match fee. Prabhakar says, "For each match, we get paid by the service provider. So, if we give the service provider four matched service requests (leads), he pays us for all those four leads on a per lead basis, and that is our monetization." The lead cost pricing for each matched service request is value based pricing and pre-determined and varies depending on the city and category. The second revenue source is from bookable services where the users can book services in advance, in which case they pay a booking fee to Sulekha. Prabhakar says the booking model contributes 25% of the revenue and this will likely continue in the future.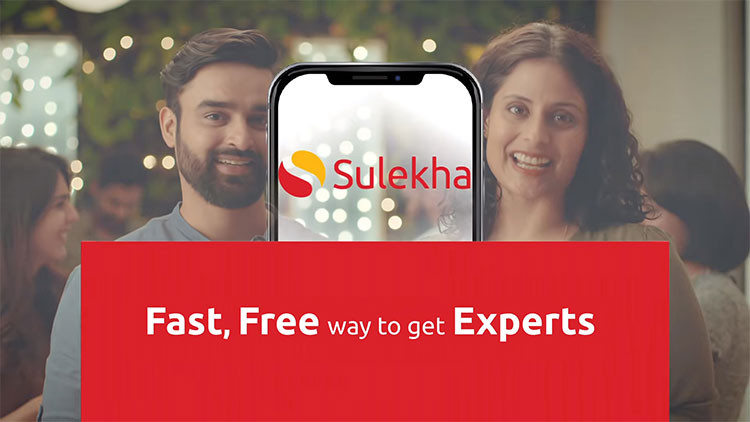 In FY19, training, home and lifestyle accounted for 30%, 26% and 13% of all service requests respectively, while business, accommodation and events accounted for 12%, 11% and 8% of service requests respectively. When it comes to FY19 revenues, training, home and accommodation accounted for 31%, 28% and 13% respectively, while business, events and lifestyle accounted for 12%, 9% and 6% of the revenues respectively. The gross transaction value of the business enabled due to the Sulekha platform is estimated to be north of $300 million.