Q] What made you conceptualize Saffola Soya Bhurji's first-ever campaign around the theme 'Chhoti Bhook'?
Today, Indian consumers are looking for convenient, ready-to-eat, and tasty yet healthy snacking options that will not only satiate their hunger, but also keep them full for longer. Saffola Soya Bhurji has the right balance between taste and health, which makes it the ideal snack for guilt-free munching and curbing small hunger pangs. Owing to the versatility of the product and the consumer connect, it became evident that the product was a right fit to cater to 'anytime snacking'. Thus, the concept of "Aise Waise Kaise Bhi Khao, Apni Choti Bhook Mitao" aligns with our model of moving beyond the easy-to-make and tasty snacking options into a snack that could be consumed anytime, anywhere.

Q] The campaign focuses on two specific cohorts, i.e., children and working professionals. Is that the TG you are addressing?
Our target audience for Saffola Soya Bhurji comprises children, young adults, and young working professionals who are constantly looking for guilt-free snacking options that can be consumed anytime, anywhere.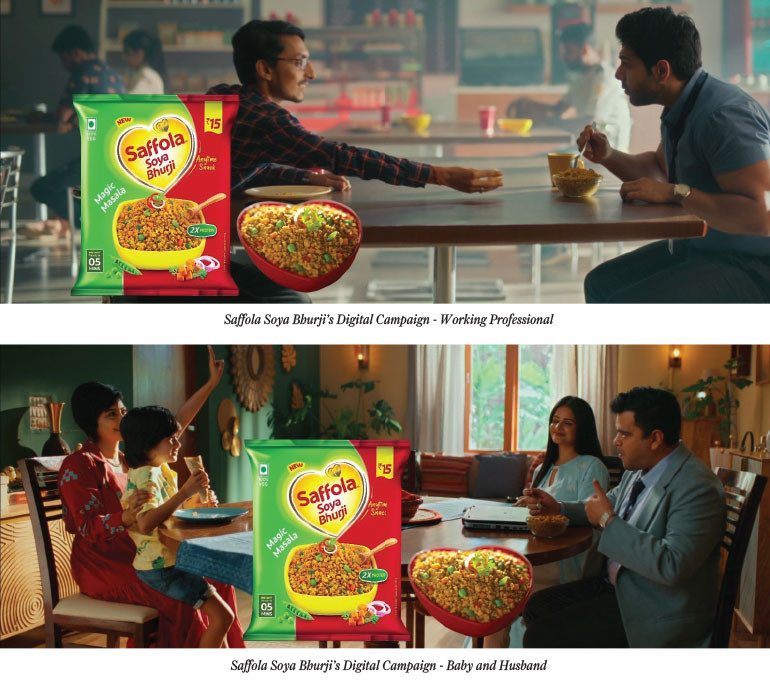 Q] Why did you choose to start building the brand with a Digital campaign?
As a company, we want to reach out to emerging India, and Digital campaigns ensure that the brand not only reaches the target audience, but also resonates with them. We are addressing the audience cohort-wise with a good mix of Digital, social media, and influencer marketing to amplify our reach. Even when it comes to distribution, the product is available across modern trade and major e-commerce platforms.

Q] Could you please elaborate on the influencer marketing activities planned around the campaign? What other promotional strategies are you using?
In addition to increasing saliency through the Digital campaign, we have also rolled out Influencer campaigns to engage with our target audience. Our collaboration with influencers aids in leveraging the concept of our campaign and building awareness on the versatility of Soya Bhurji. Moreover, we have been sampling across various touchpoints to generate trials, while showcasing the benefits of plant-based protein to consumers in order to highlight how Saffola Soya Bhurji is the best fit for guilt-free munching.
Q] While healthy snacking has been in vogue for some time, plant-protein based food/snacks are relatively new. What are the challenges around building a new category, and how are you addressing them? How has the response to Soya Chunks been so far?
Our extension of entering into a plant-protein-based category is in line with Marico's aim to strengthen its foot-hold in both healthy foods and ready-to-cook segment in India with products that cater to the needs of consumers today. While Soya chunks as a category was quite known, Soya Bhurji is a completely new concept that requires a lot of education from the consumer standpoint. Therefore, it was important to educate consumers on the usage, occasion, and versatility of this concept. Our plan is to drive saliency through Digital, drive education through influencer campaigns, and generate trials through sampling activities. We are consistently building future-ready capabilities through innovation and learning.