Q]

Can you elaborate on your new product, Veet Nikhaar?
We are super excited about Veet Nikhaar because it promises a benefit of not just silky smooth skin but also a visible glow after the depilatory process. Our brand is already the leader in the hair depilatory category in India, but we want to keep innovating to bring newer benefits to the consumers.
Q]

How are you marketing Veet Nikhaar?
We have a 360-degree marketing campaign. It's a big launch for us, so we have a TV commercial, a digital plot, an in-store programme along with the POSM (Point of Sale Materials) outlets and also plans for the product on e-commerce platforms. The spends will be significantly incremental. Our brand typically spends a fair chunk of money on Digital, and we plan to continue to do that even for this campaign.
Q]

What has Shraddha Kapoor, your brand ambassador, added to the brand?
The choice of a brand celebrity or ambassador should be very closely linked to what your brand wants to stand for, the purpose of the brand as well as its character. So, the purpose of the brand is for women to go there and feel beautiful, not just be beautiful, and therefore have the confidence to do extraordinary things in life. Shraddha as a person, as an actor and individual completely espouses that philosophy. She is not just a terrific actor, she is a great singer, dancer and constantly challenges herself. Her character is extremely spontaneous, and that is what the brand is all about. So, when you put the two together, she is an icon that the Indian woman actually looks up to. It's a perfect fit. To top it all, she has great skin, uses the product and believes in the brand; so it is just a perfect combination for us.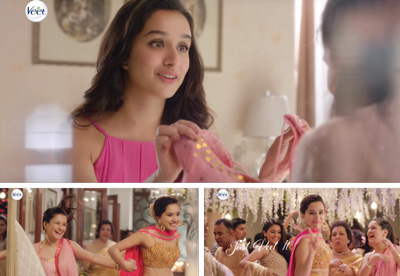 Q]

Hair removal was considered an embarrassing category when Veet came to India. Today, it has moved from a bathroom shelf brand to a dressing table product. How much has Veet had to contribute to that?
Without quantifying our contribution, I'd say we believe in what our brand wants to do and in our purpose. We are just happy to see the Indian woman actually moving along that way. So, we would like to think we have a small little contribution in her moving that way and making her progress.
Q]

Despite all the progressiveness, even today in all your ads, the model would hardly sport any body hair which needs to be removed? Is there still taboo associated with showing body hair?
Nothing like that. Our brand is focused on giving the Indian woman the confidence to be able to go out there and not limit herself. So, our focus is completely on that, and that is exactly what we show in each of our ads. The focus on the communication is always on the confidence a woman generates.
Q]

What areas will you tap to increase your market-share in the hair removal category?
I am happy with the 50% market-share we currently enjoy. I want to go there and increase the category because then it will benefit the Indian woman. So, our brand is not that focused on trying to grab market-share here, do a promotion here or there.
Q]

How different is the hair removal market in India from the others you operate in globally?
The Indian woman is very demanding, and demanding in absolutely the right way. She deserves the kind of quality, focus and attention we give her. We have Veet in different countries, but India is the biggest market for it in terms of sales size. It's a Rs 750 crore category which is growing at 16%, which is really good. Despite demonetization and GST, the Indian woman is strong. So, obviously we go all out in terms of designing it absolutely right for the Indian woman and then giving her the kind of innovation at the kind of pace she needs it in.