Shivam Puri, CEO, Cipla Health Ltd, discusses the launch of the new hand hygiene portfolio by Ciphands, their single-minded focus on the needs of their consumers and meeting them.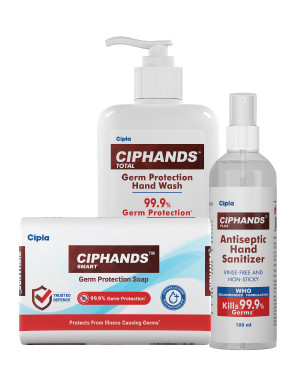 Q] Ciphands was launched last year, how did it fit into the existing profile of Cipla Health?
Cipla Health Ltd. is committed to providing perfect consumer healthcare solutions, and Ciphands caters to the most fundamental building block of healthy living – health and hygiene. With the launch of our new products Ciphands Hand Wash, Soap and Mist Spray Hand Sanitizer, the brand now has a complete portfolio of hand and surface hygiene products in addition to the existing hand sanitizer, CHG hand rub, antiseptic disinfectant liquid, surface disinfectant spray and wipes which will provide holistic hygiene solutions to consumers by improving their lives, every day.

Q] Tell us about what distinguishes Cipla's products from pre-existing soaps, sanitizers, etc and to what extent will it help allay the consumer's fear of contracting infection/ virus?
Cipla Health products portfolio is an amalgamation of in-depth consumer understanding and world class quality along with products that include well researched ingredients to offer product solutions that are optimal for various needs. This distinguishes our offering from the pre-existing ones in the market. These products join Ciphands' extensive portfolio in serving the central doctrine of a healthy lifestyle, which goes beyond the exigencies of the Covid-19 pandemic. Together this allows Ciphands to deliver a complete range of solutions for consumers, thereby offering them a complete range of protection. The significance of hand-hygiene against the coronavirus has been widely discussed over the past year, with the World Health Organization repeatedly stressing that hand washing stands as the most effective means to keep the virus at bay- alongside wearing masks, and following social distancing etiquette. While vaccines tackling the coronavirus are being gradually rolled out in the country and across the world, the importance and indispensability of hand washing continues. Pandemic or not, hands have been amongst the biggest transmitters of diseases.

Q] Which of your products have seen a rise in demand since the pandemic?
While hand sanitizers saw a huge traction during the first wave of the pandemic, we have seen demand for the newer products that consumers are adopting nowadays - be it the surface disinfectant spray, the antiseptic disinfectant liquid or the wipes. Consumption of the traditional hand hygiene products like the hand wash and germ protection soap have also gone up.
Q] How are you planning to advertise the new portfolio?
Ciphands has been impacting consumers' lives across multiple touch points and making the brand salient through multiple mediums- be it on television, digital or OOH. We understand that consumers have been spending a lot of their time during the lockdown on digital platforms and that is where we have also focussed a lot of our energies.
Q] Now that you have eight new products in your skin hygiene portfolio, what is your growth plan? Do you plan to continue adding to this line with skin hygiene products?
We continue to stay closely involved with our consumers. Our offerings are an outcome of the consumer demand of quality products for the needs that we continuously uncover. We will continue to stay connected and keep uncovering needs as we continually offer solutions for those.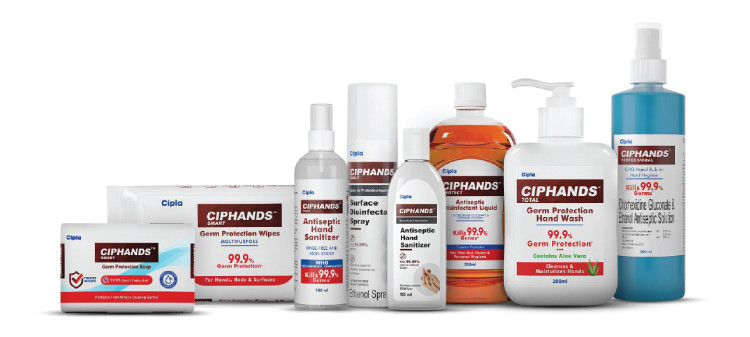 Q] There are several other healthcare brands in India like Sun Pharma or Lupin. What is your strategy for dealing with competitors?
Our primary focus remains our customers, as we continue to uncover their unmet needs and find ways to solve for those. This has always been our focus and will continue to be our primary focus as we move forward.
Q] Pandemic has been good to some categories and disastrous for the others, pharmaceutical companies are clearly amidst the beneficiaries. But having said that did you face any challenges because of the pandemic and the subsequent lockdown?
We, at Cipla Health, are proud to be of any help to our consumers looking at solutions to manage key issues in their daily lives by offering a diverse portfolio of brands through a combination of science and always being attentive to our consumers' needs. While we faced several challenges like the rest of the industry, thanks to the commitment and resilience displayed by our team members, we managed to overcome all of those and instead found newer ways to partner and serve our consumers in these testing times. Many of the products that we sell including Ciphands Sanitizers, Cofsils Cough lozenges, Maxirich multivitamins etc. were the need of the hour and were appreciated by our consumers. This opportunity of being able to deliver on the needs of our consumers in these trying times has been a journey of rediscovery for all of us at Cipla Health.