Kainaz Karmakar and Harshad Rajadhyaksha, Chief Creative Officers at Ogilvy, are well known as a unique powerhouse creative team. When we talk of them, it's always Harshad and Kainaz, when they respond to anything, it's always Harshad and Kainaz… and now they have completed 10 years of working together at Ogilvy, as a team like no other. To their credit are extraordinarily brilliant campaigns over the years - 'Savlon Healthy Hands Chalk Sticks', which won a Creative Effectiveness Grand Prix at Cannes in 2018 and other winners like HUL's Start a Little Good corporate film (the Shower ad), the #EndAcidSale film featuring survivors of acid attacks and the iconic Brooke Bond Red Label campaigns that leave consumers moved, to name just a few.
We talk to them at length about their friendship and unique partnership (for which due credit goes to their former boss Agnello Dias, now Creative Chairman, DAN, and Co-founder & CCO of Taproot Dentsu), individuality in their creative work process, most memorable campaigns, added responsibility as Chief Creative Officers at Ogilvy India and more…

ON THE MAKING OF TEAM HARSHAD-KAINAZ
Kainaz: We first met in 2001 when I joined Leo Burnett, and Harshad was already working there. He was already a star and had done some great award-winning work, but he was really down to earth and helpful. The old Leo Burnett office was oddly designed with small alleys; there was no way you wouldn't bump into each other, and creative was one tight unit. It was quite uncomfortable, but we all got really close. I think Harshad and I developed an instant connection with each other.
Harshad: Kainaz worked with a different group, of course. But we all got along super well together. In fact, she and I became friends very quickly. And while May 4 marked our 10-year partnership at Ogilvy, the actual partnership started in 2007, but 2001 is when we actually became friends.
Kainaz: In 2007, we both were at the then JWT. I had gone there with Aggie (Agnello Dias) in 2006, and Harshad joined in 2007. It was Aggie who paired us as creative partners.
Harshad: Aggie was the one who made us into a team, but before that too, Arvind Sharma who used to head Leo Burnett, was very fond of working with both of us. On several occasions, especially on new business pitches, he would insist on Kainaz and I working together to take on pitches and stuff. But Aggie formalized it in 2007, and made us into the working unit that you see today.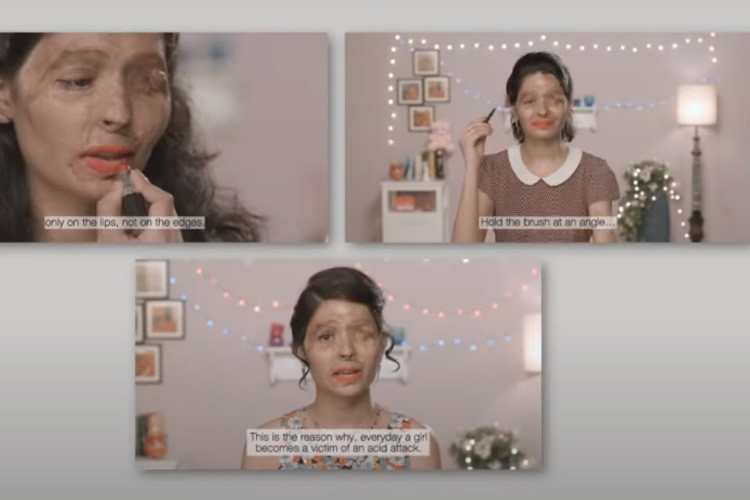 The much awarded Beauty Tips by Reshma campaign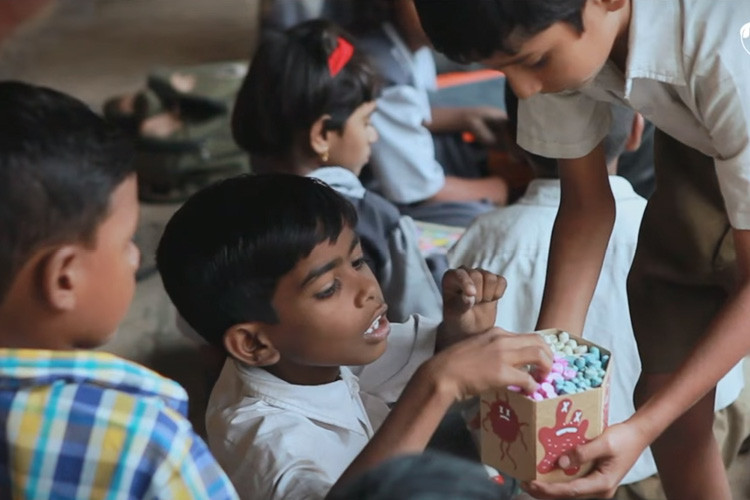 Grand Prix winner at Cannes, Savlon Healthy Hands Chalk sticks campaign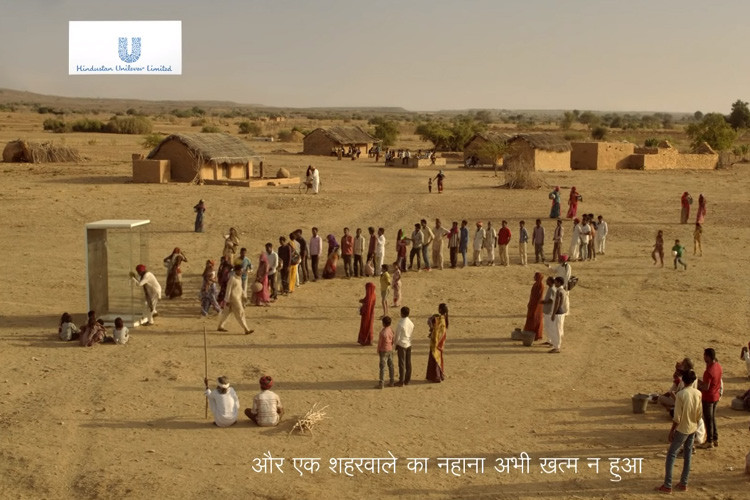 HUL's Start a Little Good corporate film (the Shower ad)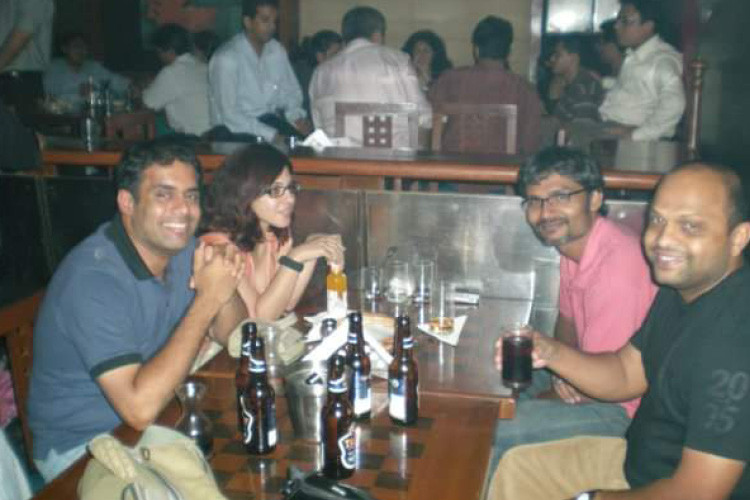 Harshad Rajadhyaksha and Kainaz Karmakar with Agnello Dias and Nitesh Tiwari while at Leo Burnett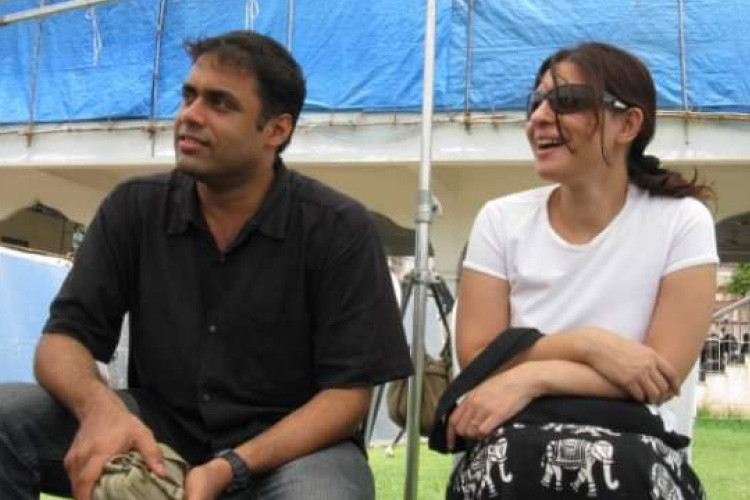 An early pic of Harshad and Kainaz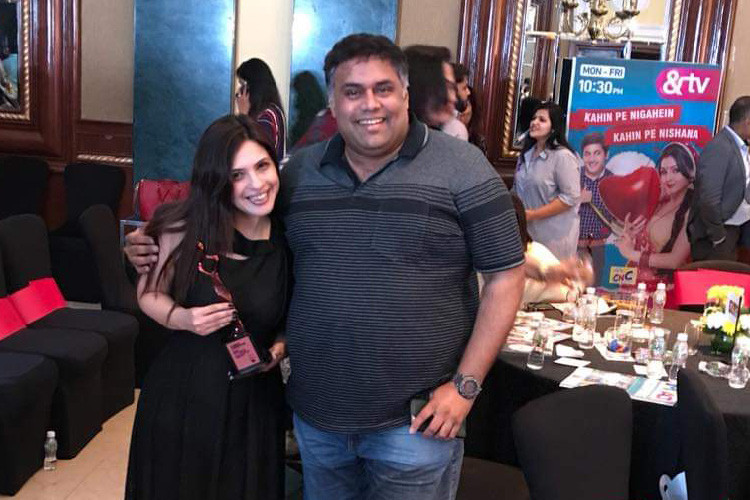 Harshad Rajadhyaksha and Kainaz Karmakar pose with her trophy at the IMPACT 50 Most Influential Women in Media, Marketing and Advertising award function
ON THEIR UNIQUE CREATIVE SYNERGY
Harshad: I would like to give an analogy here, because as advertising creatives, we grew up and started advertising in an environment where the world has seen some great teams that also came from the initial culture of pairing art and copy together and hence the two worked as a unit, and many of those teams went on to become legendary in world advertising. Kainaz has this term which I'm absolutely in love with – she says, "When two people good at their art come together, 1 and 1 doesn't become 2; 1 and 1 can create magic and become 11." So, in some ways, that's a very rare equation to discover, feel, and form. You have to vibe together with the other person. Partnerships don't just happen in a forced manner with anybody and everybody. But when you realize that this person actually feeds off what you have to say, or you feed off what comes out of that person's head, you know you have the same wavelength to kind of jam in musical terms. That jamming session is very important. So, when a brief comes, most of our ideas get done in cafes outside because our actual hardcore ideation happens in an environment where both of us are just facing each other. Whatever is the brief at hand, we try and really simplify it to what is the one thing that we need to communicate, and then we jam. So, it could be, you know literally moments and minutes of silence until one of us will burst out with 'What if we do something like this…' And then begins the process of what will work and what won't, we disagree or agree and ultimately, when both our visions are matching, that's when we decide on the idea.
Kainaz: I just want to add that the silences are usually the time when copious amounts of food and coffee and tea are had!
ON ADDED RESPONSIBILITY AS CCOS AT OGILVY
Kainaz: Anytime you change your role or take on more responsibilities, you have to magically find a way to do more. And I choose the word magically very carefully, because there is no logical way that anybody can handle the ship that is Ogilvy and find the time to brainstorm and create work and do everything that is expected. But somehow everybody at the helm of Ogilvy has been able to do it, starting with Piyush (Pandey) who is an absolute legend and force of nature. So Harshad and I have the same goal and luckily we partner Sukesh (Nayak) who also has the same goal. So we just have to keep expanding our day and learn the ropes and try to find a way whereby our work does not suffer. By work, I mean everything is work. Administration, running offices and sitting in meetings… but what I mean here is an absolute pure sense of going to that cafe and coming up with that idea that makes us really happy and knowing that if this film gets made, we have really done our job for the day and we have earned our pay for the day. That is the soul of everyone who has ever been heading Ogilvy. We absolutely do not plan to lose that.
Harshad: The elevation hasn't affected the partnership of Harshad and Kainaz. Of course, like Kainaz said, it's such a vast land to cover Ogilvy by itself. In a way, I mean, it's a bit like having two engines on a plane. So at any given time, you know that if one stalls or has something else to tend to, if one of us goes on leave, or gets roped into another project, the beauty about our partnership is there are instances when both of us at times are looking at different projects. But we never treat them as our separate projects.
ON WEATHERING THE LOCKDOWN
Harshad: Right now, Kainaz and I are looking at a jam-packed schedule where we have at least four or five meetings lined up before we end a day. But within that, we have consciously started creating those islands that will be a strictly personal thinking time for us. Through this lockdown, we have been creating those moments, those islands of our brainstorming time where we can function and do our kind of work.
Kainaz: We actually block it off as a meeting time in our calendars so that we don't skip it because working in lockdown requires an entirely different kind of discipline than you are used to at work. There are several distractions and no house help. Our day typically starts at 9:30 am and doesn't end before 9:30-10 pm, and that on a good day. We are working more than we ever did. But there is also the understanding that this time requires it. This is the time when we absolutely need to be by our clients' side and partner them. This is the time that some businesses are genuinely in trouble and we need to support them. We have been comfortable doing the brainstorm on Zoom, but it's not the same as being face to face. But this is the way it's going to be for some time, and we can't let work suffer.
DOESN'T INDIVIDUALITY EVER COME INTO PLAY?
Harshad Rajadhyaksha and Kainaz Karmakar don't do ads individually anymore. But, at the end of the day each of them is a person with a brilliant creative mind. Doesn't individuality ever come into play? Don't they ever think that they should be doing their own thing? Says Kainaz, "Individuality comes into play all the time because who you are as a person comes into your work, especially if you love it and you're passionate about it. So what I bring to my work and what Harshad brings to his work are two completely different things. But the magic of it is in the fact that when it comes to the leg of creation, final crafting of a campaign, we are so in sync that what I bring and what he brings seamlessly merge and create something good most of the times. You can never stop being who you are… he may not think the way I think about work… or many times Harshad might be very excited about a piece of work that he sees and it may not move me in the same way. I can't even say that if Harshad and I are on the same jury we will always vote for the same work. But considering this partnership, I can say with a great amount of confidence that 90% of the time we would like the same work. Harshad is very fond of analogies, but if I were to use one, it's like a professional marriage. So when you get married (I'm married) you know that you don't stop being who you are, at least not when you're with a good person. But together you can create a beautiful life. So in our work, it's pretty much like that. I bring my own stamp to the work and he brings his own. Luckily, it so happens that when you see the work, the lines are seamlessly blurred."
Do they ever disagree on an idea? And then how do they come around and solve it? Says Harshad, "We disagree all the time. Disagreements are a healthy, constructive way. Disagreement becomes a problem when there's dislike for the person at the root of it - anything that comes out of that person's mouth is something you won't agree with. It's a subliminal thing when you judge people and not the work. But in our case, the foundation of a personal equation and our friendship has taken care of that. Even if I literally rip apart everything that Kainaz has spoken for 10 minutes on why she believes something is a really great campaign, and I take the next five minutes to really tear it down and point out the holes, or I think that something is the best idea that has come to me in the past six months, and Kainaz practically points out why it will just remind people of something that some agency did 10 years ago, even though it is not similar, we know that we are not doing it to hurt each other, but to take care of that ultimate piece of work. We are completely free sparring and disagreeing with each other because we know that we'll still be the best of friends in the evening. But what will come out after two hours of that sparring and disagreement is definitely a better piece of work."

ON PICKING THEIR BEST CAMPAIGNS
Kainaz: It's very difficult to single out, but I think that the Savlon Healthy Hands (that won the Grand Prix at Cannes) would definitely figure in our top four or five pieces of work. The HUL Shower ad is one that is very close to our hearts.
Harshad: Hindustan Unilever's Shower ad (Start a Little Good corporate campaign for the company on water conservation) last year and the Savlon one are both very dear. The HUL campaign came with a very challenging deadline, and yet we managed to make it into something beautiful, which some other team would have needed half a month or a month to do. While these two campaigns were special, so are at least half a dozen more pieces over our 10-year journey at Ogilvy, which we consider landmarks. One piece of work we did for Dainik Bhaskar a few years ago - Zidd Karo Duniya Badlo (in support of girl child education) moved us a lot. Before that, there was the #EndAcidSale campaign featuring acid attack survivor Reshma… that was really special. We have done some work which we are tremendously happy about, but Kainaz and I strictly adhere to that fact that there's a lot more wonderful work that is yet to come.
Kainaz: In our journey, while there have been a lot of landmark work like Harshad mentioned, we also had a lot of joy in building Red Label and ITC Savlon for no other reason except that we got them as babies and we built them from scratch. It has given us great joy because building brands is completely a thrill for a creative person. There's one more thing – we have received a lot of compliments on completing 10 years, but we have also been very lucky to have some absolutely passionate and stellar clients. We have walked into meetings and got one-shot approvals on scripts and on activations – like the Red Label film featuring the Muslim neighbour was a one-shot approval. So we don't think that this entire story would have been possible if we didn't have clients who believed in us so much.
ON BUILDING THE 'OGILVY KIND OF PEOPLE'
Harshad: Besides the brands that we have built, we have also been able to build some very good people. Our junior teams, be it on brands like Savlon which we won right from the pitch and built at Ogilvy, or the teams that worked on the acid attack campaign, or even the Bournvita team, we consider ourselves lucky and take a certain amount of pride in something Piyush has taught us. Without making a big lesson out of it, Piyush has built some of the best people at Ogilvy. If we can live this legacy, where we manage to keep the teams enthused and help them discover the joys and wonders of what the brands can bring to their table, we will be very happy. In turn, if these people grow on to become team leaders like what we were say, 8 or 9 years ago, that's a different kind of satisfaction of having built the 'Ogilvy kind of people'. So far, Kainaz and I are very happy with what we've been able to do on the people-building front.
Kainaz: I think we've had a wonderful, really good-hearted and talented bunch of people with enormous talent and vision for their campaigns.
***
Postscript: After the announcement of their new roles as CCOs at Ogilvy in February, Kainaz and Harshad had planned to meet with the extended Ogilvy family across other offices in the country, but the lockdown meant a change of plans. While they have been getting better acquainted with the teams on Zoom, they really look forward to in-person meetings when normalcy returns. "That personal touch is what I look forward to," says Harshad. "And henceforth for all of us, the next innings is going to be marked by what we can do with Ogilvy India."