With a vision to expand its presence in the Indian market, Signify Innovations (previously Philips Lighting) launched its second brand, EcoLink in 2019. Earlier this year it also entered into the home-electricals category with fans. After launching several UV-C disinfection products last year, the company is now leveraging its experience in UV-C disinfection to enter the air purifier category. Nikhil Gupta, Head of Marketing & Integrated Communications and Commercial Operations, South Asia, Signify shares his thoughts about the future of the company, marketing strategy and plans to take its brand Ecolink to Rs 500 crore by 2023
Q] The brand launched multiple UV-C products and services for professional and consumer use amidst a pandemic. How has this panned out?
Over the last one and a half years, we have launched a lot of UV-C products which include upper air luminaire for indoor air application, movable trolleys and our latest offering which is the UV-C based air purifier under our Ecolink brand. In terms of success, it has been extremely successful, and we are working with many companies right now for UV-C disinfection in terms of both services and products. There's also a lot of interest in the UV-C based germicidal irradiation for air conditioning units and it has shown a lot of traction amongst the corporates where they want UV-C products to be fitted along with air conditioning units.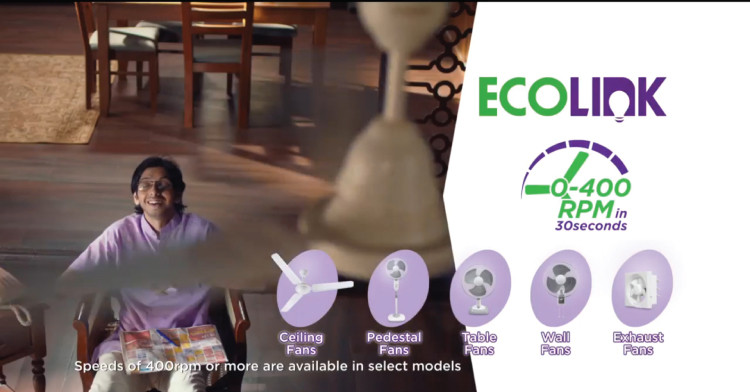 Q] You also recently made your entry into the fans segment. What has the response been like for Ecolink in India so far?
Our main go-to-market brand is Philips, and it has been in India for more than 90 years. Philips plays in the mass premium space, so it is positioned above its competitors in the lighting space. Given that positioning, we saw a lot of potential within the thicker middle tier of the market for bringing a new brand and that's how the whole idea of Ecolink came about.
We launched Ecolink in 2019, and it became the fastest brand to clock a revenue of Rs 100 crore within a year in the lighting space. It's been extremely successful and is targeted at customers who are looking for a durable product that is reasonably priced. Being one of the fastest-growing brands in the lighting market, we saw a lot of opportunities in adjacent markets like fans and air purifiers, which is where Ecolink is trending and we are positioning it as a value for money, high-quality brand for the electrical space.
Q] How have you aligned your marketing strategy to help Ecolink reach your target of Rs 500 crore by 2023?
Like any new brand, Ecolink will also require a lot of nurturing to achieve the stated ambition of Rs 500-crore in the next two years and we have started investing in the brand. At the end of the first quarter, we did a television campaign for both Ecolink fans and lighting and it was aired in the first edition of the IPL in April. We also started investing in brand-building for Ecolink. We are also investing heavily in Digital as well as in-store visibility to create recognition for Ecolink as a standalone brand. At Signify, we are present in over 90 markets around the world. Ecolink has already been launched on three continents and we are expecting it to become a bigger plane to the Signify world as well as outside India.
Q] The air purifier segment is still a nascent segment. What are the challenges you've identified in this particular category?
There would be a lot of communication required for consumers' education about the availability of such a product that can be installed in homes or commercial spaces, which will be a big challenge. Once the people who can afford an appliance like this or a product like this in their homes see the benefit that it delivers, then we expect that there would be a fairly large market that will buy this.
Given all the additional technology that goes into this product initially, there would be a certain segment of people that are being targeted, which would be the upper-middle class. We do expect that there would be certain strata that are more health-conscious today that would be picking up this product initially, but we do hope that in due course as the word of mouth gets out around and as people start seeing the benefit in this technology there would be a higher degree of adoption that is happening downwards as well.
Q] What kind of growth have you witnessed last year and which segments have been the biggest drivers of growth for you?
We are doing a double-digit growth over last year. In terms of growth drivers, for Signify, Philips and Ecolink lighting together the largest amount of growth is being experienced in integrated LED luminaires and that market is growing very quickly. UV-C products are the next top lineup with a lot of growth. As government investments in infrastructure continue to rise, we do expect bigger projects would also start showing growth. Given the run-up to the festive season that we're seeing, our comeback in the first quarter was extremely good. After a second-quarter that was hit by the second wave, another strong quarter is coming in Q3 as well. We are seeing almost complete recuperation happening in Q3 as well.
Q] How has E-commerce retail evolved in terms of percentage over the last year and a half?
We've seen a much faster pickup in e-commerce than retail. We've definitely seen a huge growth in our e-commerce revenues, so from an investment standpoint, we started investing more towards digital marketing and driving e-commerce sales. In this particular industry, retailers play a very important role in terms of sales, conversion and convincing customers. At the end of the day, most of our investments do go into offline retail. Since last year, our allocation towards e-commerce has been going up considerably. Our outlay for digital has more than doubled in terms of marketing spends so definitely we are looking at a digital-first kind of marketing plan.