Q] How would you assess the performance of Havas Media, since you took on the role of Global CEO at the beginning of 2018?
We have transformed the way the organization is structured, changing the global and local structures in each market to break down some of the silos and introduce a more client-centric structure. Then we looked at rolling out our new positioning around 'meaningful media', understanding that not all media is the same. We've done some research in better understanding what makes media more meaningful. With that knowledge, we've created a new way of working, which is the MX Media experience. It bothers us that the media planning business is very similar today to the way it was 25 years ago, despite the explosion of choices that we have on the media front. So, there should be an evolved way of thinking about media and the role that media can play. We are building a media experience for clients, not just media plans. Also, we have been through the Vivendi transition, which is now really starting to embed in a number of markets, including India. We've made great progress on that front.
Q] How has the business fared in terms of growth?
We're growth positive in all markets. As a global network, we've been able to increase our market-share over the last couple of years. We're doing really well on the new business front; we've won assignments from Puma, TripAdvisor. Globally, we've retained Hyundai-Kia in all markets in which we have the business, which is super important for us as we've worked with Hyundai-Kia for 10 years. We've had really good local market wins as well. We've expanded our relationship with Sanofi in the US. The business is in good shape.
Q] Which have been the top performing markets for Havas Media, according to you?
Historically, we have been a very European-focused network, but we've been very successful in the US for the last three years. We're now focusing on the India and China markets to be areas of growth for us for the next couple of years. We're really trying to make a concerted effort to grow our presence in India. It's a super important market for not just the mass media, but for the Havas group and the Vivendi group, so we're really keen to grow our presence here.
Q] What's been your main agenda on this visit to India?
My agenda is obviously to catch up with the team. We're moving towards the end of our financial year. So I need to check in. I was here earlier in February, and it's a good time to be back. I've been meeting with some talent and with some acquisition prospects. We set our agenda at the beginning of the year to build our portfolio in this market. Two acquisitions you're aware of - Langoor and Think Design. We are committed to closing a third acquisition deal before the end of the calendar year. So, that's part of my visit as well.
Q] Can you give us a hint about the kind of business that you plan to acquire?
As the media marketplace continues to diversify and fragment, we need different resources around to help offer the services that our clients need. So, performance is an area that we're interested in India and in other markets as well. We're having conversations with different performance agencies around the world. So that might be a hint about the kind of business we plan to acquire!
Q] What is the sense you have of the India market for Havas Media?
I've met with our clients and people on the supply side. Clearly, there's been a slowdown this year; but there seems to be a relative level of confidence in the market that everything's going to bounce back next year. It seems that there is a shift in the way dollars are moving across different channels, which is probably good for the market. Clients seem relatively buoyant
to us.
Q] What do you think the leadership in India should focus on… what are your expectations?
I have talked to the team in India and other markets about consistency. My focus areas for next year fall into three buckets - people, products and pitches. That's how I'm going to grade myself at the end of next year; and that's how we should all be grading ourselves globally, regionally and locally. On the people front, are we attracting the right sort of talent that our clients require, given the changing market dynamics? Are we looking after the talent that we have already, retaining the talent that we have and making this the best place to work for them? On the product front, we've spent the last six to 12 months really focused on improving our product from a technical perspective, from a data perspective, from a technology perspective and obviously from a process and platform perspective. We've got a really solid portfolio of products that I think are better than what's out there with the competition. So with the MX approach to building media experiences, with our audience planning product, with our approach to data and technology, we've got a really solid bank of stuff. And then thirdly, on the pitching front, we need to make sure that we are competitive in the marketplace, both in this market and internationally. Ultimately, new business fuels agencies, and we need to be active, engaged in the marketplace and growing. If we do a good job with our people, and our product, success will come in pitches - that's the direction I'm giving the
local leadership.
We've done some research in better understanding what makes media more meaningful. With that knowledge, we've created a new way of working, which is the MX Media experience.
Q] Talking about winning new business, how crucial is winning new business versus organic growth for your existing clients?
The answer is both. But I think that for agencies, new business is critically important, obviously, partly for financial growth, but also for momentum, for talent retention, talent attraction, product development… it fuels everything. There's a cycle between the people you have, the product you're creating, and the way you're pitching or presenting to clients.
Q] Going a little deeper into Havas Media's MX methodology, how has it fared in the markets that you have rolled it out in? How has the narrative changed?
When we started thinking about what makes some media more meaningful than others, when we started doing some work on that, what we discovered was that you can actually create a framework or a toolkit to help you understand which media are more meaningful than others. So, in TV for example, we've developed a new tool called the meaningful rating point, which elevates us beyond basic GRPs and TRPs to understand the relationship an audience has or a viewer has with a show. Are they actively engaged on social media while they're watching that show? By converging, merging different data sources, we look at why some TV properties are more meaningful than others. That's a tool we've rolled out around the world. Similarly, in the digital space, we've created a meaningful digital matrix as well, which allows us to add layers of texture to digital research to understand which sites are more meaningful than others. Rather than just building and activating a media plan for a client, what we're looking to do is build a media experience, which means we grab all of those more meaningful media and package them together around a specific consumer for a time. It is shifting the way our plans look. Subtle shifts are happening in all the markets that we've rolled this out.
Q] What needs to change in India and globally, vis-a-vis the agency's approach to technology?
Technology is really important in agencies, but it's not everything. If you think about the kind of methodology that we've built behind MX, it's about the connection, the context and the content that we can activate. Connection is, how many people are we reaching? Context is, where are we reaching them? What sort of environment are we reaching them in? And then content is, what are we building to hang our messaging into, what sort of content environments are we building? Technology fuels all three of those, but it's not a technology story that I'm telling you. It's a story about connection, content and context. And that is more important and more interesting than having a technology conversation with a client. Of course, technology is super important in the business right now. And we have great tech and have invested in tech, but it's not the story. We as an industry tend to chase what's hot. We chase programmatic, we chase data, we chase technology, we chase Martech, etc. While we chase these things, we sort of miss what is more important - how do we build meaningful connections with consumers? That's where we're trying to reorient and refocus. It's not to say we don't care about technology, because we do. It's a really important piece of what we do, but it's only to enable the work. It's not the work itself. From the UK, to the US to anywhere else, it's the same conversation.
Q] How do you plan to drive scale? What are the opportunities you see for greater innovation and growth in the media business?
The simple straightforward answer to this is our ownership with Vivendi. The access that we're able to offer clients through Vivendi is so different compared to the other holding groups - we're going to see much innovation coming out of our relationship with Universal Music Group in India or with Game Loft; those relationships are going to unlock a huge volley of innovation in this market and beyond. So, we're very excited about the potential of what Vivendi is delivering and is going to deliver next year. In tangible terms, what we've been focused on doing this year is connecting the right people. So we now have Vivendi country committees in all major markets, including India. Every month we have the business unit leads from Universal Music Group, Game Loft, Havas Creative and Havas Media sitting together, thinking about specific client challenges and opportunities… that to me is how we innovate and drive change in the marketplace.
Ultimately, new business fuels agencies, and we need to be active, engaged in the marketplace and growing. If we do a good job with our people, and our product, success will come in pitches - that's the direction I'm giving local leadership.
Q] Coming back to India, what are the investments that you have planned for the India market? Has the economic slowdown impacted any of those plans?
We set out an aggressive plan at the beginning of the year, which was a combination of 12 plus months' work to build on the plan. We signed off on that plan and we stand by it. We're on target to deliver on that plan. Next year, our ambition continues to be high in terms of acquisition; talent attraction and retention. We have new leadership in the market already; we will continue to look for the best talent in the marketplace. You can expect us to be very active both in talent attraction and on the acquisition front. The slowdown has not really impacted our desire to deliver on that plan - we're right on target.
Q] Yannick Bolloré had outlined an ambitious growth plan of increasing the India workforce to about 1,000 from 300 by the end of 2019. How far has that progressed?
By the end of the year, when we are close to the final acquisition, we will be there. We are right on target to deliver the three acquisitions and 1,000 people
in India.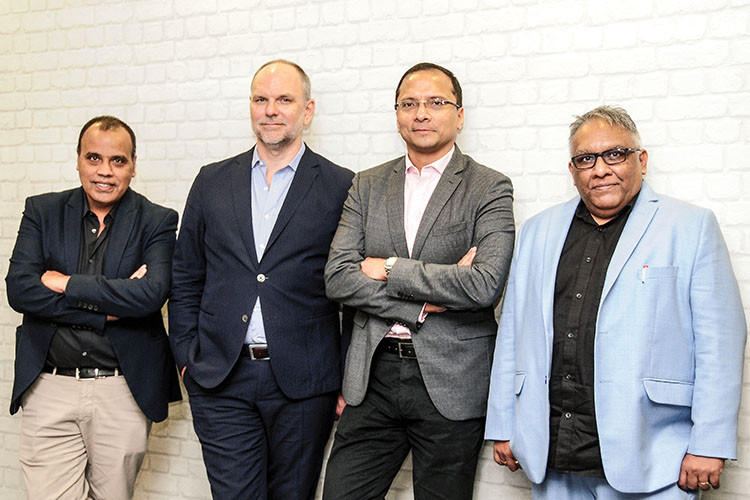 Vishnu Mohan, chairman and chief executive of Havas Group, India and Southeast Asia, Peter Mears, Global CEO, Havas Media Group, Rana Barua, CEO, Havas Group India and Bobby Pawar, Chairman and Chief Creative Officer of Havas Group India during Mears' recent visit to India
Q] What are the challenges that you see ahead? What are the hurdles you may have to overcome next year?
I worry about our people - are we creating an amazing place to work? That is a constant worry for me. I also worry about our clients. We faced challenges this year on a new positioning, a new approach to the product, a new approach to the media, to clients - we've pushed a lot through the system and that is challenging. But I'm really pleased with the way the system has responded. We are considerably ahead today than we were 12 months ago and all credit to the way everyone has embraced the change that we've tried to push through the system. It's such a cliché but change is really difficult. And we've pushed a lot of change in this group over the past 12 months. To flip your question, what's been the most positively surprising thing of the last 12 months, for me, has been, how open everyone has been to change. It could have gone very differently too. Be it in India, the UK, the US, anywhere in Latin America or anywhere in Europe, everyone is really open to the new thinking and new approach that we have; the new way of working, and it's been universally embraced by the network, and that's super empowering and super motivating for me.
The economic headwinds that we face in some markets are out of our control; sometimes marketing spends are cut when economic situations are challenging. Those macro conditions are a little bit worrying, to be honest. I am concerned about talent and that we continue to attract and retain the right calibre
of talent.

Q] What are the big trends you foresee going into 2020, both for the global markets and India?
For me, our business is still how do we connect consumers with brands? The tools that we have to do that have changed and evolved and developed, but that fundamental is exactly the same today as it was 25 years ago. Now, what are the hot things that are coming in 2020? We'll continue to see new tech platforms; there'll be new ways of communicating with consumers, but the fundamentals of the business will stay constant.