Looking back at what has been a rollercoaster year, Dheeraj Sinha, Managing Director – India & Chief Strategy Officer – South Asia, Leo Burnett reiterates that creative agencies are in a unique position to bring data, technology and creativity to solve upstream business problems for brands and
thereby tackle competition from consultancies and other specialisations. He takes us through the agency's 0-3-6 module launched during the pandemic, the noteworthy campaigns rolled out during 2020, its specialisations across consultancy, digital and design and outlook for 2021
Q] Looking back at 2020, which was a really tough year for all sectors, what were some of the notable changes in client requirements during the year?
The requirements from the clients have been exactly the same, and the pandemic has merely accelerated the inevitable. Most clients today are looking for seamlessness of narrative across mediums, for the brand to travel from mainline to Digital without friction. They are looking at the agency partners to be outcome oriented, to have their skin in the game. And like most of us, they are looking for a playbook to navigate through these times.
At Leo Burnett, we believe that proficiency in new-age thinking including platforms, data and digital is not a specialisation, it's an entry criterion. We have thus embedded full-funnel ability across teams, including deep training in platforms. These are done in tie-ups with platforms such as Facebook, Snapchat, Twitter and others. Several of our clients have consolidated their digital and social mandate with us for this seamlessness of narrative. We have also had a business outcome focus to all our work. We haven't started with a creative brief, we have started with a business brief that is focussed on helping to deliver the business metrics. This is increasingly being asked of all media that's getting spent – their ability to move the business needle.
Q] Tell us a about the 0-3-6 module that Leo Burnett launched during the pandemic. How does it help add value to clients and their overall business objectives?
The 0-3-6 module is a framework designed for strategy to be fluid, to be able to respond to the changing behaviour and culture in real-time. The premise of this framework is that everything in business planning and marketing strategy is focussed on the long-term. The short-term is at best a derivation of the long-term, and left to tactics. However, in times such as these, it is critical to think about our short-terms, strategically.
We conducted more than 50 workshops, across clients, where we helped them think about their strategy for the 'now', the next (three months) and the after (six months plus). To help them through this process we first published what we call the 'culture fuels' – these are inflexion points in collective behaviour of people, in response to the current context.
Keeping in mind the core values of the brand and the most relevant culture fuels that they could leverage, we created a strategic roadmap for the brand to navigate the current times. The workshops discussed how each brand could pivot its products and services, and more importantly what should be our conversation/communication platform.We would have put out over 50 campaigns and interventions across brands as a result of the 0-3-6 initiative.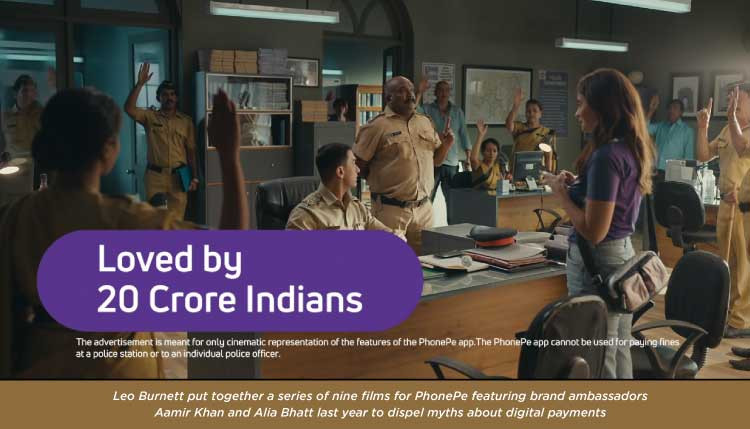 Q] You have launched some new specialisations for Leo Burnett across Design, Digital and Consultancy capabilities. What were the insights behind these, and how will they help you boost your services to brands?
Our business is facing onslaught from consultancies and other specialisations because we haven't invested behind our own. We believe that we are in a unique position to bring data, technology and creativity to solve upstream business problems that our clients have. No industry can replicate the creativity culture that we have, if we can add data and technology capabilities to this, we have a very potent combination. Leo Burnett Consult offers exactly this. As we speak, there are several consulting projects running where we are solving all kinds of problems such as brand architecture for Force Motors' new platform or defining the proposition of the food delivery platform for a big e-commerce player.
Second is Leo Burnett Design – which is our specialised design and identity offering. We have some highly talented people who are running this. We already have clients who have hired us for our pure design thinking services.
The third is Leo Burnett Digital, which provides our client's campaigns a seamless segue into digital platforms as it is overseen by the same leadership team that runs their brand. Leo Burnett Digital bridges the gap between thinking, choosing the right platform and execution of the campaign. The amalgamation of the mainline and digital structures also increases efficiency as a singular team leads the project from start to finish. The guiding principle at Leo Burnett Digital – is one brand narrative, platform native.
Q] 2020 saw agency teams across the board working overtime to create and execute campaigns while working from home. Are there any campaigns from Leo Burnett last year that you were especially proud of?
We have produced some of the best and most effective work during the lockdown with our brands. Some of the pieces that especially stood out include our #WeddingFromHome campaign we did for Shaadi.com, where we successfully conducted virtual weddings in the midst of the pandemic. #WeddingsFromHome was a virtual wedding we presented, where the entire wedding ceremony and all the celebrations including mehendi, sangeet and all the rituals are conducted virtually, from within the safety of their homes.
Another great piece of work was the HDFC Bank #SafetyGrid campaign –in which using the outer grid of the bank's logo, we created physical markers on the ground to help people maintain the WHO prescribed 'social' distance while waiting in queue at a shop or an establishment. A simple but effective way for the brand to make an actual difference on-ground.
And recently, one of the most talked about campaigns for us has been our latest work for PhonePe featuring its brand ambassadors Aamir Khan and Alia Bhatt, which is a series of nine short films and is currently on air during the IPL. Playing the roles of a sceptic Inspector Desai, Aamir Khan and a savvy PhonePe user - Alia Bhatt, through their playful banter and believable narrative, aim to dispel myths regarding digital payments with each film.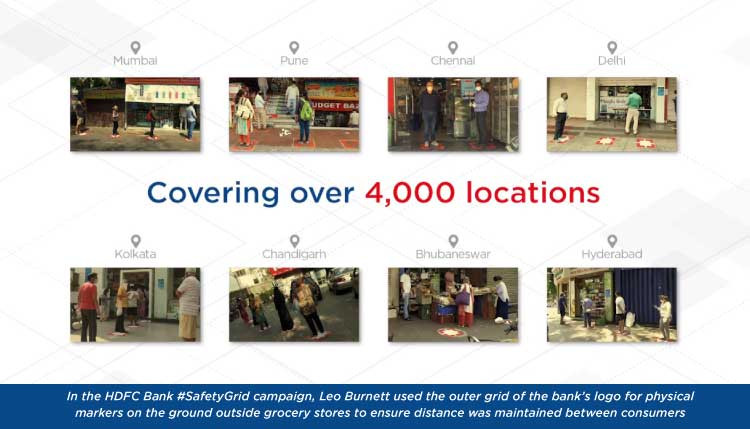 Q] How has the agency managed to boost employee morale and keep productivity high during these times? What do you expect the workplace to look like in the near future, when the office opens up?
Leo Burnett has always prided itself as a people-first agency. We believe in the power of positive energy. Even at the height of lockdown our number one priority was always our people – from going into WFH much before the lockdown was actually announced to bolstering the team morale through individual attention from the leadership team, to ensuring every 'Burnetter' has a comfortable workspace at home and creating a safe space for our people – a helpline where anyone who is struggling to acclimate to the new normal can reach out for guidance; ensuring the well-being of our people has always been at the front and centre of our efforts.
We have also conducted several initiatives which encourage healthy competition and spark new ideas like the recently concluded Content Week. As the name suggests every team was given a week to create content platforms and some amazing content pieces around it for each of our brands. This was followed by intense discussions, creative reviews and recommendations from the senior management and finally resulted in over 100 amazing ideas for our brands.
While all of us are eagerly awaiting to get back to the workplace, one can't actually comment on how the workplace will look in the near future. In these past few months we have learnt the benefits of remote working and will see how to adapt these learnings in the new post – COVID workspace.
Q] What are the big focus areas going to be for Leo Burnett in 2021?
The focus for 2021 continues to be the same as 2020. The first is to create spectacular work for our clients that makes them successful and brings them glory. The second is to nurture and continuously grow our people in terms of their skill sets and career aspirations, so that they can do the spectacular for our clients. The third is to maintain the growth momentum that we have had for the last couple of years so that we can continue to invest in our people who create the spectacular for our clients. So these are all linked and in line with our ambitions and positioning.