Q] What does the brand hope to accomplish from its latest campaign 'Health Ko Rakho FIT-FIT-FITTIFY'?
Our latest campaign 'Health Ko Rakho FIT-FIT-FITTIFY' with actor Janhvi Kapoor aims to inspire consumers to opt for healthier alternatives, to lead a holistic and wholesome life. The digital campaign film features Kapoor talking about how Saffola FITTIFY Peanut Butter, with the goodness of high protein and high fibre is the secret to her fitness. We are optimistic about igniting a revolution of health consciousness for a better, stronger, and healthier tomorrow.
Q] Recently, Marico forayed into healthy spreads and has been focusing on its food portfolio by diversifying into healthier options. Can you share some insights on this? How's the Food portfolio driving growth for the company in recent years?
Considering the sizeable demand for snackable items for different categories of people - fitness enthusiasts, youth, working mothers, etc., Marico has strengthened its foothold in the healthy ready-to-eat segment. Over the last few years, our health food portfolio has expanded to make high-quality nutrition accessible to the customers. In early 2022, we launched Saffola FITTIFY Peanut Butter, which received a great response from the audience, making it one of our bestselling items. The product turned out to be a category hero within a few months of its launch across marketplaces.

With respect to digital strategies, we believe in staying ahead of the latest trends. We have actively tried to innovate in order to showcase our products, without compromising on the quality.

Currently, our product portfolio spans across multiple categories with a range of interesting products such as Healthy Peanut Butter, The Perfekt Gummies, Hi-Protein Meal Replacement Shakes, Green Coffee, and Apple Cider Vinegar. These products are created by expert nutritionists to reduce calorie intake and enable effective weight management.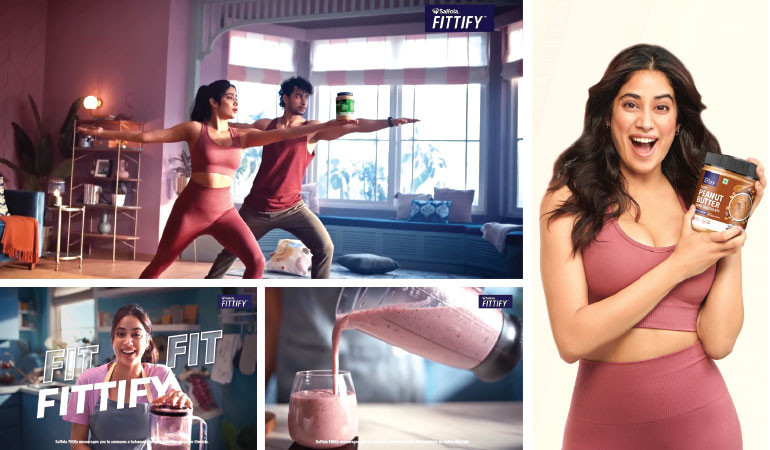 Q] What's your TG for the latest product portfolio? Is it skewed towards millennials, Gen Z in urban households? How do you plan to reach out and establish a connection with the younger generation?
We believe in reinventing our product formulation to best suit the modern consumers' lifestyle. Our aim is to cater to a large set of audience, where any individual who is willing to create a positive lifestyle, considers FITTIFY as a reliable nutrition partner. However, if we talk about a particular segment, our products are most popular in the age group of 22-45 years, which includes consumers who are the most conscious about health and fitness.

In order to reach and establish a strong connection with the younger generation, it's imperative for us to understand their requirements and be accessible across all major touch-points. Our aim is to do so by leveraging social media and digital technologies to improve consumer engagement and enhance consumer experiences through meaningful campaigns that give back to the society.
Q] What is your media mix across Print / TV/ Digital in terms of distribution?
In the post-Covid era, marketing strategies and media planning have significantly evolved according to consumer tastes and preferences. Today, marketing is not limited to telling the audience about a product. It's also about representing a narrative and establishing a connection with relevant audiences who resonate with the thought and appreciate the product as well as the brand. Moving beyond traditional marketing, presently, we are in an era of a digital revolution, wherein brands can easily reach and engage consumers globally on their fingertips. With an estimated 658 billion online users in India, social networking has led the digital marketing revolution. The rise of bloggers and Instagram has resulted in an exponentially progressive content creation industry, which is anticipated to grow further. On the basis of our current allocation, the media mix is largely skewed towards digital mediums.

Q] The FMCG and packaged foods sector witnessed some significant highs and lows all through the pandemic, and the period after it due to high inflation and changing consumer sentiment. Do you see the market outlook on FMCG improving?
Despite nationwide lockdowns, the Indian FMCG industry grew by 16% in CY21, a 9-year high (source: IBEF), supported by consumption-led growth and value expansion from higher product prices, particularly for staples. The sector had to respond to the unfamiliar challenges proactively and promptly to maintain the supply chains, ensuring that customers can access the items safely. Undoubtedly, the pandemic has altered consumer demands, ushering in a 'new normal' for various businesses. The FMCG companies are looking more towards D2C operations, and are expanding their social commerce.

As per findings, fast-moving consumer goods (FMCG) is the fourth-largest sector in the Indian economy (source: IBEF). The future of the FMCG sector seems to be on track post-pandemic. There is an increased demand for branded products in rural India, and we believe that the rise in rural consumption will drive the FMCG market.
Q] How is Marico tackling soaring inflation and rise in input costs? What is the effect on AdEx?
We have amped up our investments in superior technology and production support that will enable us to create high-quality products. The idea is to invest in the long-term function of our brands, and work towards accelerating growth and delivering stable profits.

Advertising and marketing spends are a good investment in the long term. As consumers' purchasing pattern has had a major shift over the last couple of years, the importance of digital media has risen. In uncertain situations, it is even more important to communicate with consumers and reassure them through different media channels. The idea is to tap into topical opportunities using technology, and take a more targeted approach to marketing through quality communication.