Recently, Kellogg's India unveiled its new Masterbrand campaign 'Har Subah Breakfast Se Badhkar'. Created with Ogilvy the campaign puts the impetus on providing convenient breakfast on time-pressed mornings to nutrition-seeking mothers. Sumit Mathur, Director Marketing, Kellogg's South Asia shares the key insights of the campaign while talking about the evolving brand proposition in today's age with a lens of marketing in a changing consumer world.
Q] Tell us about the insight and inspiration behind the new masterbrand campaign from Kellogg's.
The initial struggle for Kellogg's was that with versatile breakfast options available in India, why would anybody in their sane mind eat cereals? But as a matter of fact, the category was already there and it was flourishing. Three years ago, we did a study and the data indicated that most people skip breakfast. The reason isn't the carelessness for nutrition but the paucity of time to be able to make breakfast. That's where we understood the role of ready to eat cereals in India and that's how our target audience got defined as time precious nutrition seekers.
We wanted to move beyond make-believe advertising and understand what real-life tensions do we solve for Kellogg's consumers. We did an ethnography where the marketing team, agency partners and qualitative experts went and sat in these households from 6 AM to 8 AM in the morning to spend time and understand how are we improving the lives of our consumers. We realised that the magic is not in the fact that you save five minutes in the morning when you have cereals. The magic is in what are you able to do with those five minutes, which is good for you or your family or the society as a whole. We aimed to unlock time and nutrition for our target audience and that's what helps them win every day. Nutrition is absolutely critical, and the thought was that no mother should have to compromise on it and, she must also get the time to spend with the kids in the morning, and that's what Kellogg's is able to do beautifully.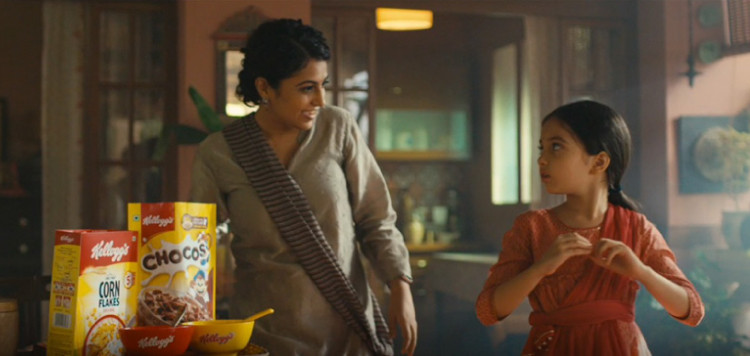 Q] What metrics do you aim to achieve via this campaign?
The only one metric that Kellogg's will need to look at for the next decade is how do we get more penetration in households. In the overall Indian context, we are still a small category, and therefore the key task is category development and gaining more households. The question is how do we become more relevant for consumers. Penetration is the number one metric and to be able to do that from a brand strength point of view, it is important that we become more relevant in a consumer's life. Generic awareness measures we will naturally attract. Awareness, relevance and usage in terms of penetration are the key metrics for success for this campaign.
Q] What is the current market size and penetration by far? How much headroom of growth do you see every year?
The headroom for growth is infinite. Cereals, according to Nielsen data, is close to a 1500 to 2000 crore category. We are market leaders in this category with close to 70% odd share and we have been able to hold on to our share leadership and grow the category. The source of growth for this business is not to be looked at in terms of share gains within the category. There is lots of new competition coming in because the category is growing fast, the reason being that the source of growth is actually the people who skip breakfast and that will run into crores in terms of size of potential. If the category can drive relevance amongst them with their offerings, both at the product level and more importantly at a proposition level, this will grow for a long time.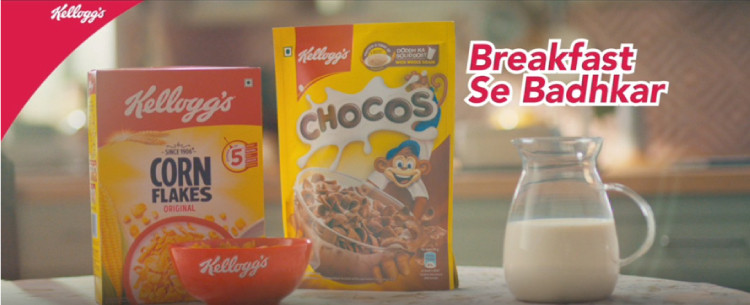 Q] What is the media mix that you're using for the campaign?
Kellogg's spend investments are in line with how the FMCG industry works typically. The brand-building or advertising spends are 15% of total turnover. The Masterbrand campaign is our number one campaign and a disproportionate amount of investment will go behind it. There are some principles that we follow. Firstly, the way we now advertise is as a full-funnel marketing approach versus thinking of television, digital, etc. At the top of the funnel, to drive awareness we will activate it through lead sufficiency with a mix of television, and digital to drive reach. At the middle of the funnel, for driving consideration, our flagship content platform - Amazing Creations, which has tasty, nutritious and convenient recipes from Kellogg's will be activated. At the bottom, performance marketing and digital commerce are really big for us. We are the leaders in terms of the business contribution we get from e-commerce platforms and therefore, a significant amount of investment will go there for driving conversions. Our media mix, therefore, will depend on the consumer journey and the message will keep getting customized based on the stage of the funnel we are at.
Q] How has Kellogg's brand proposition evolved through the year?
We need to focus on the core benefit of the category if we have to develop it. Our core category benefit is nutrition and convenience. Step one of our proposition was 'Breakfast se Badhkar' where we talked about how Kellogg's helps you get your morning fuel. How it has evolved now is that we have gotten in the nuance of how unlocking of time plays along with nutrition to be able to win every day. It has evolved from just being about daily nutrition to nutrition and time. While the category product benefit will always remain the same, this evolved insight is far more persuasive, primarily because it's much more authentic and much more credible.
Q] Are you seeing a shift now from your traditional breakfast to Kellogg's?
There are always tipping points in the lifecycle of categories. For Kellogg's, it happened almost a decade back which took it to the certain size which we see today. As a category, within convenience foods cereals are at the next tipping point. To some level, with people being at home the role of convenience has become even more critical. If we can be bold and purposeful as brands, give real solutions which improve our consumers' life, then you will leverage that tailwind to grow even more rapidly in terms of gaining penetration.
Are there any other products or innovations that Kellogg's will be looking to introduce going ahead?
Innovation is a key part of our growth pillars. When trying to develop a category, we try to ensure that we are offering the right portfolio and the right assortment to our consumers. It is not specific only for 2022, it has been a part of our DNA. There are areas in the core cereal category that we will continue to focus on to keep driving category development in the breakfast segment. Consumers will see more innovations in terms of functional health and wellness.