Vijay Sales, an Indian electronics retail store chain, has had quite the journey starting out with a small electronics showroom in Mumbai. Today the brand has established its physical retail footprint across more than 15 cities and has made notable strides in its journey towards becoming an omnichannel player. Nilesh Gupta, Director, Vijay Sales takes us through the company's 53 year journey and the brand's renewed thrust on e-commerce, especially during these pandemic times
Electronics retail store chain, Vijay Sales has been on quite the transformative journey, having come a long way over the past 53 years of its existence. The brand, which has its origins in a tiny showroom in Mumbai, today has expanded its retail footprint to reach over 15 cities, launching more than 100 showrooms. With 2020 becoming a truly evolutionary year for businesses especially in retail, the brand was quick to adapt and bolster its e-commerce offering. Nilesh Gupta, Director, Vijay Sales discusses the company's transformation into an omnichannel retail brand, which involved a greater focus on digital marketing and a reinforcement of its e-commerce strategy.
Q] As a brand that has a strong physical retail presence, what are some of the things you're doing to become truly omnichannel?
Vijay Sales has been a traditional offline retailer but since the pandemic last year, we have started focussing on our online channel too i.e. vijaysales.com. This is bearing fruitful results and we are already seeing a traction of 3 to 5% online sales vis-à-vis our total sales. We are also working on software development which will make us truly omnichannel for the consumers, where they will be able to book online and can then pick up from stores. Or if the stock is available in our nearby stores, we will try to deliver within two hours of purchase depending on the consumer's distance from our stores.



Q] Considering you are looking at improving and growing your online presence, can you tell us about the changes you're making in terms of advertising and marketing now?
We have traditionally been a print heavy advertiser and this has helped us a lot in our offline strategy. In addition, we have also been very aggressive in terms of cinema advertising over the years, which has made an impact on our brand equity. But now with the changing times, we have started focussing a lot on digital marketing and it is showing brilliant results. The biggest advantage of digital marketing is that the wastage is bare minimum as we can target the correct audience with high accuracy. Post the pandemic too, the focus on digital marketing will continue.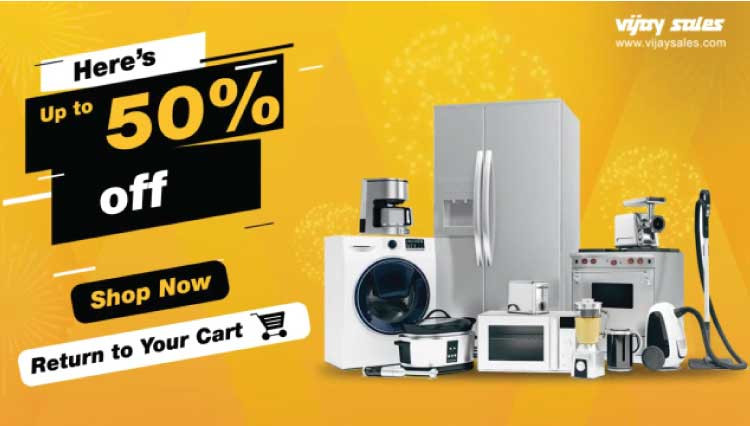 Q] Retail was one of the hardest hit sectors during the pandemic. What was the kind of impact you saw at Vijay Sales and are you seeing signs of recovery now?
Last year in spite of a two month complete lockdown period, we signed off the year with a mere 6% de-growth. There was a structural shift in the buying behaviour of the consumers. Since everyone was locked up at home, they started to realise that they needed bigger refrigerators, bigger washers and television sets. Apart from these, we also saw a huge spike in kitchen appliances as after a long time, cooking was being done at home mainly and eating out had reduced. Also, because of the absence of household help, a new category of dishwashers emerged after years of being in oblivion. Further due to WFH, we saw a huge surge in the sale of laptops, tablets and mobile phones. Hence all the ticket sizes went up by 10 to 20% and that helped us to make up for the loss during those two months of the lockdown.
Q] With another summer lockdown now, what kind of impact have you seen on sales so far this year?
This is the second year in a row that we have lost the summer months due to the pandemic. The biggest affected category has once again been air coolers. As for the air-conditioners and refrigerators, we will make up to a large extent in the balance months of this year, but air coolers are only a summer product. Hence again, post this lockdown, our key focus areas will be laptops, smartphones, large screen televisions and kitchen appliances.
Q] Moving forward now, what are some of the trends you expect to see in product purchases based on changing consumer behaviour patterns?
This year we will see a good pent up demand as we were not allowed to sell non essentials online also. The structural shift which I had mentioned earlier will only continue. Our main focus will be on laptops, mobiles, large and small appliances. This year could in fact be a good year, as long as there are no further lockdowns.
Q] So far, the brand is present in select cities and markets in the country. Do you have plans to expand to new markets later this year?
This year it is going to be a wait and watch scene and we will expand only in the markets in which we are present and that too in the second half.