With a devastating second wave of COVID across the country and growing fear among consumers, a lot of people are buying insurance plans to secure themselves and their loved ones' futures. Vishal Subharwal, Head - Marketing, Digital Business & Ecommerce, HDFC Life Insurance shares insights on changing consumer sentiment, evolving marketing practices, the brand's latest campaign and more
Q] What was the insight and inspiration behind the #TheRightStep campaign? What metrics are you expecting to achieve with this campaign?
The right step campaign was launched purely on digital platforms and was released when COVID wave two was at its peak. A lot of people were falling sick and being hospitalised on one hand, but on the other hand, a lot of ordinary citizens went out of their way to help fellow citizens. As a brand, a thing we do and will want to do more of is to reflect what's happening in society in our messaging. The key message being an insurance company is around protection, simultaneously it is around Sar Utha Ke Jiyo. The need of the hour was around safety measures and helping people, and that's what we tried to encourage through the six videos. We came out with videos that were in the thumb stopper format, all were 10 to 12-second videos, not long videos.
In terms of the metrics, it's on track. VTRs are upwards of 90%. These being short videos, people are able to recollect the brand as well as understand the concept. The creative challenge in doing 10-second videos is that your messaging has to be on the spot and anecdotally also it's worked perfectly. This is a digital-only campaign using social media platforms and YouTube. We consciously shot them both in the horizontal and vertical formats. Facebook is the primary medium for promoting this and we have got 76 Lakh+ views. On Instagram, there are another 18 Lakh+ views. The other medium is Google which is at 30 Lakh+ interactions and a little engagement on Twitter with 50K+ plus views as well.
Q] While the metros were impacted in the first wave, the smaller towns were also impacted in the second wave. Currently, what does the consumer sentiment on-ground look like?
If we look at the consumer sentiment on-ground, COVID wave two has come to the middle classes and affluent classes, so that impact is clearly visible. In terms of sentiment towards insurance, back in pre-COVID times, people were more focused on lifestyle, travel and enjoying experiences, and therefore wanted more wealth generation and return-oriented products. Now there is a shift to a mode of wanting security and control, and that reflects in the products that consumers are purchasing from us. In terms of demand, the numbers are moving upward and we have not had any constraints.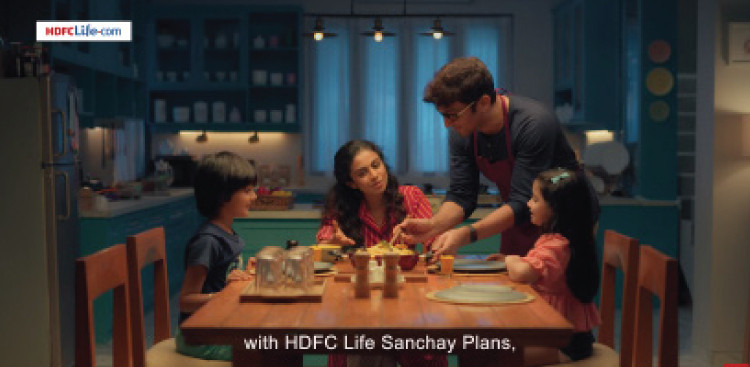 Q] How will marketing change in the post-pandemic world for HDFC Life and the insurance sector?
On one end, in terms of thought process, consumers want security and control. There is a change in how they are researching and buying products. There's a lot of traction in terms of consumers coming online to research and a subset of those customers purchasing. They may not be able to have a face-to-face interaction with the agent, but they also want to make the decision without postponing it.
From a marketing perspective, a lot of our campaigns are digital and there's a clear messaging around visiting our platform hdfclife.com. Looking at the consumer sentiment, our campaigns are getting more focused on the job that an insurance product will do in a consumer's life. A basic term plan is going to give you your risk cover, as far as predictable goals are concerned, consumers would want to buy a product that gives you guaranteed returns and we communicate that in our messaging.
Our emphasis right now from a marketing standpoint is going to be around ensuring a sense of security, control and also guaranteed savings. We will look at the kind of messaging or products consumers want and align our marketing accordingly. For example, right now we are in the midst of uncertain times and there is a need for guaranteed financial security. Through our latest campaign #KaroPooriTaiyaari we have aimed to encourage the audience to be financially responsible through proper planning.
Q] HDFC Life has placed a lot of emphasis on collaborations with players on the ground level. How has this relationship evolved in the last year?
In terms of how we integrate with a lot of our distribution partners, I'll break down the distribution partners into multiple categories. One is the proprietary force that includes our agents and direct sales force. The other pieces are banks, bank insurance partners, brokers etc. As a company, we had invested ahead of the curve from a technology perspective. If an agent wants to get a customer on board digitally without meeting face to face, we were able to enable it really quickly last April itself. It was a digital switch on and COVID ensured that everybody is forced to adopt the digital way of working. The second thing with partner integrations, some part of the partner ecosystem was not ready for an online or a digital business, their systems were geared up for better digital integrations. Integrations were possible depending on the scale and the digital maturity of the partner, like an API kit, which we can give to them for literally a plug and play integration.
Q] Going ahead, what can consumers expect from HDFC Life in terms of marketing and brand campaigns?
HDFC life stands for being reliant, trustworthy, responsible, and that's the core fundamental of any insurance company. In the consumers' mind, our foundation is extremely strong. They see us as professional as well as technologically advanced and there is a certain aspirational value to the brand. We will sustain that trust and professionalism/innovation because we want to be an aspirational insurance brand in the context of the Indian market. At the same time, consumers expect products to do a certain job in their lives, so we have to communicate more about what different plans do for them or their family. We focus on what is the core job of an insurance product and we'll try and do it through a product category approach. There will be a lot more product-driven marketing built on top of the core HDFC Life brand and principles of marketing.