Q] Priyanka Chopra was the first face of this campaign which has continued to associate with celebrities; what is the idea behind taking a celebrity-first approach for #BerokZindagi?
Our influencer strategy is two-fold. We are projecting successful people who are asthmatic and how the use of inhalers has helped them fulfil their dreams without any difficulties. On the other hand, we also have celebrities who do not have asthma but resonate with the cause and are lending their voice to reach the masses. In a category that has many myths and stigmas associated with it, it is important to create a social conversation on asthma and inhalers and the influencers help us do that. Personalities like celebrity chef Vikas Khanna and badminton star, Parupalli Kashyap will help us convey that misconceptions about the disease should not hold us back from using inhalers since inhalation is not only effective but safe and accepted as the one of the right approaches to treating asthma. People relate to them and having influencers from separate fields helps ensure that we connect with a larger cross-section of our audience.
Q] What does Ayushmann Khurrana bring to the campaign? And how do his values fit within the overall messaging of Cipla?
Ayushmann Khurrana along with being a popular actor, is a youth icon and also listed as one of TIME magazine's most influential people in the world. Ayushmann, as the lead anchor of the campaign, will help in driving the much-needed awareness for asthma and address myths related to inhalers. He has cast light on many social stigmas through his movies and we hope to address even the social stigma associated with asthma and inhalers. We are glad to have partnered with Ayushmann for this public awareness initiative.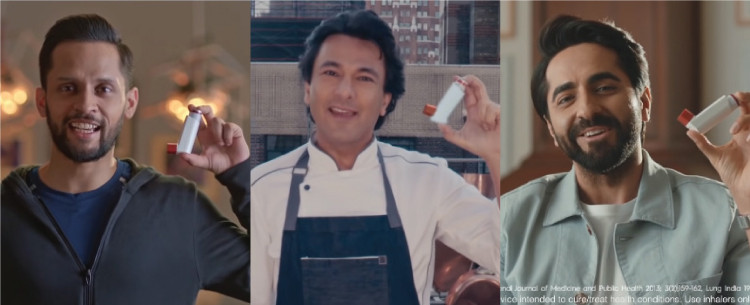 Q] How has influencer marketing worked for you as we see the campaign leverages influencers consistently?
Influencer marketing is critical for us and it is equally important that we associate with the right influencers. It helps the brand build a sense of value and trust among consumers, through an influencer who has considerable reach and influence. We also have a lot of doctors supporting us on social media and their opinion is key to building credibility for our message as they are the experts. Besides this, the audience engages with the brand on a personal level, which is where our stories by real patients come in. Last year, #BerokZindagi inspired numerous patients to come forward and speak about how they live unhindered lives because of inhalation therapy.
Q] What is the marketing mix you are employing for this campaign, and for your other communication? Is Digital going to be the way forward for you?
We have seen a surge in digital media with people engaging on this platform. Therefore, this year, we are taking a digital-first approach and will be leveraging digital platforms, primarily social media and OTT. The campaign will also be supported by Radio for better geographic connect.
Q] What are the key insights you referred to while conceptualising this campaign? What is the awareness level about inhalers in India?
Berok Zindagi is our earnest initiative to create awareness about asthma, encouraging patients to adopt the right treatment and normalise the use of inhalers in public. At Cipla, we truly believe in going beyond the pill and the right awareness will help people with asthma to live a fulfilling life. Last year #BerokZindagi campaign demonstrated considerable impact on both awareness and acceptance of inhalers. The awareness levels for inhalers improved by 10% and consideration for inhalers saw an uptick of 5%. However, we strongly believe that our work does not end here.
Q] What is the potential that non-metro markets hold for Cipla?
Regional content has gained momentum across the nation. When a consumer is approached in the language that he/she is familiar with, it helps in creating a far better connect. Simultaneously, it helps in understanding their requirements better, making the brand more relevant to them. Our aim to engage with people at large by creating content that they can relate to. Health and medicine are serious topics, and therefore content marketing can make information more accessible to people. Building relevant content that resonates with people helps strengthen people's reception and understanding of the topic thereby helping the brands.
Q] How do you see 2021 shaping up for you?
For our future plans, our focus will entirely be on driving awareness and empowering patients, not only by educating them but also by equipping them with the required wherewithal for taking care of themselves better. This is through quicker diagnosis and better disease management. The point is to make strategic choices to increase our interface and engagement with the patients to help them accept a health problem and make appropriate decisions for it.