With CNBC-TV18's latest series, Financial Quotient premiering last week, Shereen Bhan, Managing Editor, CNBC-TV18 talks to Sonam Saini about the show, its focus on women audiences, the impact of BARC data on content planning and more
With an aim to empower its women viewers financially, English business news channel CNBC-TV18 has just premiered its special series titled Financial Quotient. The show that went live last week on Friday aims to equip women with the necessary knowledge and content to gain financial freedom. The channel has roped in two leading brands for Financial Quotient – ZebPay and Aditya Birla Sun Life AMC Ltd. While the show will primarily have women audiences at the heart of the conversation, it also plans to target all stakeholders. In a conversation with exchange4media and IMPACT, Shereen Bhan, Managing Editor, CNBC-TV18 talks about the new series, the objectives behind its launch and the focus on tailoring content for women audiences.
Q] What led to the launch of the Financial Quotient (FQ) series? What was the insight behind the launch?
CNBC-TV18 has always stood as a thought leader and a content leader. We have always focused on putting forward innovative programming every quarter, and we have done this for the last 20 years of our existence. This is not a new space for us; many years ago we had done a series called 'What Women Really Want.' The series was about real women, not just women CEOs, mainly focusing on the challenges they face and the struggles they have to deal with while balancing work and home. Our effort at that point in time was to try and give a voice to women who were professionals, trying to get them to share their stories with the hope that it would create real conversation and real dialogue.
Q] What are the key objectives of this programming?
Women's empowerment is linked very closely to financial empowerment and financial independence. Financial Quotient is a programme that will help women access the right kind of information to make the right choices for themselves. This programme will bring together various issues, and not just talk about stock market or investing. Instead, the show will talk about inheritance law, retirement planning, maternity planning, and a whole gamut of issues. It will be much more than a women's show as it will address issues from the perspective of a family unit. If we want to have more women in the workforce and empower more women to be financially independent, we need to get all stakeholders on board to encourage that. That's the overarching principle for us to be able to launch the show. Additionally, the way we have branded the look and feel of the show is breaking away from all the stereotypes. Financial Quotient is a show that puts women at the centre and at the table.

Q] Who is the target audience for this show?
We are looking at young women professionals, mid-career professionals; especially women going through events like marriage, maternity, etc. We are also looking at women in the age group of 40+ years who've already been working for a while and possibly looking at the next phases of their lives. Every week, we will address issues that will be relevant to a specific target audience. Though women will be at the heart of the conversation, our effort will be to include all stakeholders as part of this dialogue.
Q] Has there been any research prior to this show? Any insights that you can share?
There is no specific research that we commissioned, but we have some feedback. This is an issue close to us as a brand, and we have championed it for many years. Since the time we did 'What Women Really Want', women's participation in the workforce has only declined; things have gotten worse, not better. We are continuing to champion that cause, and this is just our most recent effort to take that conversation forward. It's not based on any specific research, but it is based on insights. For instance, the World Economic Forum's gender gap report shows how bad things are in India and the fact that they've gotten progressively worse over the last few years. So as a responsible media brand, we want to drive conversations that will hopefully lead to an improvement. The channel has women in leadership roles, but that's not why we have chosen to take this forward. The channel looks at content in a much more diverse way today than we did maybe a decade ago. This is our effort to create more diverse and inclusive content.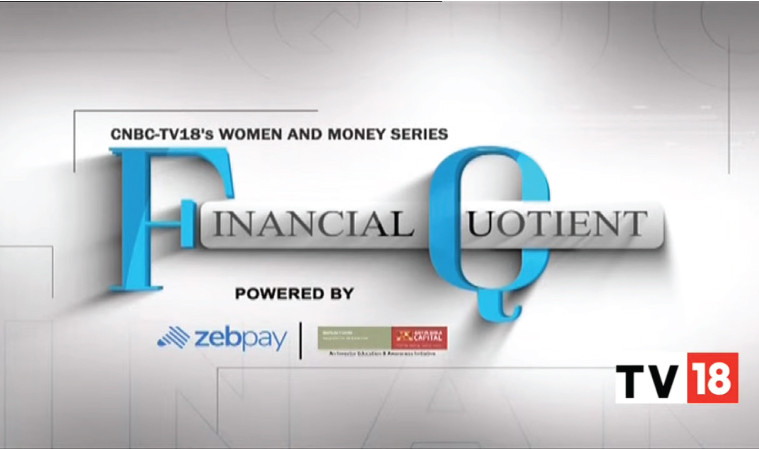 Q] Why is it that Indian new channels do not have much content around financial issues concerning women?
As far as content is concerned, news channels across India follow the herd mentality. Unfortunately, it's the same stuff that we see across TV screens, and very few channels have shown the way by creating new categories, brands, or new content platforms. But CNBC-TV18 has always stood for that. We have created content across different platforms for different communities. For instance, India's longest-running show on startups and entrepreneurship is a CNBC-TV18 property called 'Young Turks', launched 19 years ago when nobody on television or otherwise talked about startups! We have always been ahead of the curve and always thought about nurturing different communities with actionable information and this is another attempt to be able to do that. Our DNA has been clear; we are a purpose-driven organisation with purpose-driven content. We want to be relevant to our audience and relevant to the constituency engaged with this brand. And that constituency includes women, so why should we not do something pertinent to women?
Q] How much has the elimination of BARC viewership data impacted content planning? How has the process changed?
Honestly, we have never designed our content for ratings. We have created our content for our audience, who have always been the drivers of our decisions in the newsroom. Rating is an outcome of the effort that goes into putting programming together. It is not necessarily the input or the primary input to design programming.
Also, I think there are more avenues of getting feedback from the audience on what they like or dislike. So there's enough information out there coming into us to tell us and help us understand what our viewers want, and more importantly, what's working. We have never been ratings-driven. I think that's just the wrong way of approaching things. We have always addressed our viewers' needs and tried to be as relevant to our viewers by giving them credible content that helps them make better choices.
Q] How does the newsroom at CNBC-TV18 look like after the second lockdown?
The newsroom was not severely impacted because news media came under the special category, so we still had some people coming to the office. The newsroom is getting back to having people. Teams are working in silos and intermingling in a restricted way from a safety perspective. But it's good to be back and see one another physically. Even through the pandemic, when we moved 90% of our staff to WFH, we didn't let it become a constraint. We used that as an opportunity. Last year, we launched CNBC-TV18 Clutter Breakers, which is a whole new set of programming. The idea behind that was that there's already so much gloom and doom in the atmosphere, even our employees were feeling demoralised. So we decided to launch a brand new programming line-up, which helped people understand the changes during the pandemic. We were one of the few channels that experimented with things in a new way and launched new programming during the pandemic.