A few days ago, a short film called 'Family' was aired on the Sony Entertainment Television network at 9 pm. While it was high on star power, featuring A-listers across the film industry in India like Amitabh Bachchan, Rajinikanth, Ranbir Kapoor, Priyanka Chopra Jonas, Alia Bhatt, Chiranjeevi, Mohanlal, Mammootty, Sonali Kulkarni, Shiv Raj Kumar, Prosenjit Chatterjee and Diljit Dosanjh, what stood out was the fact that it was a film made entirely at home - not one of the celebrities in the film had met any of the others through the course of the shoot. What's more, Kalyan Jewellers in collaboration with Amitabh Bachchan came together to support it along with the 'We Are One' public service announcement, an initiative which pledges to support 1,00,000 daily wage-earners who are most affected by the COVID-19 outbreak. Prasoon Pandey, Director, Corcoise Films, tells us how he managed to pull off this masterpiece (which has gone viral) in exactly nine days.
Q] Some marketers say that they don't expect finesse from a film executed entirely from home during the lockdown, but you have proved them wrong with 'Family'. How did the idea for it materialize?
On March 24, when the Prime Minister announced the 21-day lockdown, I wondered if it was possible to make a film which is not just clips sourced from here and there, but a nice piece of drama, which has suspense, humour and actors interacting with one another. I thought maybe I can if I plan it well and it can have a wonderful message too in these dark times. So I wrote this story by March 26, and first shared it with Piyush Pandey. He was really excited and said, "Let's go to Amitji (Amitabh Bachchan) with the first such idea of this sort, perhaps in the whole world." Amitabh Bachchan thought it was beautiful and said, "This is so spectacular, but why stop at giving a message, let's also collect money for the daily wage-earners." I hadn't thought of it, because I was trying to do it so fast. I spoke to him on March 26 and wanted to pull it off by April 3. So I had no clue how we could find sponsors so fast. He stepped in and said, "Let me talk to a couple of people here." And then the next person I found myself talking to was Ranbir Kapoor and through Ranbir, Alia Bhatt and they both gave me another idea - they said why should we stop at only Bollywood, we should expand it. But then who was going to talk to actors across India? That is where Amitji once again came to our rescue; he said he could talk to most of the stars from the South, East, and elsewhere. So Amitji, Ranbir, Alia and I became the core gang to fix all this. Each person kept adding to the idea and it became bigger and bigger. Everybody took charge of this ad film, it was like one big team effort. By this time, it was already March 30. All the celebrities Amitji spoke to loved the fact that we were doing this for a cause and immediately agreed even without seeing the storyboard – no wonder, because the call had gone from Amitji, and it carried tremendous weight.
Q] Were you apprehensive about managing to pull it off at any point?
By April 1, I started getting cold feet, wondering whether the film would be taken in the right spirit. So I went to Piyush and within half an hour, he and I were on video conference and he said, "When two cricketers are trying to raise money for some earthquake or something, they will not start singing songs. They will play cricket to raise the money, because that is what they do. You are entertainers. You lift people's spirits in dark times. And that is what you're going to do." So he gave us confidence just when we were about to quit.
Q] But how did you direct the film remotely with people in multiple cities, the shots have perfect continuity…
I was sure that just by seeing the storyboard, the actors wouldn't know precisely how I wanted the shot to be, because for some, I wanted the camera to be lower, some I wanted higher, some others very close to the camera and so on. There was only one foolproof way of doing it, and that was by shooting a rough film as a template. My son Ayushman, who is also a film-maker, became my cameraman, while I played all characters one by one. Then we edited it and on April 2, I sent the respective clips to everyone with a request to shoot it on April 3. They were all very kind and actually did that.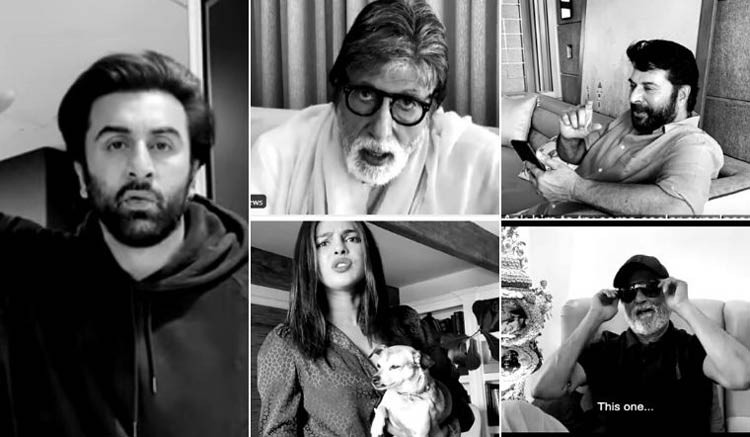 Q] Were the shots perfect and just how you wanted them to be?
When you're doing 57-58 shots, I knew somewhere there would be some gap in communication, so in some cases I requested them to reshoot. There was minor confusion with Rajinikanthji, who thought the same shades had to go in and out, but I wanted the shapes to change and when I requested him, he immediately said, "No problem at all, I will shoot it again." Also, there was an entire family behind this star family in the film. Abhishek Bachchan was Amitji's cameraman, Rajinikanthji's daughter Saundarya shot his bit and Nick Jonas shot Priyanka's clip. It was indeed a humbling experience. Finally, I got all the shots by the morning of April 5. By then, the press release had already gone out saying the film would be on air on April 6. So, I talked to the editor and told him to keep replacing my shots in the film with the ones the celebrities were sending, so it would be simpler and faster while working on the music alongside. We worked through the night and mailed it by 10 am on April 6. A film is a collaborative art form, anyway. But this was super collaborative, more like a relay race, each one ran to give the other the lead, as a team.
Q] It is quite interesting that you came up with an idea and approached a brand, and not the other way around, like it usually happens. How did that go?
Amitabh Bachchan did a lot of work behind the camera as well, roping in Kalyan Jewellers and Sony for the film. He was really concerned about the bigger cause of making the money reach the right people. He literally worked on the nitty gritty of that and came up with a foolproof plan. Kudos to him for that.
Q] Can something like this happen again, or would you call it a one-off case?
Nobody has ever done something like this. But while I was doing it, I was thinking that if the lockdown remains, we will have to actually start doing this.
Q] How much did the film cost you?
There is no cost to it. Everybody was working for free. The stars used their own phones and sent their clips to me and for putting it together, I brought in my team. Music director Dhruv Ghanekar works with me very often. He knew that I was making it for free, so he also came in for free. So did my editor Sally (Shyam Salgaonkar), and my compositor Amit Chitnis. It didn't cost a penny. All because there was a cause. But hey, don't get ideas, marketers will have to pay, don't ask us to work for free for your projects! Only this one is free!