Four years ago, he moved to the US to expand the Times Internet empire, and today under Satyan Gajwani's leadership TIL can boast of having digital products in not just news but categories like lifestyle, music, gaming, OTT, ed-tech, food, short form video space, real estate and jobs too.

A week ago, the non-listed private company released its annual report for FY2020 which showed that TIL's revenues had grown by 24% to touch Rs 1625cr, ad revenues had seen a 22% jump and witnessed a 23% growth in monthly active users which now stands at 557 million.

Satyan Gajwani, Vice Chairman, Times Internet tells us about the boxes he managed to tick and those he plans to in the coming year.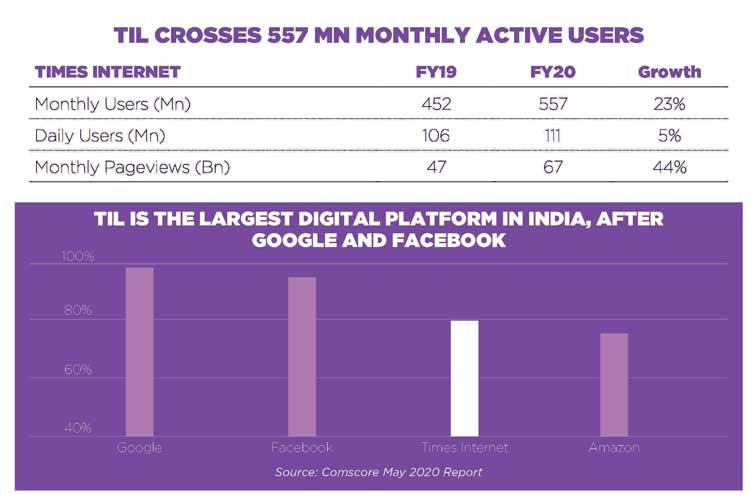 Gajwani says, "Five years ago, Times Internet wasn't really into media beyond news. Today, our media and entertainment assets reach over 400 million monthly users and they represent almost half of the reach of the group now on Digital. Our entertainment footprint has been our strongest success in the last couple of years.

We always wanted to be both, a strong media business and a strong services and transactions business. Our media businesses bring users to the transactional businesses, which in turn provide data to our media ecosystem, making it richer and interconnected. One of my major priorities over the next few years is to push crosswalk as a metric to better pollinate users across our different properties. We made good progress last year.

The number of users who consume two or more of our properties grew by around 40%. And the number of users who consume three or more of our properties grew by 120%. But the base is still small. There is still a long way to go."

Times Internet, which started 20 years ago, had a head start over most digital firms in the country. But TIL offerings were not in great shape till the beginning of the last decade. Times Internet today is the third largest digital platform in the country. As per Comscore, Google reaches 98% of Digital population in the country, Facebook about 94.9% and Times Internet about 77.7%.

Could the pecking order have been different had they been more aggressive is anyone's guess, but Gajwani agrees that the problem was that the arm of the 182-year-old legacy company Times Group approached digital businesses much like traditional businesses till earlier 2010s. Gajwani explains, "We put a lot more emphasis on things like content, brand and marketing than on actual product, technology and underlying engineering capability.

The best statement I can give that reflects the changed culture and priority is that the CEO of Times Internet, Gautam Sinha, was at one point the CTO of the company. The other big change is that we've been a bit more dispassionate and honest about what's working and what's not--

if something is working, we want to double down on it, really scale it up and see it to market leadership position and if we don't think that's possible then we scale it down or look for exits. We have to be honest with ourselves and be able to adapt. This has helped us in the last ten years."


Banking on a non-traditional strategy
Satyan Gajwani, Vice Chairman, Times Internet tells Neeta Nair why the company is banking on a non-traditional strategy for growth

Q] How has your 1000 crore acquisition of MX Player paid off, what kind of growth has it registered in the past 18 months?
We bought a video playback app for over a hundred million dollars without knowing whether it would work. We built a streaming product into it about 18 months ago and that streaming product itself has effectively gone from zero users to over 200 million monthly users. And so, in essence, the total audience growth in India has been closer to about 40 or 50% in the last year. I don't have the exact number right on top of my head. But MX Player is the market leader now. A couple of years ago when everyone else was saying we'll make a bunch of shows, stick them on an app and then figure out how to get users, we took the opposite approach, i.e. we took a large captive entertainment consuming audience and brought great content to them and built a positive experience.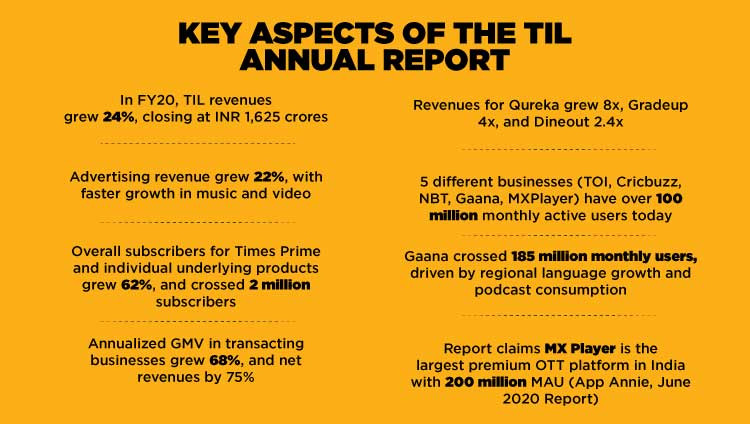 Q] Times Prime has crossed 2 million subscribers. Despite having great premium content like Ashram and Queen and great viewership, why have you kept MX player out of the subscription ambit?
MX Player is two years old. Given that it was a fairly untested strategy to see whether you could successfully convert users, we felt product market fit should be the first priority. We want to be different from other OTT players and provide a holistic entertainment offering across different experiences and get really good at building engagement, thus MX now offers music, short-form videos platform and gaming as well. So, our priority today is just to fill that customer need, the subscription models and figuring new ways to monetize, those will be the new things for the next couple of years. If we over emphasize on monetization at this stage, we probably will mess it up a little bit.

Q] How do you see your new launches-- gaming and short form video platform Takatak contributing to the Group's revenue here on?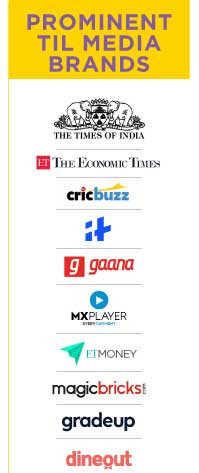 Gaming is one of the fast growing and emerging bets for us. So, we have two essential plays in gaming. We have a standalone app called Qureka, and then MX has built gaming within the app, and both of them are growing extremely well. Qureka has grown 600% this year. As far as Takatak is concerned, I was honestly skeptical when we launched it but it has been two months and it has by far exceeded my expectations.
Q] This has been the year for ed-tech platforms – TIL's Gradeup has seen a 4X growth in revenue, but do you see it get into the top three in the space, taking on the likes of Byju's and Unacademy?
We have been financing GradeUp for a few years and the product and team quality is fantastic. GradeUp is expected to cross a 100cr in revenue this year; it was less than 25cr last year. Certainly Byju's and Unacademy have been raising significant money and that is something that we have to think about. How do we play our strategy alongside it? But in general, our approach has been to build the best product market, bring customers to it and find a good outcome.
Q] Times Group has excessively relied on its English publications, over its vernacular banners, will TIL's focus be the complete opposite hereon considering your annual report says your non-English audiences are outpacing the English growth by 4:1 ratio?
Definitely. A majority of our 550 million monthly users are non-English speakers. Our high reaching products like Cricbuzz, TOI, MX, and Gaana are aggressively working on product development that creates very local language. All four apps give you the ability to select the language before you start. 80% of our user growth came from non-English audiences. So, we're investing very heavily on thinking about how to build experiences that are better for first time mobile phone users, non-English users, and building experiences that are relevant for them. From a transactions and subscription strategy, we'll probably be a little bit more balanced, expecting to see more from the English side because we still think the propensity to spend will be stronger with English speaking audiences.
Q] What do you feel TIL's annual report for 2021 will look like. On the one hand, OTT and news are exploding and on the other, products like DineOut are suffering?
Most of our businesses except a few like DineOut have not been as badly affected during COVID-19. I've seen a very fast rebound or positive growth throughout the COVID-19 times. Like Dineout started making contactless dining software sets and over two thousand restaurants have already bought it. But for most of our businesses that are really digital first and digital only experiences, honestly, COVID-19 has accelerated a lot of the growth trends over the last three to five years. Between April and May even with growth in consumption, we saw ad revenues fall because everyone was sort of uncertain. By June or July, we started to see positive growth month on month. And by August, it has rebounded so aggressively that we're actually positive year over year.