Nearly a decade after the brand's launch, Abhimanyu Mishra, Head of Marketing at Bewakoof.com, articulates the fashion label's plans for category expansion, as it gears up to break into newer markets.
Q] What are the elements that led to the success of Bewakoof despite it being a digital-only brand?
It's been nine and a half years since the brand was launched, and there's been progressive growth. We relied heavily on social media marketing in the initial years. Playing around with a trend in viral designs worked a lot for us. A couple of years ago, we sold more than six lakh t-shirts that were trending on Twitter, Instagram or Facebook. We were popular among the college audience in the first two-three years. And of course, to date, about 65% of our business is still t-shirts. In online shopping in India, we have the highest market share for a brand, even bigger than some of the international brands in the T-shirt category. In the last three-four years, we've pivoted. We are a marketplace now, getting a lot more revenue from other categories. We have over 40 categories live at the moment and a bunch of brands that are selling on Bewakoof. We have two big properties called the Design of the Day and the Colour of the Month. They've been running for the past three-years, and will resume as soon as we iron out temporary supply chain issues. These properties collectively contribute 10% and, in a good month, around 15% to our revenue. The Design of the Day gets a lot of customers back daily as we launch a design every day at 3 pm. The Colour of the Month brings out one new colour across different categories on the first of every month. The vision and the roadmap for growth now are very different from what it were initially. But, from the marketing point of view, it's always been Digital and we still are 100% Digital.
Q] When it comes to advertising, do you have plans to expand your media mix?
We will plan a TV rollout in the summer, and have created considerable brand awareness. This year, our first attempt — the promotion with Rajkumar Rao and Sanya Malhotra — was a big success. The campaign was called 'Thodi Bewakoofi Toh Banti Hai'. It was goofy, humorous and amusing. Now, we have tried to create the same magic with Sidharth Malhotra and Fatima Sana Shaikh. The campaign went live 10 days ago. Early responses were good. We plan to rope in a fresh set of faces and celebrities for a big TV rollout in the summer.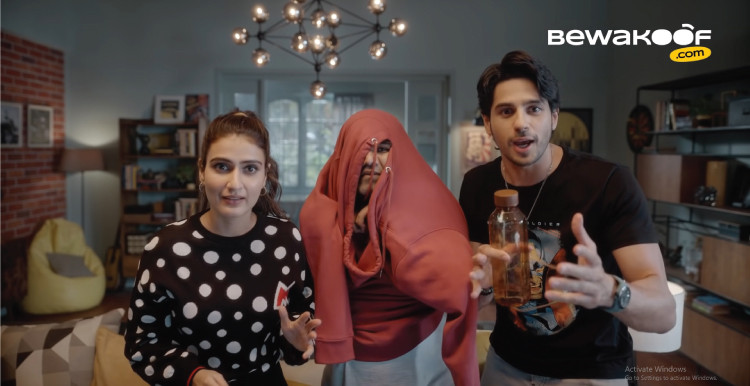 Q] What's the budget that you spend on brand building?
Brand building is 20% of our entire marketing spends. And, marketing spends in total are about 15% of our net sales. So, we're at a Rs 300-crore run rate now, and month on month, 15% of it is allocated for marketing expenses. Out of this, 20% is spent on brand building. This was not the case before we collaborated with Rajkumar Rao, when 100% of the marketing spends went to performance marketing. Now we've taken 20% out for brand building.
Q] How do you position your brand amidst the competition from other brands with the same TG?
Around 2.7 lakh is the current figure of subscriber addition per month. We have a very strong sense of community. About 50% of our month-on-month growth depends on word of mouth and organic growth. We've seen other brands too, and the figure, in this respect, is as low as 15-20%. For our brand, to be in the range of 45 to 55% month on month is a positive sign. It's also got a lot to do with brand recall and the name, Bewakoof has been very strong. The name conveys the perception or the goofiness of the brand. And, definitely, the products speak for themselves.
Q] Are most of your consumers from urban areas?
In terms of the tier-wise distribution, it's almost equal — 35% of our business comes from tier-II and beyond. Another 30-35% comes from tier-I, and the remaining from the metros. State-wise, we're more skewed towards the North. We have seen how the Southern five states contribute about 40-45% of sales for some e-commerce players in general. As an opportunity, we are more inclined toward the Hindi heartland. Maybe because of the brand name and the kind of designs we do, and it's more Bollywood-driven and influenced by Hindi culture. Geographically, we might be skewed toward the North, but we want to invest in the South in the next year.
Q] What new categories or styles are you planning to launch?
Category expansion is a big pointer in our roadmap. Coming up is our Streetwear collection to be launched in two days. We have also planned a commercial for it. We will promote it across all digital channels. Again, ethnic is becoming an important category —8% of our sales have come from the ethnic segment. So, we're stepping into everyday ethnic and casual wear to come up with something that your typical ethnic brands would probably not offer. We have played around with quirky prints. These are some of the category expansions. We are also offering accessories and items of home décor. Customisation is going to be a big bet for us, which will invite a wide variety of audiences. In terms of pure-play category expansion, we are looking at denims and chinos.

Q] What are some of the ways in which you develop brand loyalty among your customers?
I think that part has always been strong. We have over a lakh subscribers as well, which is on our loyalty programme, which in turn contributes to about 25% of our sales. Our customers and cohorts are growing strong month on month. Customer loyalty is pretty strong. We currently need to focus more on the expansion of products, categories, and increasing the wallet share, offering, and distribution. We've just started selling on Myntra and other places; we want to explore retail later. International shipping is due; we're starting international shipping with the UAE first, vernacular shipping will start in three months. From the product offering point of view, we are probably covering just 20% of the fashion category. We still have so much to cover.