Q] Tell us a little about Blue Dart's services in the lockdown…since delivery services became the need of the hour, how much of a spike in business did you see?
Our teams have been working round the clock with 95-97% of our workforce coming into office in compliance with local Government orders. Our primary goal was to remain the trade facilitator to the nation and support the government in the delivery of critical supplies including medical supplies such as PPE kits, enzymes, blood samples, medicines, respirators, etc. including other products in the fight against the pandemic. A spike in business was but a by-product of that.
Q] What is the kind of marketing mix you are using during this time, especially with the changes in consumer behaviour?
While we prefer direct communication channels and owned social media channels as our tools for marketing, we do invest in other external marketing campaigns as deemed appropriate based on the message we wish to convey. Our word of mouth communication is often done by our customers as we are an enabler to business and a trade facilitator to them in matters where speed is of essence and of high value.
Q] What was the insight behind the partnership with Apple for all its products in India?
Time definite delivery (TDD) has been a key product for us from the beginning. The Apple association is only another endorsement of our capability to integrate technology and speed to deliverables that are of high value in time and space. We firmly believe that we are the best and the most adept at handling our customers' shipments, no matter how big or small. Our USPs include extensive connectivity within India and across the world that helps our customers reach the remotest village as well as the most crowded city.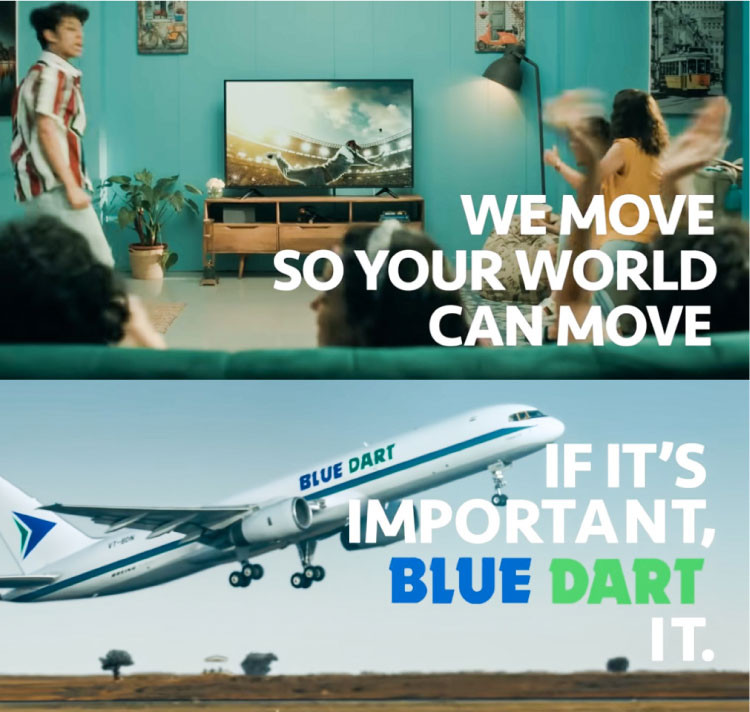 Q] The pandemic and lockdown caused delayed deliveries and other issues around logistics. What were some of the challenges you faced and how did you manage to meet consumer demand during that time?
An indigenous network modelling system has been developed and implemented which has enabled Blue Dart to dynamically respond to changes in network schedules and recommend fast and reliable network routes linking shipment origins with destinations. A control tower has been built for proactive 'track and trace' of shipment movement within the network. Teams operating using this real time solution, can control nationwide activity, which involves First Mile, Network connection and Last mile delivery. Apart from this, if a lockdown has been imposed in a particular area or a location has recently been declared a containment zone that is unserviceable temporarily, the shipment is retained at one of our facilities or retail counters and considered to be a 'Hold At Location' parcel. This shipment can be physically collected by the customer or we deliver it once the restriction on the pin code is lifted.
Q] How has your partnership with companies using predictive analytics and mobility solutions helped you?
We partnered with FarEye Technologies to offer unique and innovative features like the caller ID functionality to identify customer calls, reattempt delivery option for undelivered products, live monitoring of the field executive on maps, etc. The solutions were especially effective during the festive season of Rakshabandhan. Leveraging the leading predictive logistics platform, we ensured timely, seamless, and contactless deliveries across the nation, allowing people to celebrate with the same fervour and joy. Further, by using the right algorithms, work schedules and routes are optimised for our delivery personnel, thereby creating a personalised and seamless customer experience. In addition, this also helps in reducing the number of undelivered shipments, thereby improving efficiency and enabling digital, paperless operations.
Q] Which e-tail portals contribute to most of your business in India?
E-commerce is one of the major sectors that Blue Dart operates in apart from banking, financial services, pharmaceuticals, consumer electronics and automotive to name a few. We have helped e-commerce players reach out to larger number of customers, beyond metros into tier II and III towns, thereby giving them high brand equity and a competitive edge in the industry.
Q] What is your target market share in the logistics category, and which are your strongest growth markets as of today?
Across the Express Logistics space that Blue Dart operates in, we are a clear market leader in Air Express with a propelling growth in Ground Express. Our target market share would be a space in which we grow ahead of the industry. However, in the current pandemic, a few sectors are doing better than others. The banking and financial sectors as well as automotive are headed on the slope to recovery whereas sectors like Pharma, IT, consumer durables, consumer electronics and ecommerce, of course are showing steady signs of recovery.
Q] What are some of the big challenges you face currently in the market?
The biggest challenge we have faced till now is a fragmented logistics network infrastructure. However, three policies are going to be game changers in the logistics ecosystem – namely the national air cargo policy, the draft National Logistics Policy as well as the Dedicated Freight Corridor initiative. The current pandemic highlighted the importance of air connectivity in the logistics supply chain as no other mode of transport could have done a more thorough job for the nation as it prioritises speed, safety and reliability.