Q] What has the impact of COVID-19 been on your brand in the last seven months?
The pandemic made us take a deeper look at our internal communications. Keeping morale high and communicating with transparency and high frequency was the need of the hour and we had a very strong employee-centric messaging in place to engage and inspire our frontline staff who have been working tirelessly as part of essential services.
Q] What was the theme behind your new campaign, dil se open? What made you pick this theme?
Dil se open celebrations is the campaign theme for festive, which was picked up as it is deeply rooted in our brand philosophy of being 'dil se open' and also resonates with our core values of enhancing customer centricity. The festive season is really about gifting to your family and friends, which is where we landed on a strong insight that 'sirf gift dene se nahi, khwaish poori karne se Diwali ki asli khushi milti hai.' This campaign also takes into account the prevalent, slightly muted consumer sentiment, judicious about spending hence this campaign is not about splurging but really fulfilling needs. The digital films showcase real, relatable stories that highlight how we reciprocate to the unspoken needs of our loved ones and how Axis Bank's offers are an enabler for those thoughtful actions.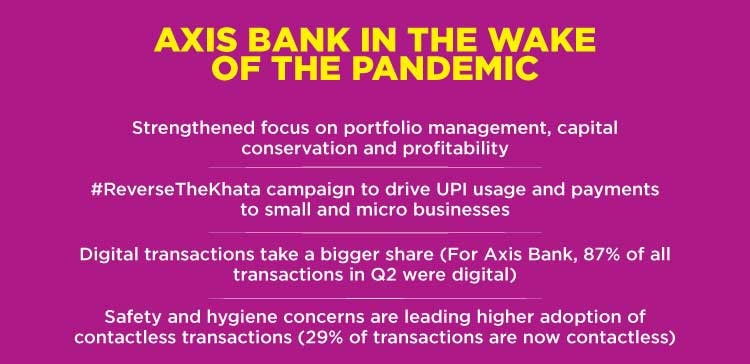 Q] What was your brief to the ad agency for the campaign?
Festive is a fairly cluttered time to advertise, and our brief to the agency was to keep the brand and its philosophy at core while crafting the campaign. Also, one of the key asks was to be cognizant of the changing trends and consumer sentiment and base the campaign on a strong consumer insight.
Q] Is festive spending different this year compared to last year?
There are two different spectrums of festive spending that are emerging this year. With the country having spent a majority of the year in various forms of lockdown, there is a lot of pent up demand. And we are seeing the impact of it across categories such as automobiles. This is also fuelled by a need to reclaim a sense of normalcy. On the other end, for a vast majority of consumers, this is also a year where needs will take precedence over desires.
Q] How has the festive season impacted your marketing spends? Are you spending on par with what you spent last year?
Typically, we avoid running large-scale campaigns during festive season due to the cluttered media landscape with pretty much every brand coming out with campaigns and offers. However since the festive season this year also coincided with the opening up of markets, and we were seeing a lot of pent up demand, we have invested in a festive campaign that consolidates offers across all our products, from cards to loans across a single platform idea called Dil Se Open Celebrations.
Q] What is your marketing mix like? Are the ads running only on digital platforms?
The marketing mix for this campaign has largely been centred on digital platforms. While we explored a host of relevant platforms to drive this campaign including Social Media and OTT, we believed concentrating efforts on a few platforms with a greater intensity would allow us to easily scale up and deliver reach across maximum audience in the most efficient way. We therefore chose YouTube to drive views and reach across a sharply segmented TG. Our campaign mix also leveraged static ads on Instagram, Facebook and YouTube Discovery platforms to re-target audience cohorts across video and static campaigns. This will overall lead to a more cohesive campaign by increasing campaign visibility across chosen cohorts and minimising wasted impressions.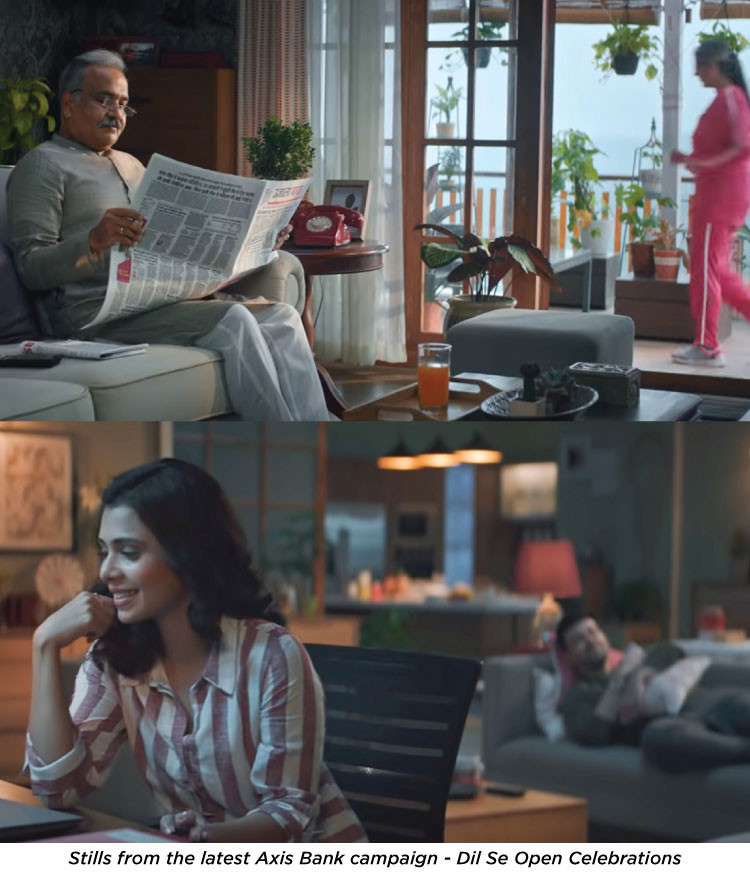 Q] Has COVID-19 led to a shift in your growth strategy? What elements will drive your growth now?
The Bank's growth strategy articulated as GPS (Growth, Profitability and Sustainability) held its ground and was extremely relevant in guiding the organisation during the pandemic. The GPS Strategy along with our values, which form a strong foundation and the 'One Axis' framework have truly helped us navigate the last few months of turmoil. The strategy has been reinforced internally with near and medium-term imperatives to address COVID related challenges and mitigate the adverse impact of the associated economic slowdown.