We're absolutely proud to partner with this legendary brand in this big campaign made specifically for India. The story was a simple one and reflects the honest reality of today. There's a lot of other exciting work coming, so keep watching.
CHARLES VICTOR
Executive Director, L&K Saatchi & Saatchi

With the latest television commercial, we have brought our 'Challenge The Limits' campaign alive by showcasing the personal story of our Brand Ambassador. The commercial further cites Casio as the new age companion for today's millennials, who are willing to challenge limits and improve themselves.
KULBHUSHAN SETH
Vice President, Casio India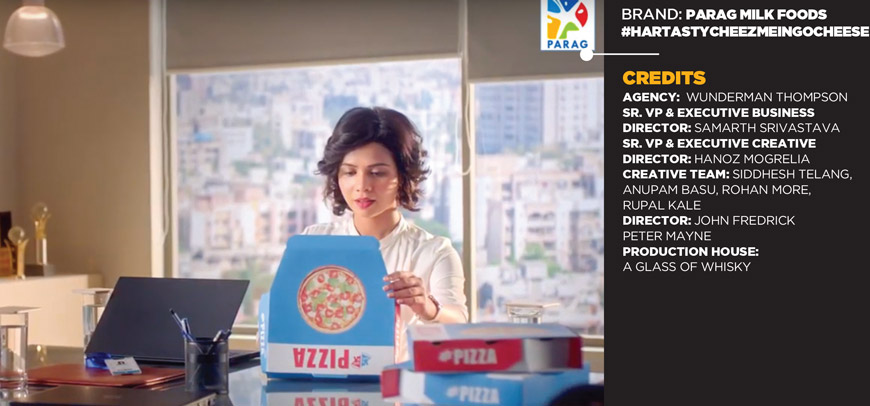 We deliberately chose three different generations consuming delicious food in three different scenarios… so that the main idea landed better when it was revealed that all three were consuming Go Cheese. If there is one thing we want people to relate to after being exposed to this TVC, it is to know that there is #HarTastyCheezMeinGOCheese.
SAMARTH SRIVASTAVA
Sr. VP & EBD, Wunderman Thompson

Go Cheese is India's 2nd largest cheese brand. We understand our consumers' taste preference and therefore we have innovated over 60+ cheese variants. We are the largest suppliers of cheese to major QSR (Quick Service Restaurants) and through this TVC, we are just starting to create conversations on Go Cheese being the common ingredient in all your favourite tasty snacks.
AKSHALI SHAH
Senior VP Strategy, Sales & Marketing, Parag Milk Foods Ltd.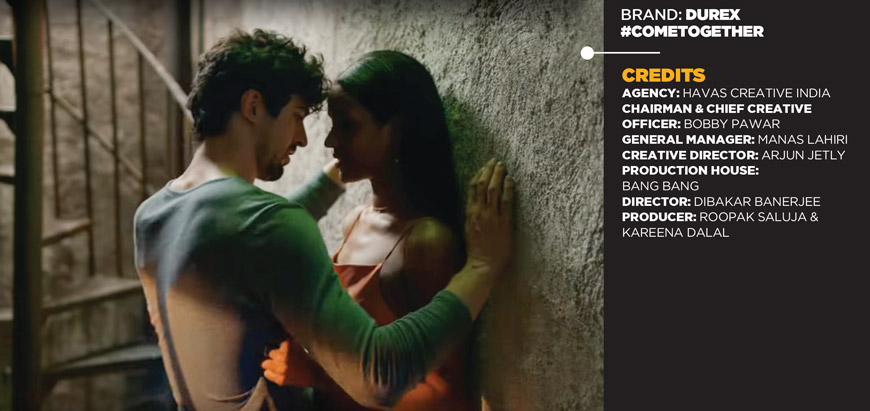 Orgasm is still considered as a tabooed topic in Indian society, to come up with a film talking contextually and visually of orgasms was no easy task and needed to walk a fine line. We have conceptualized the film keeping in mind the sensitivity around the topic, by creating a film in a fun and engaging style by using indirect metaphor.
BOBBY PAWAR
Chairman & Chief Creative Officer, Havas Group

We are very excited about launching our latest innovation Mutual Climax condoms. Our ongoing campaign #ComeTogether along with this new solution aims to create awareness on the issue of orgasm inequality, thereby encouraging couples to have a discussion on the issue. With Mutual Climax, we want to empower couples and make equal pleasure and sexual equality a reality in India.
PANKAJ DUHAN
Chief Marketing Officer, RB South Asia Health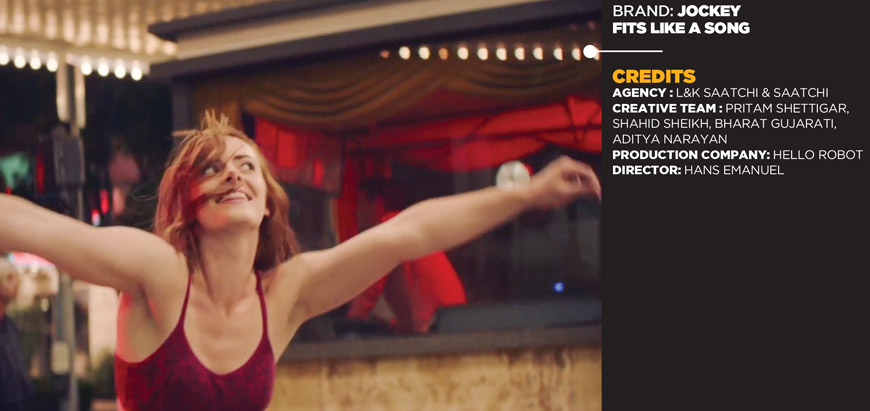 An idea that 'fits like a song' with the product and the brand, an alltime classic song, iconic American locations, amazing dancers, a celebrated choreographer, a relentless cinematographer, an energetic director and an ever supportive client, all the ingredients that could have only created magic!
DEBARJYO NANDI
Sr. Vice President, L&K Saatchi & Saatchi

The 'Feels Like Jockey' campaigns are created to strengthen the core proposition of fit and comfort of our core range of men's and women's innerwear while ensuring the brand continues to build relevance and affinity with the youth.
M C CARIAPPA
President, Sales and Marketing, Jockey India