At a time when every brand would be doing their bit to support the Indian team, we needed to do something that would not only stand out but also had a strong Volkswagen connect. And what better way to do that than to use its German origins. #GermanyCheersForIndia does the unthinkable – Thomas Mueller in a blue jersey pledging his support for India.
RAHUL MATHEW
National Creative Director, DDB Mudra Group

As a German brand, it is great to witness the support that this campaign has received from Germany so far, with more and more people joining in the cheer. With Thomas Muller catalyzing the #GermanyCheersForIndia movement, we aim to celebrate and bring together sportsman spirit all over.
BISHWAJEET SAMAL
Head of Marketing, Volkswagen Passenger Cars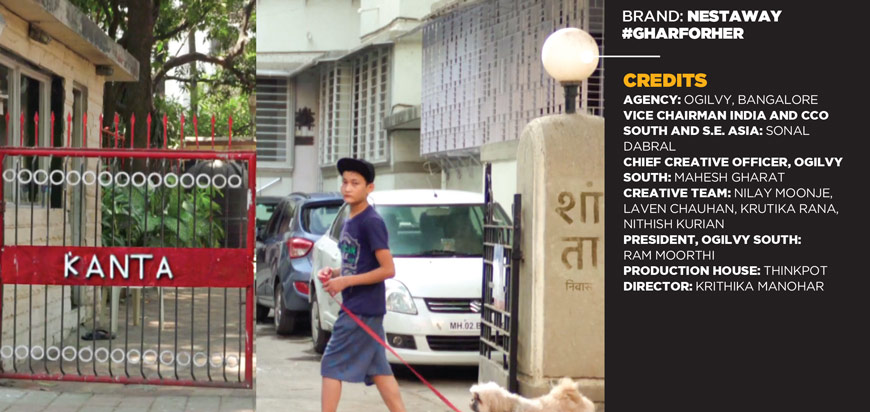 Women face many hurdles when they step out to find a home on rent. As a brand that makes moving easy we wanted to be encouraging of women making the move. So instead of labouring the hurdles and issues they already face, we wanted to communicate a more encouraging perspective in a non-preachy manner.
NILAY MOONJE
Group Creative Director, Ogilvy Bangalore

Nestaway not only provides a range of options across major cities pan India but also provides a community and an ecosystem for a young woman to help her belong instantly in the new surrounding. This campaign #gharforher is a small step in encouraging more women to make the move.
RAMYA RAMACHANDRA
Head of Marketing, Nestaway Technologies Pvt Ltd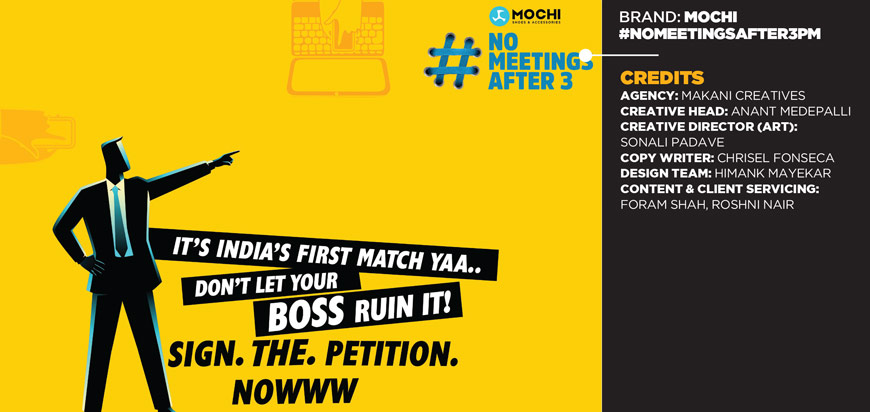 With the World Cup on, we can't get cricket out of our heads. We try our best not to miss even a minute of it. We follow cricket even at work. But there is one thing that stops the fun - office meetings during a match. So we thought - we can't stop watching cricket, so let's stop the meetings! That was the idea behind this movement - no meetings after 3.
SAMEER MAKANI
MD, Makani Creatives

Cricket over the years has grown to be a very important game for the nation. Most bonding amongst employees happen over runs and wickets during office hours at important tournaments like the 'World Cup'. We are thrilled to introduce and support a campaign which brings the world a step closer during office hours.
ALISHA MALIK
VP, Marketing, Metro Brands, Ltd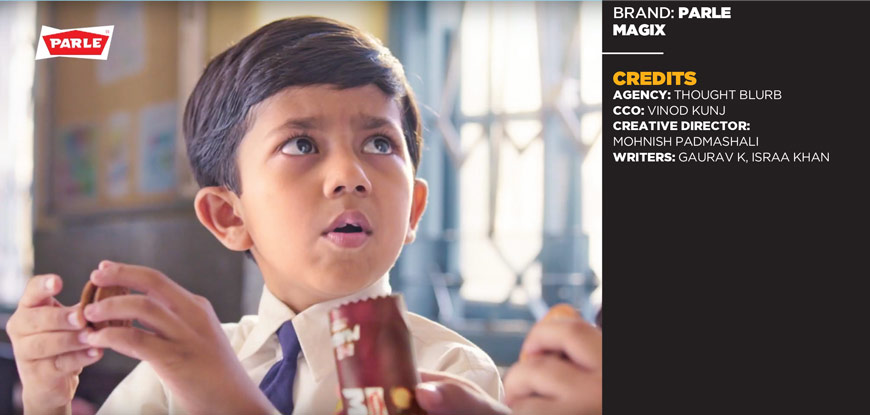 The campaign addresses the child who wants to fill his days with as much activity as possible. Letting the child know that his mischief is tolerated and also encouraged is the direction we've decided on. In other words, Parle Magix speaks directly to the child saying that 'we let you decide what you would rather do'.
VINOD KUNJ
Partner & CCO, Thought Blurb

The act of splitting open the biscuit and licking the cream is the way most children eat cream filled biscuits. So we decided to turn the act of eating the biscuit into a form of play. In fact, with a multi-media campaign we hope to establish eating Magix as a fun exercise in making the right decision.
MAYANK SHAH
Senior Category Head, ParleProducts